I'm Not Much of a Baker.
I was thinking about the posts I've made here and was reminded that I haven't posted enough pictures in general. Additionally, I talk about cooking and such, but haven't really shown food that I have made. So here's something to start with. It's not something I would normally make - it was an assignment in class the other week.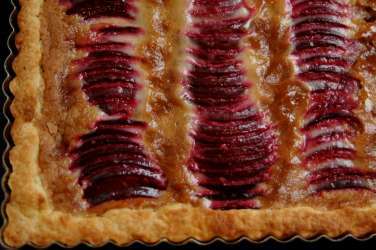 Plum Tart with Chambord Creme de Beurre Noisette.
The crust is pate brisee, a classic French pie or tart dough. This dough is quite forgiving - easy to patch or re-roll. No greasing or blind baking is needed in this case. I worked in a bakery, but I didn't make the baked goods, so this was still outside my comfort zone. General pastry rules apply: keep the butter in visible bits or pieces, and handle the dough as little as possible to prevent gluten formation and melting/blending of the butter into the dough.
Plums from Chile - they weren't the best, but I love plums and they were the most interesting of the fruits available. Also, everyone else made pears, so I wanted to switch it up a little.
It was my first time making creme de beurre noisette, which is a filling used by bakers consisting of eggs, flour, brown butter, and sugar. When it's baked, it reminds me of baked frangipane, but it's not made with nuts. The brown butter brings a nutty flavor, so that's probably what made me think of it. I flavored this one with Chambord, which is a cassis (black currant) liqeur. It's one of those components that is actually better to eat before it gets baked, like cookie dough or pastry cream. I could eat a bowl of it like pudding! I think next time I would put a layer of the filling across the bottom of the tart, use a tiny bit less fruit, and make the crust a bit thinner. Plum and Chambord is a good combination. I would just increase the proportion of creme de beurre noisette by any means necessary.
I'd definitely make this again.