Halong Bay teaser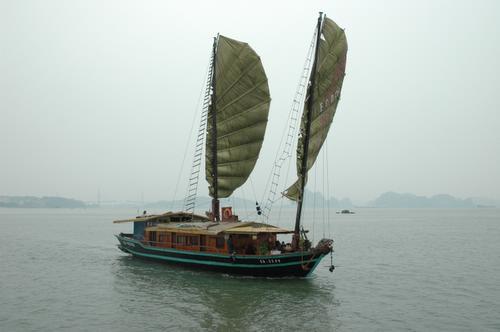 Above, a modern junk sailing on Halong Bay. The boat I was on was more like a houseboat. There was a really nice bunch of travellers on the boat, representing Germany, Australia, Thailand, Israel, and Oregon in the US.

Below, a rock tower with a natural arch formation, on the same island as the "Surprising" Cave. The cave itself contains stalactites and stalagmites formed by dripping water dissolving limestone, then reforming it as the water evaporates. The result are these great "frozen" liquid textures that at times look biological or Gigeresque. My photos didn't turn out as well as I had hoped, but if I find a decent one later, I'll post it.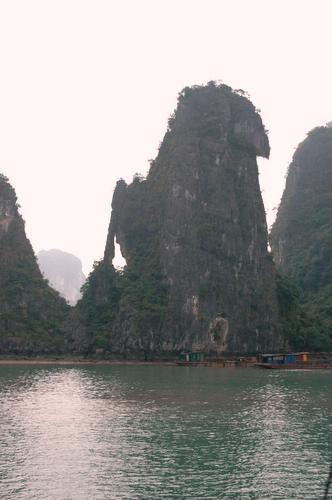 Here's the same baylet as the tower above, but from up on high. They have a pretty good system of offloading the tourists, then moving the boats over to a pier to wait for them to go through the caves.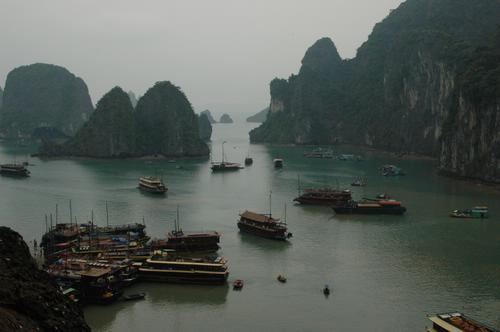 Below, a cropped picture of a bird of prey, a hawk maybe, that flew quite close to our boat.
I took the short excursion, so it didn't include some of the more striking and poetically named formations, like "Fighting Cocks Islets" or Old Woman Island. Although being grey and mysterious like this was pretty out of the ordinary for me, the resulting pictures all tend to look like dark grey rocks in green-grey water against a light grey sky. I'd like to come back here when the weather is nicer, even if it means that it's brutally hot.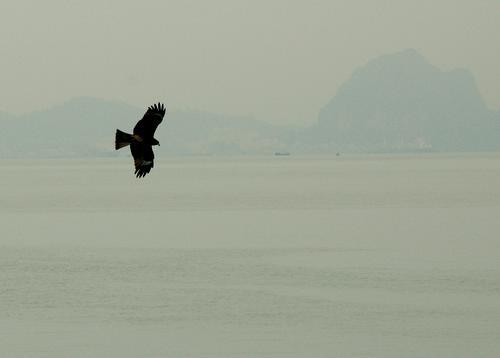 On the way back, the other people on the bus got the driver to stop so they could take a picture of rice paddies and water buffalo. Although he stopped at a pretty spot, there weren't any water buffalo there. I realized that I hadn't gotten a good shot of water buffalo either (usually, by the time you can react, all you get is a snap of it's giant rear end), so here's the best one I got out of the bus window as we went back to Hanoi.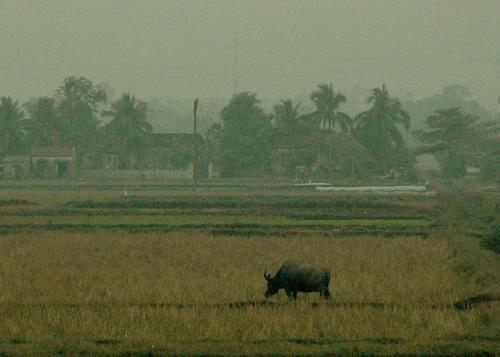 If you noticed that there aren't any pictures of food, it's because it was all pretty disappointing. I didn't get the hard sell from the people at my hotel, but some other people were saying that their salesman raved and raved about all the seafood they would be eating. And once you get off the boat, they take you to a restaurant in Halong City. I should have known better, and I should have just broken off and gotten my own food, but I went along and it was horrible. Truly hellish. And the most frustrating part is that I'm sure any of the little mom & pop rice plate joints across the street would have been good. Dammit.
Summary: Halong Bay - amazing. Food included in tour - edible.