Scratching the surface of Mumbai
Or barely that, even. But here are a few things I tried. I didn't get much info about this leg of the trip beforehand, so I arrived in Mumbai without a hotel reservation. I used one of those places in the airport to pick a hotel in the general area of where my friends were, then I figured I'd move if necessary. It was and I did. They were so rude to me from start to finish. When I checked in, they wanted me to book for several days in advance. They overcharged me for water. The room itself was a shambles, and there was no hot water. Then when I checked out, the clerk kept giving me dirty looks and making clicking sounds with his tongue. Then as I was pulling away, he had the bellmen stop the autoshaw (tuk tuk), saying that I didn't return the key when I already had. The only thing good I got out of it was this recommendation for Sunraz restaurant. This is mutton kadai (spicy tomato gravy with green peppers), prawn pulao and a roti.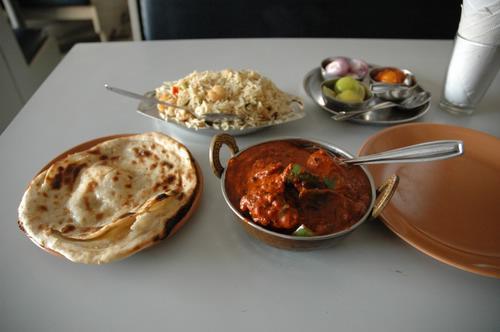 Apparently there are two Chowpatty Beaches in the general Mumbai area. Of course I was interested in the one that has a ton of vendors on the beach, which is Juhu Chowpatty Beach, to the NE of the city.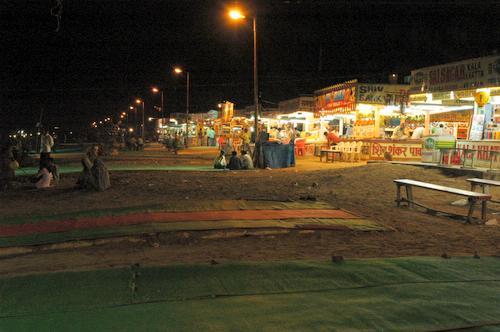 [Above, I inserted a picture of the beach] I think it goes on all day, but it's more interesting at night. Even at 8:30pm, couples, families, and other self-chosen groups stroll along, stop for a bite, either at a tables or on large, well-lit semi-permanent picnic mats. There are also vendors on the beach selling young coconut, grilled corn, and the like. Below is a potato samosa broken up and served bhelpuri style, with crunchy chickpea threads, tangy/sweet tamarind relish, red onion, some herbs, corn kernels and a few other tidbits.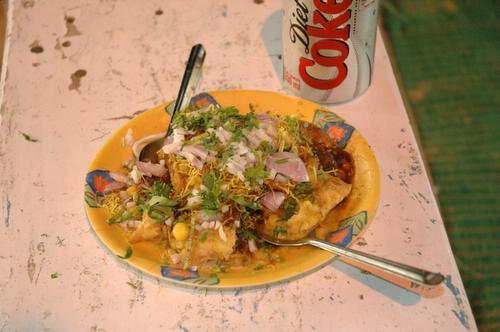 There's a culture of touting, trying to get people to sit down and eat at a particular stall. There are dozens and dozens of places, seemingly all serving the same dishes. When I finally decided on this booth, they made a big fuss and were saying, "Jepun, take picture." (Japanese guy, take a picture) I think they meant it in good fun, so here they are up on the Internet, in good fun. That big spatula for frying the paste made me think of the monjyayaki I had in Japan. Somewhat similar in texture, actually. Very different spicing, though. The filling is that swath around the front of the griddle.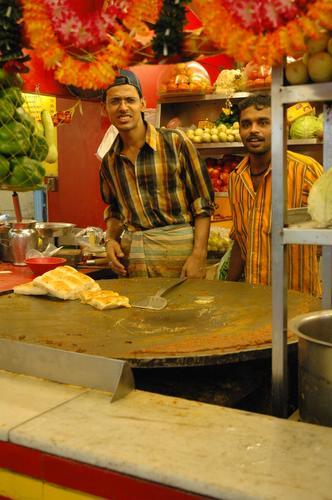 Pav baji is a dish of the area which is sort of a tomatoey dal stew which they again fry on a big griddle with more onions until it's a bit tighter in consistency, then it's served with buns that are buttered and heated on that same griddle. I ordered this with double butter, hence those extra knots melting on top. I think you're supposed to mix in the butter with the filling and eat it on the bread. It has a sweet/sour aspect to it, it's pretty tasty, but double butter is too much. There's already butter in the filling and there's butter on the bread. Unfortunately I only got to try this one version.