Tapas, Tapes, Tapac24
Church of Santa Maria del Pi at the end of my little walk street.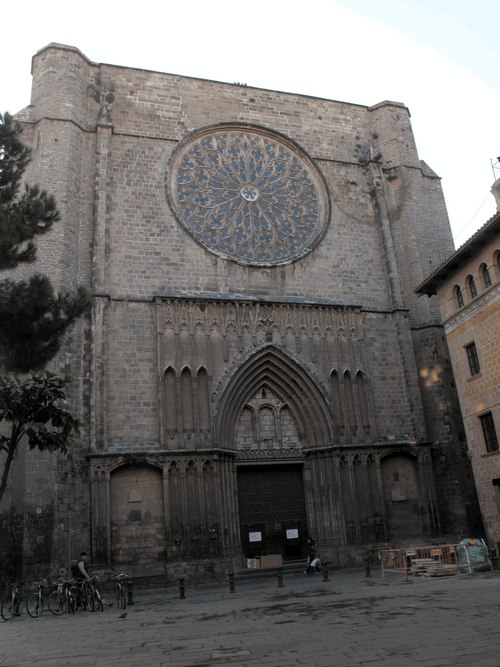 Breakfast of champions - xurros and xocolate, made to order with the steamer of an expresso machine. Thick enough to hold this little piece standing up. Xurro was a little bit chewy, but I'm not giving up on it. Bracafe is short for Brazil, apparently this place has been around for quite a while. I had an ensaimada also. It's a Mallorcan specialty, but some places have them. Very light sort of sweetbread, but laminated. Many more of those to come.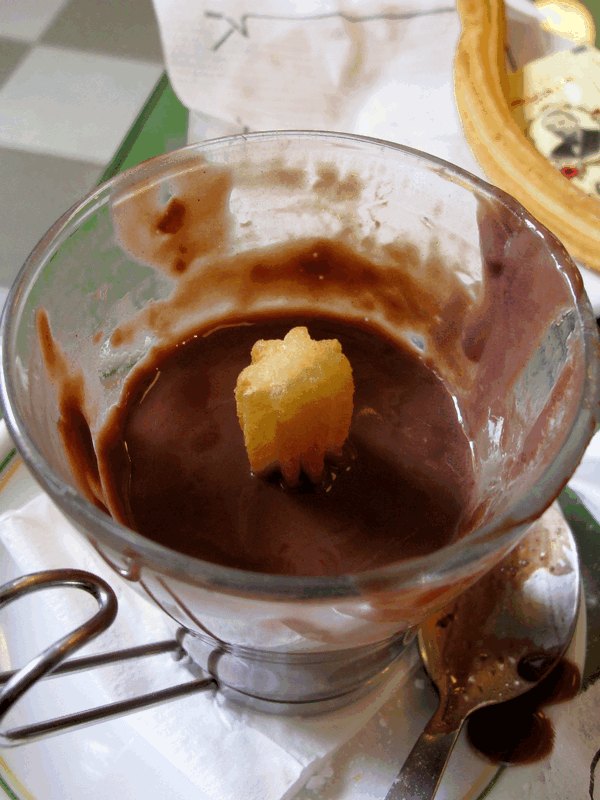 Lots of pictures today...click the link below for the rest.
This is a tapas place from the same owner as Comerc24 (like commerce), so he played on that same spelling for this place, Tapac24 (with the squiqqly c, but they broke down and sometimes spell it the usual way - probably for search engine optimization). Sometimes tapes is another spelling.
Carried over from the first place, their Bikini Comerc24 sandwich. Pimped up ham and cheese sandwich - Iberico ham, fresh mozzarella, black truffle paste. Just warmed enough. Very thin bread. Eeeza very nice.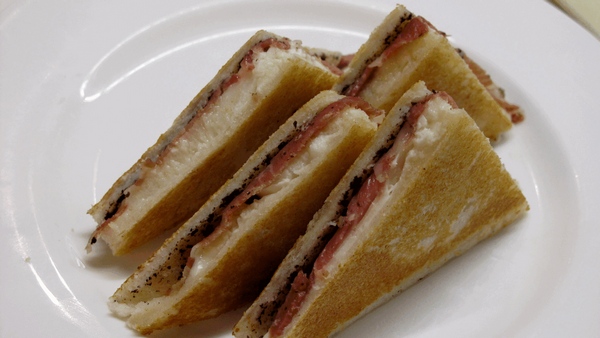 They call this their Mc Foie Burger. Almost like a crispy crepe as a bun, a very un-dense burger which is more like tataki ribeye steak tartare, raw inside, charred outside. Foie gras mousse. Really effing good. I think they use a new technique that involves partially freezing the meat in a round mold like a pipe, then cutting disks. Gives an "airy" texture rather than a solid patty of meat texture.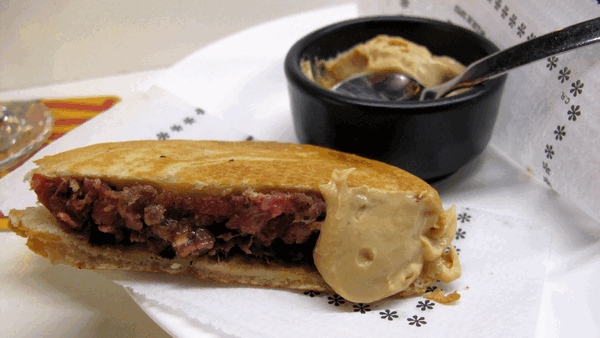 For Koslow, ...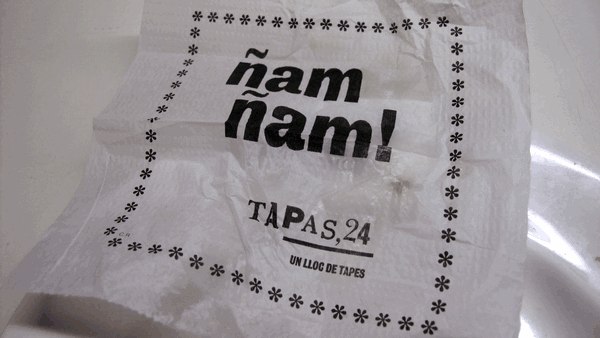 who hates when blogger nerds use the word nom nom for eating. Like the noise the Cookie Monster makes. The tilde over the n means should sound like "nyam nyam". These are their little deli papers and plate liners that they had custom printed.
Arroz Negro, similar to paella, but featuring squid and using the ink as a flavoring and colorant. This one was actually this inky black. Could be just the one I received, but for me, a little too much squid ink, and a bit too salty for my taste.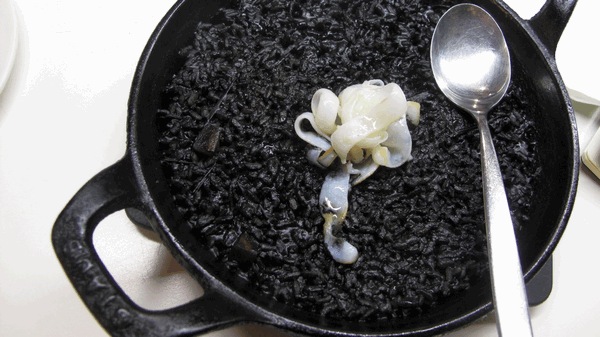 Berberechos or berberetxos are usually translated as cockles, but these really seemed like clams. They give you a sauce to add that seems to be tomato, paprika, sherry vinegar, liquid smoke, and lemon. They actually are canned and served in the just opened can (not a prop), and sometimes people keep track of the year, and "age" some of these canned products in the can because it's thought that the sauces and natural fats from the seafood get to marinate and emulsify together. In this case, I don't really see the appeal, but I'm keeping an open mind.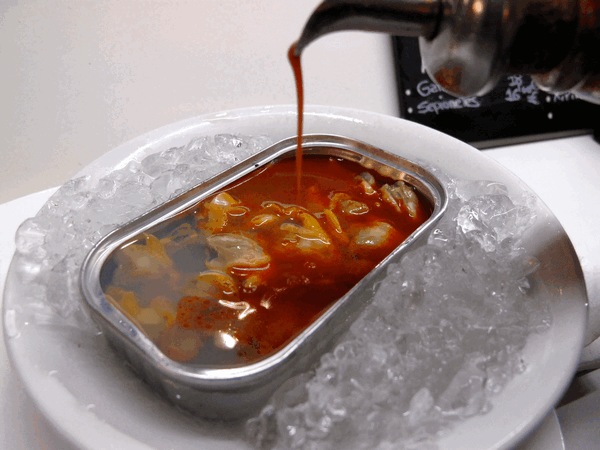 This is a modern take on a Catalan snack or homey dessert - pan con xocolat. Usually it's a slice of toasted bread, chocolate sauce, olive oil, and sea salt. Here, they've changed it to a silky chocolate sorbet, used a fruity olive oil, fleur de sel and made little toast points. It's amazing. Sounds a bit weird, olive oil and chocolate and salt, but it really is delicious. The sea salt lets you taste more layers of the chocolate, and the almost sweet olive oil works with the mildly sweet sorbet, great mouthfeel as well, then the sea salt kind of cleans up your palate at the end. Winner. Seriously.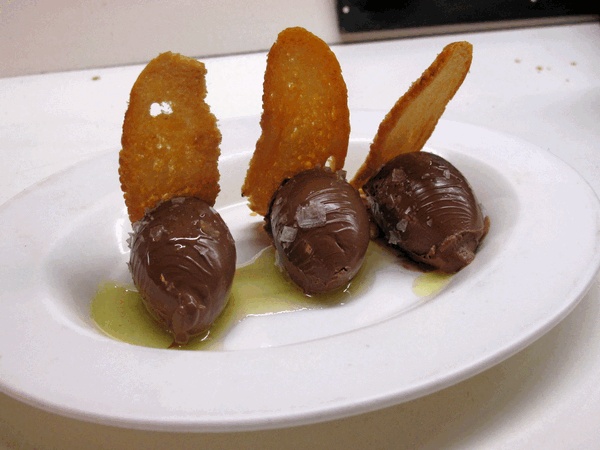 There were some political demonstrations happening in the neighborhood - maybe related to the cost of college or something? Sorry, I'm a little out of touch with current events, even here. About 20 riot police vans, plus other police personnel. At one point, the police were all staging in front of the Corte Ingles department store. People still going in and out, can't stop the shop.
I walked thru the food/gourmet area of the department store and picked up a few things. Maybe a tasting session tmr.
For dinner, Willy had suggested Can Lluis in the Raval neighborhood. Been around since the 1890's or something. Classic Catalan (the region to which Barcelona belongs). Friends of the owner were having some kind of get together, all speaking Catalan and so on. Great vibe, friendly servers.
Sidebar: Travellers should note that streets aren't really named and labelled as systematically as they are in the US. There might be a plaque on the side of a building, or there might not. Buildings and businesses might have numbers, or they might not. Even the newer parts of town don't always have clear signage. Pick a route before you leave, take a map, but try not to look like a tourist.
Olives, bread and a local beer.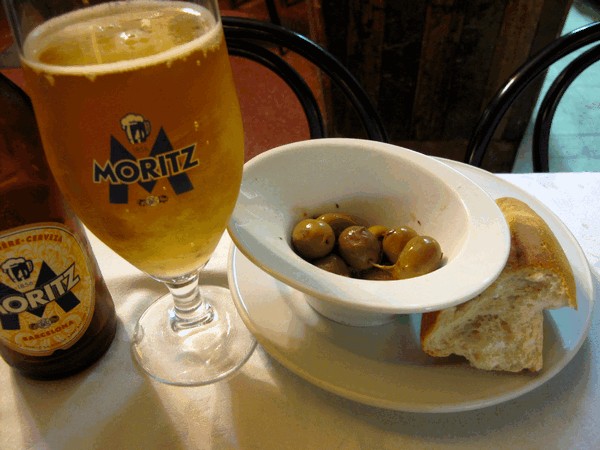 These were called Cod Fritters on the menu, but it's a little closer to croquettes, I think. Fish mixed with creamy potato puree. Not bacalao (salt cod), I don't think. Maybe stocafiso (dried but not salted cod) or fresh cod. Whatever the name, really good. These potatoes are made like fries, but with waxy potatoes, so they don't get as crisp. More like home fries. Padron pepper and tomato on the plancha.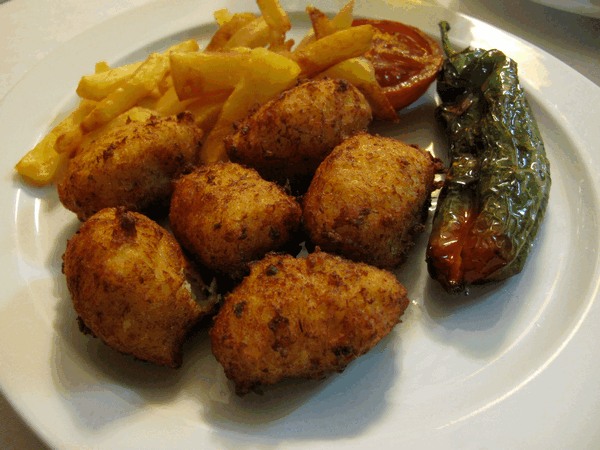 My new friend, arroz negro. I prefer this version by a mile.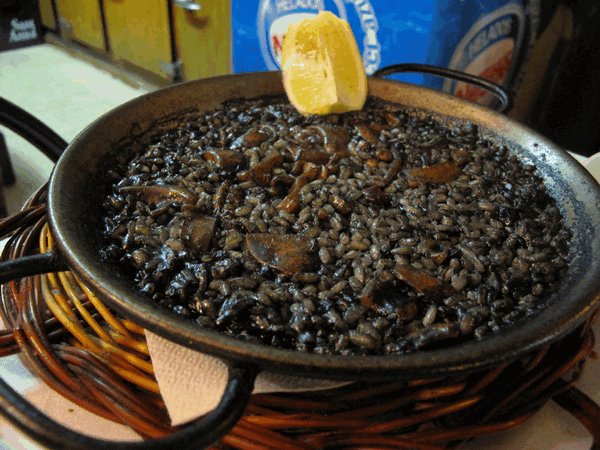 They recommended that I add a little alioli, or garlic mayo/sauce and mix it in. Gives it a little raw garlic bite, and adds a little richness. And lemon to brighten it up. Derlicious. Much better balance, overall. Ate nearly all of it which is really meant to be shared.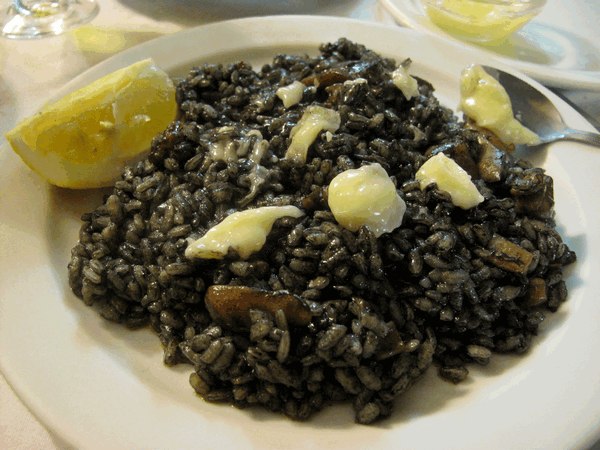 Baby cuttlefish and haba beans cooked with garlic and parsley. Sort of a surf and turf kind of vibe here. Right in the middle you can see the body of the cuttlefish, about the size of a nickel, which is related to squid, but it's usually a bit meatier in the body portion, and has a bone in it (bird owners put then in birdcages for the birds to file down their beaks - calamari just has that plastic-like quill inside). Sepia, or these little guys are sepietas. In Japanese, it would be saki ika. Habas are like fava beans, but smaller. They don't bother to clean that covering on the bean. Would be a nicer if they did, but oh well. I think these were fresh frozen habas. Nice flavors, but it needed a little herb salad or something.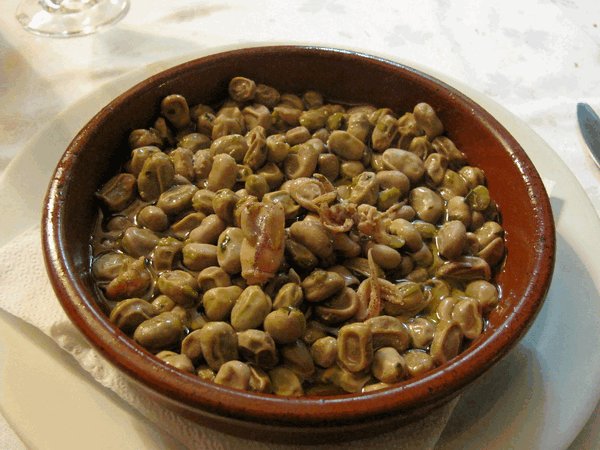 They have some good looking price fixe menus to choose from, but they're for a minimum of two people.

Tomorrow may try to go to a different local market, maybe even a museum (!) and weasel into an Adria restaurant.