Snack
I took a brief walk to the west, through the Raval neighborhood. Quite a bit of doner kabob (meat on a vertical spit, like shawarma) and some Pakistani and Indian food. Didn't have any, although some looked good - fresh and juicy on the spit. Some looked like it had been there for a while just spinning. I've learned that in general, when not knowing much about many, many restaurants, I can sorta get clues by seeing how carefully they cook things, does it smell good, are people enjoying it or throwing half of it in the trash, that sort of thing.
One of the challenges on this trip is that there are several languages and all kinds of spellings being used. Back near the pension, there are three tapas type joints in a row - Xerinola (X in Catalan dialect and Euskadi/Basque is pronounced like "ch" in English, or single c in Italian - Cerignola olives), El Choquito, and Amatxu (pronounced ah-MAT-chu I think). Since this is a tourist area, lots of the signs are in multiple languages also, so you see Catalan/Spanish, English and French on one sign. Confusing and helpful at the same time. Agneau - cordeiro - lamb 10 euro. Salsitxe - sausage 8 euro. Et cetera.
Amatxu looked the least slick and modern, so I went with it. Pretty good. Well made albondigas and the ever present pa amb tomaquet (or pan con tomat or tomato bread) and a mug of Estrella Damm cerveca. Sometimes they use the c with the squiggle (cedilla) to sound like an s/z. Pan con tomat is bread, either baguette cut through the middle or slices of bread, with olive oil, and tomato pulp or just rubbed with a cut tomato. Not so much like bruschetta - more like tomato instead of garlic bread that goes with everything. Not really a dish on it's own.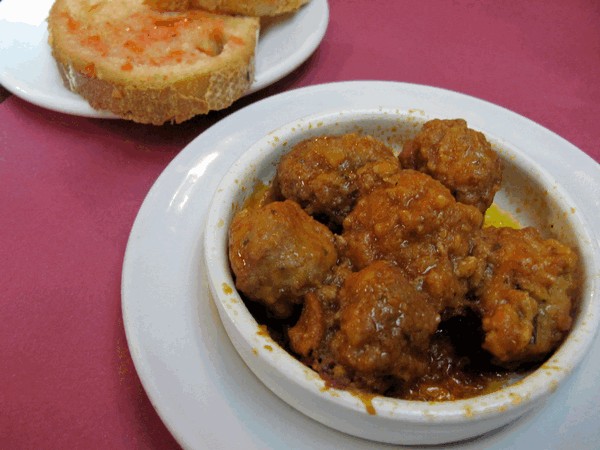 Baby octopi, sauteed in a really hot pan, intentionally a little crispy/chewy,with parsley sauce. Domes are separated from the legs during the cleaning process. Texture and visual are tough for most Americans, but I love octopus. My Uncle Norman grills a mean octopus!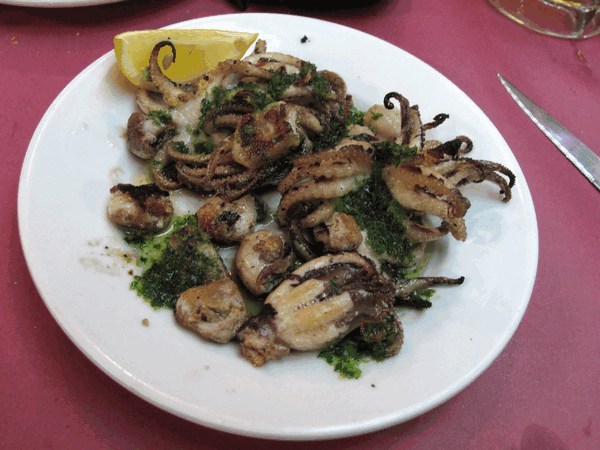 Tomorrow I hope to be taking care of some business in the Gracia area of town, more tapas and some department store/gourmet store research.