Hoi An, living picture postcard
Currently about 11am, Wednesday, December 21st in central Vietnam.
I picked the wrong time of year to be here, but Hoi An is a quaint little town just south of Da Nang and Hue. They do a nice job of trying to preserve the historic parts of town, which is a mix of French, Chinese, Japanese and Vietnamese styles. Unfortunately, it's now the rainy season for this area, and there's been some flooding and road washouts.
The overnight bus trip from Nha Trang ended up taking about 13 hours, although the driver was being overly cautious, rarely exceeding 35 MPH. There were points where it seemed like every other bus was passing us. Because it was so painful, I'm going to switch to the train for the Hue to Hanoi leg, which would have probably taken 16 hours by bus. The train won't be much faster, but I think more comfortable and easier to deal with overall.
I don't get BlackBerry service here, so it's back to checking email at an Interet shop. Internet access is readily available, but horribly slow here, so I'll just post this pic of the local specialty noodle dish - cau lau. Supposedly, by definition the noodles can only be made with water from the ancient Ba Le well, which I also visited. I don't know if this is the namesake of the Ba Le chain of VIetnamese restaurants in the US. This bowl has noodles, bean sprouts, sliced soy braised pork, some lettuce and herbs, and wonton croutons. They're not served in soup exactly, but they do have some soy-based sauce diluted by pork broth.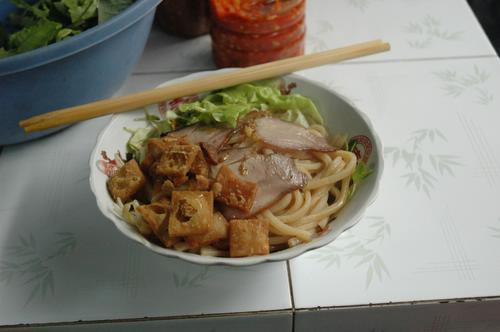 I'm taking a cooking class this afternoon, which is geared toward the local specialties, but what caught my interest is actually making rice paper and banh xeo, the crispy rice pancakes. The banh xeo I've seen at the market are smaller, like 6" in diameter, but they're rolled in fresh rice paper so they can be eaten something like a taquito, dipped in hoisin/peanut sauce rather than guacamole.