Snacking in Hoi An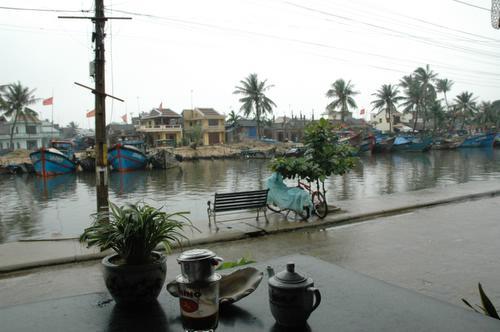 Above, starting the day with a ca phe sua (hot coffee with sweetened, condensed milk) on the riverfront.
In the Central Market in Hoi An, the banh xeo seem to take a smaller form, about 6" in diameter. They still have a bit of belly pork, a few shrimp, and bean sprouts. And again, there are competing vendors right next to eat other, so as I walked through, they're both trying to get me to sit down. Here's the first woman's setup.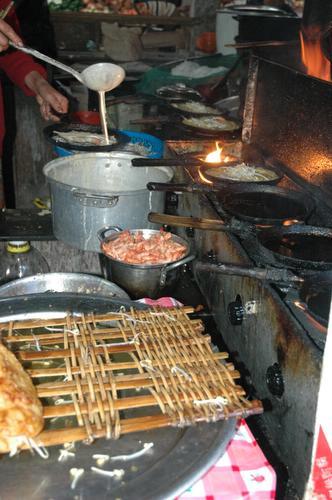 However, the second woman had her beat, in my opinion. Her sauce was better, and she was more careful about frying it crispy and reheating the banh xeo before handing it to me. I found out later at the cooking class that the green banana and carambola (starfruit) aren't in the right season to be eaten this way (according to them - both of the vendors I tried were using both green banana and starfruit), but I still liked it. Besides the fresh crunch that you'd usually get from herbs and lettuce (as I had eaten it in Saigon/HCMC), the slight bitter of green banana (skin on!) and the tang of the starfruit gave some added dimension to the little wraps. I had two of these, and only one from the first lady.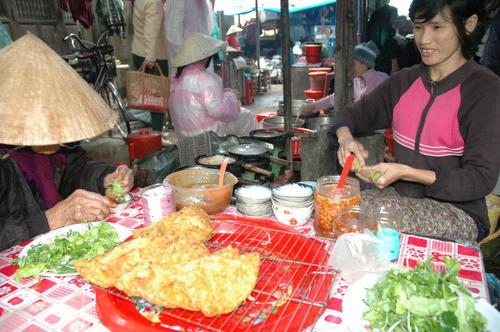 In addition to the cau lau I mentioned, I also had bun gio from this same vendor. A pretty girl will turn my head, but so will a huge plate of pork. This contains thinner noodles, has a spicer sauce base added to it, and of course the pork shank. Not as good as I wanted it to be, but pretty decent. The portions are pretty small, so having 3 small banh xeo, 2 small bowls of soup, a small banh mi and a few tiny mochi things was not a problem. I think I spent about VND40,000 for all of it, about US$2.52.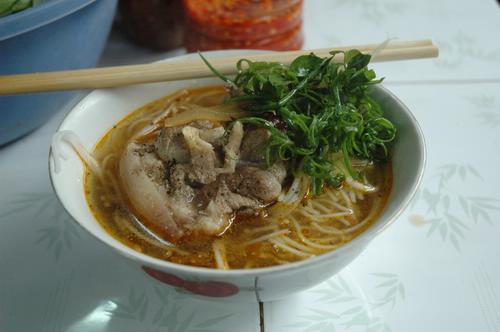 This is the Ba Le well, which has existed from the Cham era, so at least 800 years, possibly as many as 1500 years. The story goes that the water from this well makes superior noodles, and so true cau lau (the local specialty) can only be made with noodles made from the water from this well. It's well bricked in and up away from the river a bit, so I can imagine at one time it may have been better quality water than other water in the area. Pretty unlikely that it makes any discernable difference once it's made into noodles, though, IMHO. It's hard to find because besides being on a small alley, you have to do a buttonhook turn to see it. I had to ask a boy at the adjacent church to point it out to me.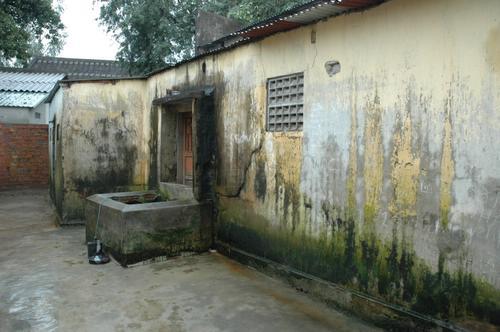 I'd definitely come back to Hoi An.