More from Hoi An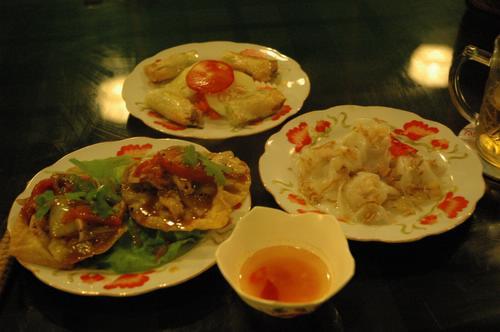 Miss Ly Cafeteria 22 serves a set meal which includes all the local specialties. Although it was in the guidebook, and there were only non-Vietnamese customers, I got a good vibe and decided to try it. It was quite respectable, I thought, especially considering the comfortable digs. Clockwise from the top are fried spring rolls, white roses (shrimp in fresh rice paper with a light rice vinegar dressing and crisp shallots), and Hoi An style wontons. The sauce for this is tomatoes, black pepper, onions, garlic, soy sauce, and a starch-thickened beef stock. It reminded me of a Chinese entree in Hawai`i called Beef Tomato which is all of those things plus velveted beef. Also in the set was grilled lemongrass pork with peanuts, and a bowl of cau lau, the soup with the wonton croutons.
This guy has a cool setup. There's a motor in the bottom that drives the rotisserie over a real charcoal fire, and he's secured pork belly around the drum. The pork skin has some serious crispy chicharron action going on.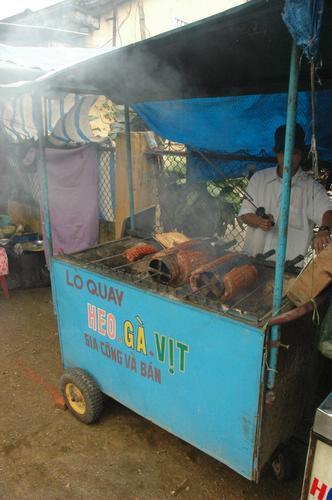 Here's the banh mi made from it. This is about as good as it gets, I reckon.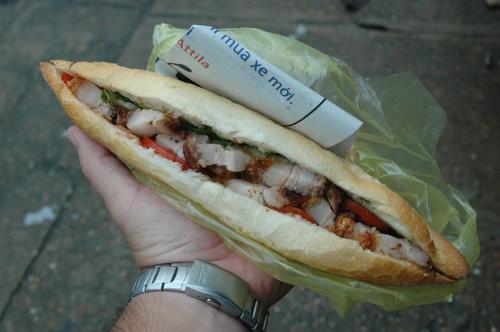 These tiny bulbs of a relative of chives and onions. According to the leader of the market tour, it's used as the base of some marinades and flavoring pastes. BTW, they're really small, like the size of English peas.
The market guide called this henna, but I thought henna was reddish. People make a strong extraction of the pods in water, then wash their hair with it. Its uses are purely cosmetic - it's not for consumption.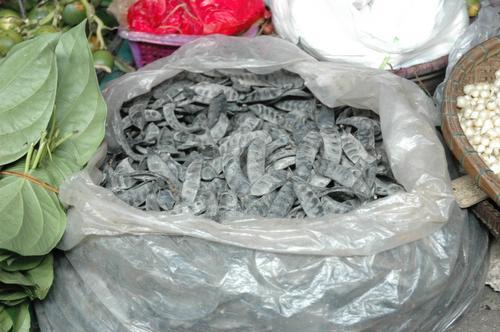 Ever wonder what happens with all that leftover baguette? Here's one use: shrimp and pork toast. It isn't very appealing to look at, but it's greasy and good to eat.