On the Train to Hanoi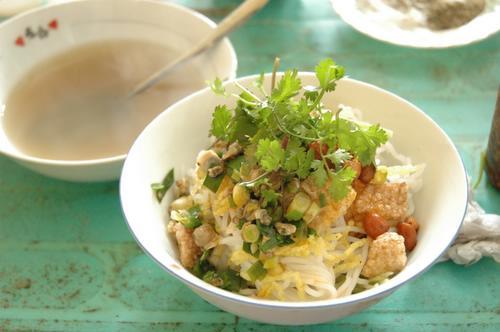 Just before leaving Hue, I found a busy restaurant called Quan Ba Hoa also selling bun hen and chao hen, which is rice soup with the local clams. I actually had a bowl of each, but above is their version of bun hen. Again, some julienned banana blossom, some greens and herbs, the rice noodles, the yellow bits are crisp rice threads, the clams, a few peanuts, green onions, cilantro and a few pork rinds. Broth on the side.
I didn't go into the highlands on this trip, but what I've seen of Vietnam hasn't really been heavily forested. I suppose that might have to do with all the defoliants, but as the train rolled through a lumberyard, it's clear that the area north of Hue had some pretty sizeable trees, and they've been cut down for a while. Maybe somebody just figured out something valuable to do with them, because there were long lines of tree-laden cars.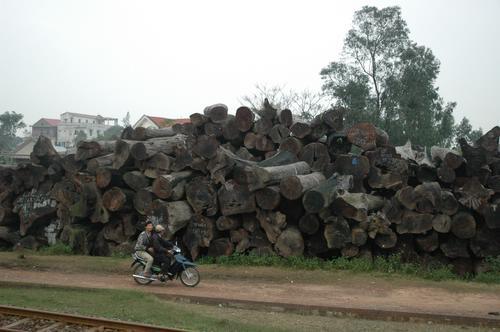 I enjoy travelling by train. About half of the people in our car were all standing at the windows as we pulled out of town. As they got bored and left, a Vietnamese man (of about 75 or so) and I were the only two watching the scenery go by. It was as if he was 5 years old again, just happy to stand and have the wind on his face, even though he was shaky in the legs. As it got dark and nothing was really visible, we both ended up getting some sleep, but as we pulled into Hanoi, there we were again, staring out the window at the dark cityscape.

These are rice paddies that are being prepared for replanting. Those chunky track patterns in the mud are from that tiller machine that has been adapted to mud with paddlewheel looking replacements for wheels.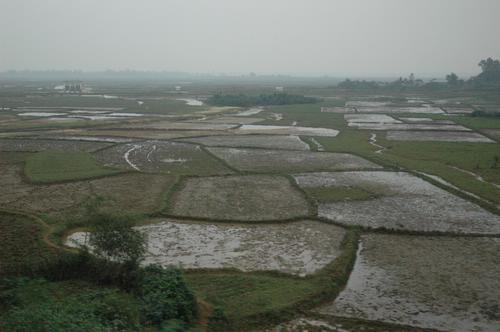 These are Chinese/Vietnamese mausoleums and grave markers. That white stuff isn't snow, it's not nearly cold enough - I'm guessing it's mineral sand.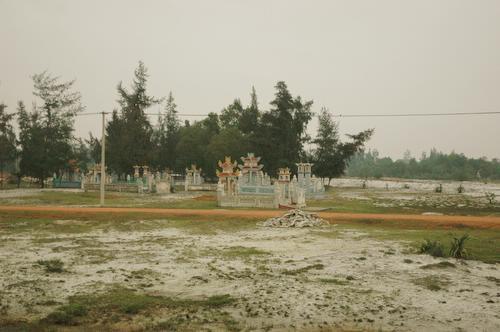 A Vietnamese man and woman were sharing my cabin. There are four berths per cabin. This is our dinner included with the ticket. Hot rice, pork and chayote squash, mustard cabbage soup, and fish with tomato and chili. Pretty bland all the way around, but better than some airline or bus terminal food I've had.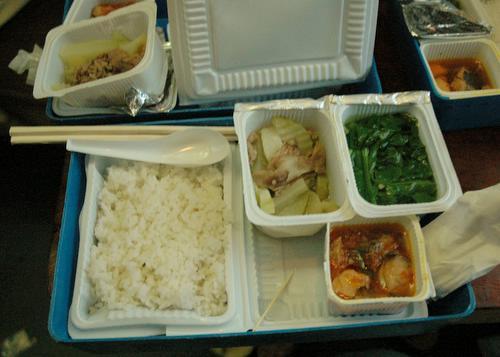 The train makes occasional stops to take on water. There are some women that scurry out and connect those big hoses to the water tanks of each car.