Phnom Penh by moto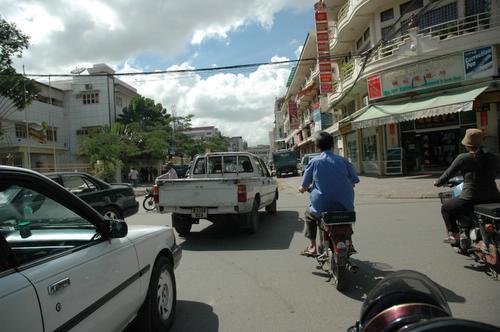 In Cambodia, most cars are left-hand drive, so they usually drive on the right-hand side of the road, like in the US. Usually. In the US some cities have the bi-directional lane for making turns, and it's popularly called the suicide lane when used as a purgatory before turning onto a busy street. Here the suicide lane IS the oncoming traffic lane. Most traffic only goes at about 15-20 miles an hour anyway, so I suppose it's easy enough to react to some guy pulling out directly in your path. Anyway, I rented a moto driver for the day to show me around Phnom Penh. About half of these are taken with one hand, while holding on to the bike with the left hand.
I believe this is part of the Royal Palace.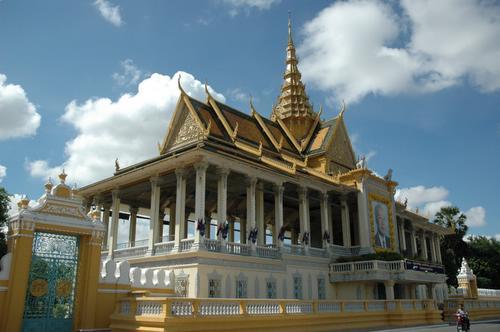 Independence Monument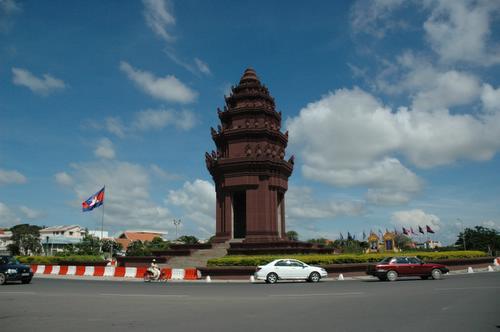 To my regret, I wasn't able to learn much Khmer (the language of Cambodia), and my phrasebook wasn't so helpful. So I walked out of 3 restaurants before I was able to piece together something like, "Cambodian food. For Cambodians. No tourists. Real one." I finally made enough sense and he took me to little spot off the main streets. This is chicken, bittermelon, sweet potato, and some sort of local greens.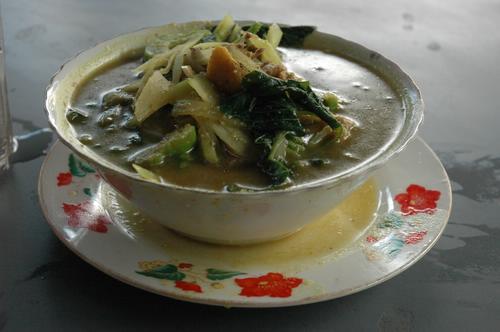 And this is pork with mustard cabbage.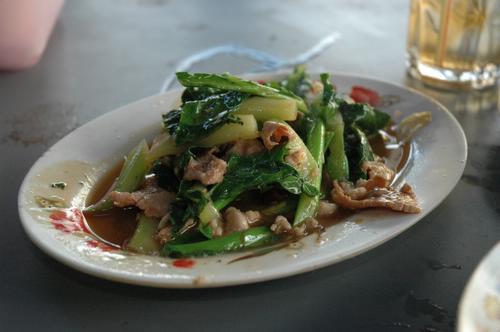 I did a few errands, went back to the hotel, got a one hour foot massage ($3US plus tip) and a one hour body massage ($6US plus tip). Then we headed out for the evening. In less wealthy countries, cars are out of reach for most people, so people have scooters. It's fairly common to see whole families on a moto, like 3 adults and two kids, etc. Or sometimes 4 grown ass men. Women and girls usually ride sidesaddle unless they're driving.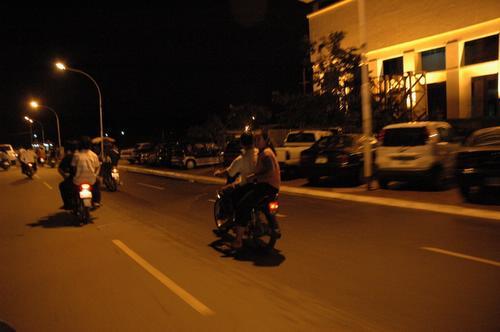 For all your nighttime fruit cravings: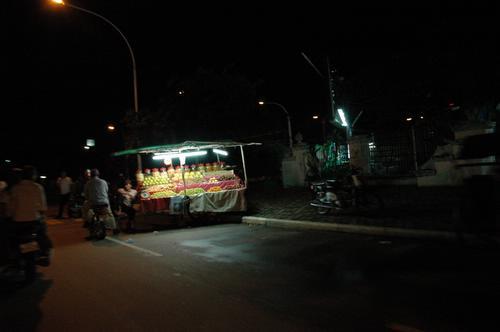 The Foreign Correspondent's Club is one of the standard stops in Phnom Penh. It's up on the third floor, in a nice spot overlooking the river. But very modern. Even has generic smoothed out electronica playing and the menu could be from any clubbish place in LA, except for a handful of Cambodian dishes and the prices. It's a nice hang if you're missing the West, I suppose.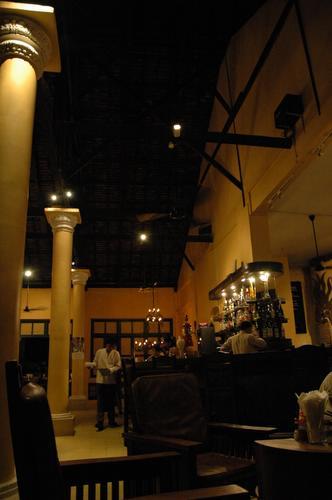 Another transportation option: a moto with enough trailer space for about 12.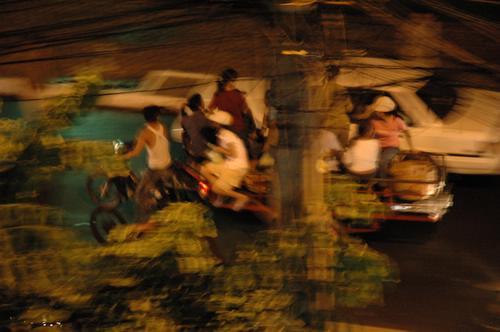 Semi-obligatory Angkor beer and badly cooked calamari with lime aioli. The reason I chose calamari was it was all jackass bar food, so I figure I may as well get something made with local seafood. The calamari was rubbery, the outside was soggy, but the aioli was okay. I didn't stay long.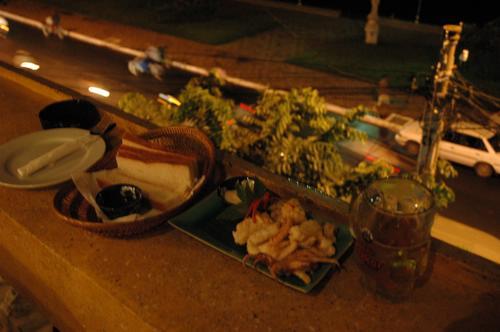 Some sort of night carnival.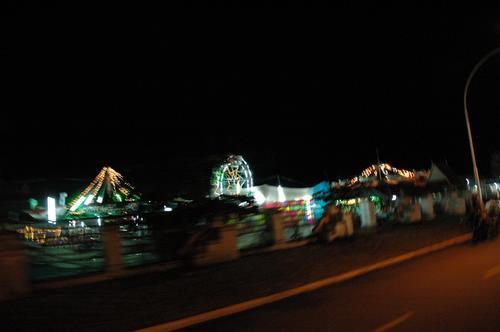 I asked the driver to cross the bridge over the Mekong River. This is looking back toward the riverfront area where the FCC is.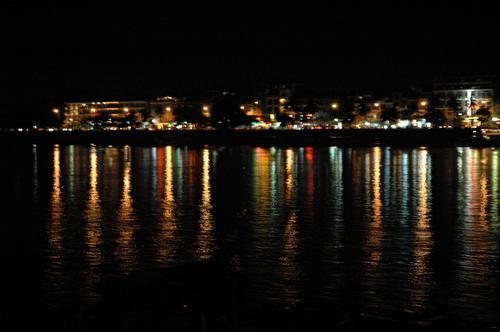 For dinner, we stopped at one of the restaurants on a different stretch. This particular one had cabanas overlooking the water. Sorta touristy, and the menu had food from all over the world, but the Cambodian food was nicely presented. This one was almost like Korean BBQ, but with "special Cambodian sauce" which was kinda like a chunky sesame/peanut sauce with chilies in it. They melt a moat of butter around the outside ring, dip the marinated stuff in it, and move it to the grill. Then to help it along, because the butter and marinate isn't quite enough, that's a big chunk of pork fat in the middle. There was a nice portion of marinated beef, shrimp, and squid for 8,000 riel, $2.00 US.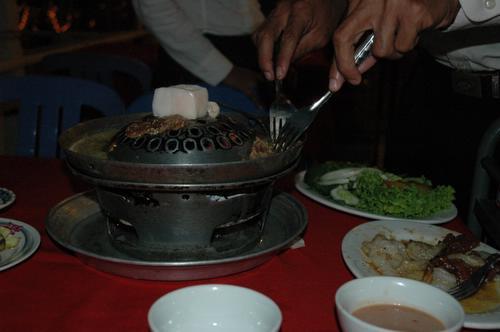 I also go a very pretty smoked fish and green mango salad with some bitter cress in it, and a stir-fried beef dish with a sauce similar to the one above, garlic, sesame/peanut and chili. Grand total: 32,000 riel, or $8.00US plus $2.00 tip because they had 5 people waiting on me.