More Hanoi Eats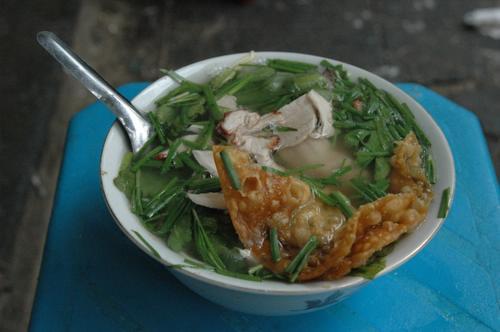 This is one of my favorite dishes that I've had in Vietnam. As a qualifier, you should probably consider that I'm not really a soup guy. I've been confronted by that almost daily since soup and soup noodles are a big part of Vietnamese food, and I've had soup or soup noodles once or twice a day everyday since I've been here. But the fact is, at home I rarely find myself craving soup. And when it gets right down to it, if you force me to choose, I prefer rice to noodles. But dammit, this is full of good stuff. It's called my van thanh - the word my in this case signifies angel hair thin wheat noodles. [It's a Vietnamese type of wonton soup] There's some thinly sliced pork, and a crisp, pork-and-mushroom filled wonton that drinks up some of the pork broth and lends a bit of rich, golden brown flavor. [I forgot that it also has 3 boiled wontons and a slice of poached liver, as well] Most people doctor it up with a shot of chili sauce and/or chilies in vinegar, or some sea salt or spice (MSG). If it's offered, you might also give a squeeze of lime or calamansi. This bowl is VND 10,000, or about US $0.63.
Predictably, a triple hit of pork will make me like a lot of things. [Actually, I guess it's a quintuple hit]
These pictures are the best/most interesting things from over the last few days.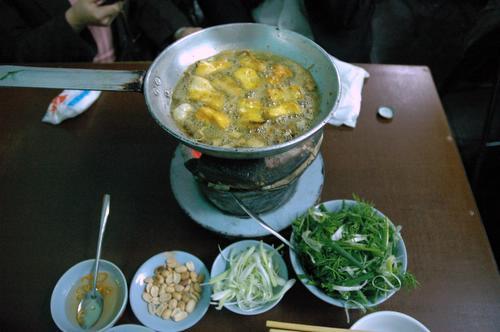 This is what you get at Cha Ca La Vong, a one-dish restaurant. Although it's usually referred to as grilled fish, and it's brought out on a grill, in cooking terms, it's really pan-fried or almost like fondued in oil. But the charm of it is the turmeric tinged oil. The green onion bottoms are kept separate from the tops which are mixed with dill, separate again from some cilantro. What most people seem to do is add in the white part of the green onion first, then add in some of the dill and green onion tops until they are softened. My picture didn't catch the white bun noodles, but as things are cooked, you put them on the bun noodles, and the yellowish oil becomes part of the "dressing" for the noodles. Like many bun dishes, there's something hot against the cool noodles, with greenery, crisp herbs, crunchy peanuts, sweet and spicy from the nuoc cham and chili sauce if you want it. I didn't notice until later that other people got mam tom (shrimp paste) to add some the funky/salty dimension to it, so I'll ask for that next time. It's not as oily as it might seem, and somewhat milder overall that I expected. But fun to eat and tasty in it's own way. The food is VND 70,000 per person, or about US $4.40. Drinks extra.
I believe the dish below is called bun bo nam bo. There's some green leaf lettuce at the bottom, fresh (cool) bun noodles, some marinated beef is sauteed to order with bean sprouts, then covered with crispy shallots and some carrot and green papaya salad. Some of the cooked marinade becomes the dressing for the noodles. Most people mix up the whole works and add some chili sauce or nuoc cham. I need to fix the bluish cast to the photo, but it's tasty stuff.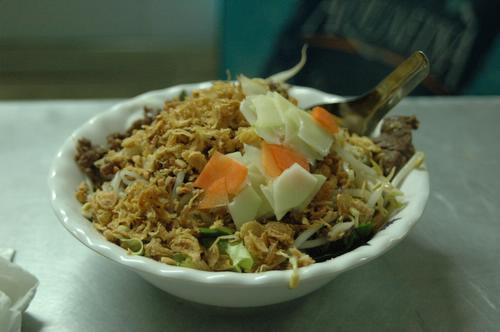 Fanny Ice Cream seems to be the most sophisticated of Vietnamese ice cream cafes that I've been to. The dish below is called crepe Fanny on the menu, containing sauteed bananas inside the crepe, topped with chocolate sauce and whipped cream. In the martini glass is a scoop of cinnamon ice cream (although it's called cinnamon, what we think of as hot, spicy cinnamon is actually bark from a different tree called cassia - true cinnamon is milder and more flowery), and the other glass is cafe sua da, coffee with condensed milk over ice.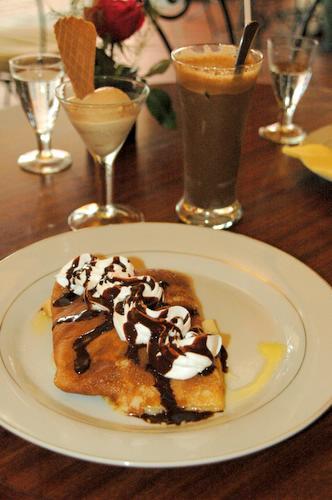 I took a moto to a few restaurants on the West Lake, near the Sofitel Metropole hotel. If you're looking to save money, try to get a Vietnamese person (from your hotel or whatever) to arrange for your moto or taxi. Although foreigner pricing is outlawed for many things, motos and many taxis still start at a higher scale for non-Vietnamese. I paid VND 10,000 to get out there (negotiated by Mr. Ha), and a guy wanted to charge me VND 40,000 to get back after dinner. You might say that arguing over US $0.62 versus US $2.52, isn't significant, but what you could have gotten for your VND 30,000 is pretty significant. That could be 5 banh mi sandwiches, or 2 beers, or 3 scoops of ice cream or... Since the mean moto guy and I negotiated to an impasse, the waiter in the restaurant (who was practicing his English with me while I tried to learn the names of things in Vietnamese) actually brought me back to the hotel and I was happy to give him VND 35,000 for his trouble. It all depends, I guess.
If in case you should ever be in Hanoi and order baby lotus stem salad, nom ngo hoa (I think), I'll warn you now that it comes with julienned pig's ears for flavor and texture. Actually, this is pretty tasty, except the stems are too chewy for my liking, at least the way they are cut.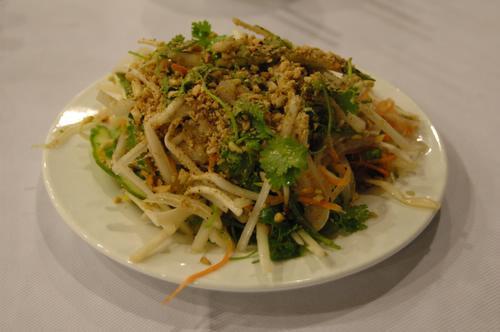 This dish is called lau Hai Phong. Lau is the generic term for hot pot, so you might see lau Thai (tom yum) or by the type of protein it features, like lau luon (eel), etc. Hai Phong is an important harbor city, so it usually means mixed seafood. This one has shrimp, fish, and squid (tom, ca, and muc). The broth itself is milder than I expected, lightly red from some tomatoes, with some herbs and ginger as the base. Also for the hot pot are my cua (thin, wide wheat noodles), the greens cai cuc, rau ean, and rau cai xanh (not certain, but I think cai cuc is sorta soft and velvety, rau ean is some stemmy green, and rau cai xanh tastes like a type of mustard cabbage). Overall, there are other things I'd rather eat, but it's definitely fun to cook at the table and eat things just cooked.
I bought some new toothpaste, because, I knew what the word was, and I just had to. Take a guess to what muoi is.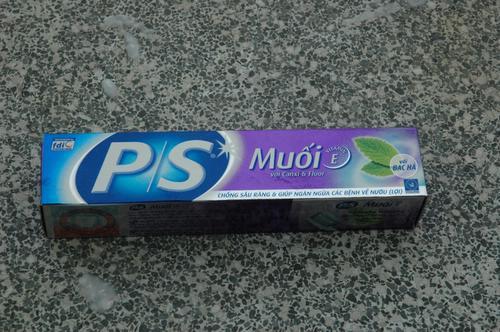 Come on, guess...
.
.
.
.
.
.
.
.
.
.
Muoi means salt, with mint. I actually like it, except that it feels like I just had my entree, and I want to have dessert after I brush my teeth.