Hatfield's Chef's Tasting Menu
Last Wednesday I was lucky enough to be treated to a dinner at Hatfield's. It's been open for just about a month, but all the comments I've heard were that they were solid out of the gate. It's at the old Le Chine Wok location on Beverly Boulevard in Los Angeles.
We started with a glass of prosecco di Valdobbiadene (an Italian white sparkling wine) and made our way over to the tables in the patio seating area. It's a bit unusual because it shares a wall with the adjacent building, but they've made it comfortable. The light is really nice and diffused around 6:30pm when the sun was still bright. As part of my continuing problem, I forgot to take a picture of the front, but I'll insert one here later.
We decided on the chef's tasting menu, and our amuse bouche arrived (amuse bouche is a small taste that is not considered part of the meal). On the left are watermelon and Thai basil agua fresca and the spoons are deviled quail eggs. If you're not familiar, aguas frescas are the name for light fruit drinks in Mexico - often they're in large glass jars at taco stands and restaurants, along with jamaica and horchata. Unfortunately for me, watermelon is not one of my favorite things. I liked the subtle addition of the Thai basil, with it's anise-like note. The quail eggs were simply prepared and tasty.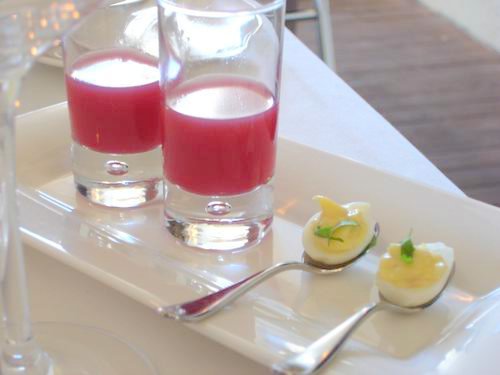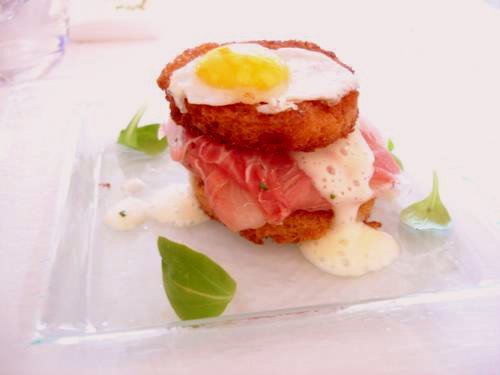 Above, is their take on croque madame, made with buttered brioche, hamachi, prosciutto, and a quail egg. Somewhat surprisingly, to me at least, the hamachi (yellowtail) stands up to the prosciutto, and they also have similar rich textures. The buttered brioche adds some toasty brown texture and flavor and the quail egg yolk pulls it all together. As would become evident throughout the meal, it's made with precision and restraint.
I also would like to note that the bread is excellent - dinner rolls with some Emmenthaler (?) cheese baked on the top. It's really tempting to just keep munching on these, as they bring them out hot as you finish the previous one. I had three all night and could have kept going.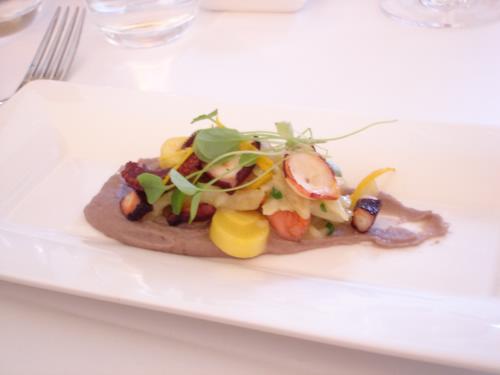 The next course was chargrilled Japanese octopus with hearts of palm and red wine-olive (potato) puree. The octopus was poached first to make it tender, then lightly grilled. My Uncle Norman, who is a great grill and kamado cook, used to grill octopus in a similar way, so it reminded me of standing around the Weber watching him cook it. The olive flavored mashed potatoes sounds like an odd match, but because of the starchy sweetness of the potato, the emphasis is more on the fruitiness of the olive, rather than the bitterness. The hearts of palm added a light crunch and some acidity.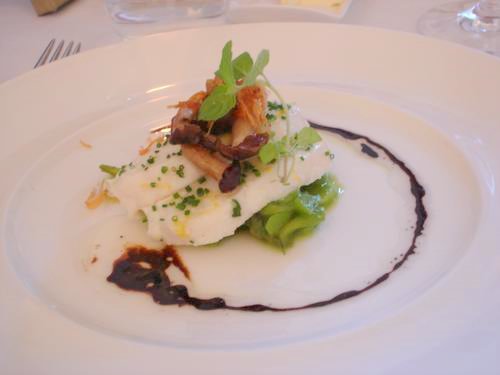 Next, olive oil poached halibut with hon shimeji mushrooms, herbed asparagus and crispy shallots. Halibut is quite lean, so poaching it slowly in olive oil adds some richness and keeps the texture soft. The shallots were just the right touch of crisp nuttiness to set off everything else which was tender.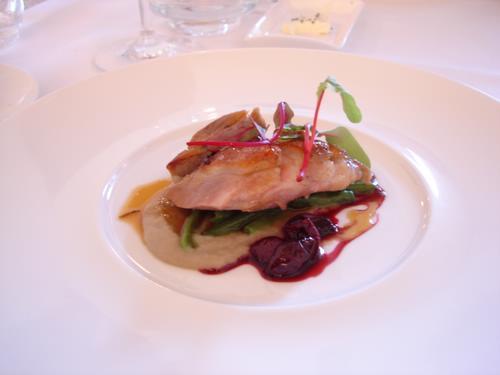 Above is a slow roasted Jidori duck with sunchoke puree, green beans, and bing cherry sauce. I've never heard of Jidori duck before, so I looked it up. It refers to a species of Japanese chicken, but it also must be free-range for at least 28 days. Since Jidori chicken is gaining recognition and cache as a premium chicken, I'm guessing that somebody is borrowing it as a marketing term to mean free range duck. This was probably the most "conventional" of all the courses. It seemed like the duck breast had been resting for a while, but all in all, it was well prepared. We ordered a glass of nuit St. Georges for the duck and lamb courses.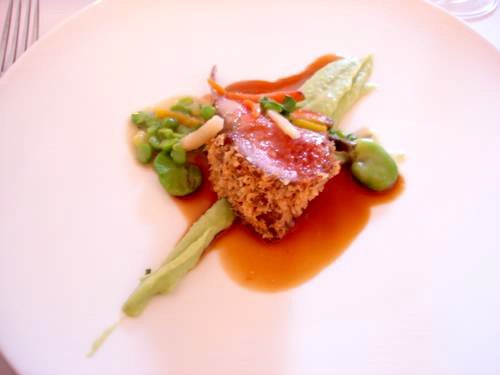 Date and mint encrusted lamb loin with fava beans, and potato-chive puree. Unfortunately, I don't remember what this sauce is, but as I recall it seemed like red wine and stock jus. I'm a big fan of lamb, and I enjoyed this course. I personally thought the dates were slightly too prominent, making it more sweet than savory. But that's a minor quibble.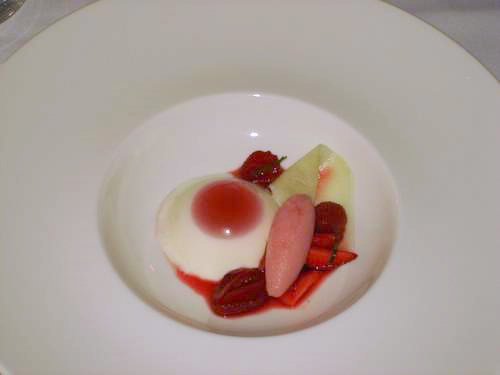 Our first dessert is panna cotta, rose petal sorbet, and strawberries. Panna cotta means cooked cream, and in this case, it's just b a r e l y set for a very delicate texture. The rose and strawberries are an excellent match. Light and wonderful. I had a glass of fruity but not too sweet Lacrima, which had many complementary fruit and floral notes.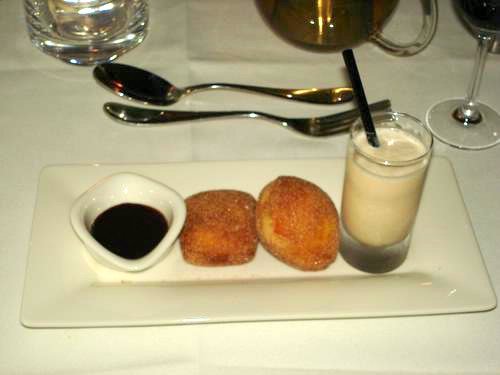 The second dessert was sugar and spice beignets with chocolate fondue and sassafras milkshake. Many restaurants are serving doughnuts or beignets or some related deep fried item, but these beignets were carefully fried and gorgeous. For a point of reference, sassafras is one of the flavorings of rootbeer, so it's somewhat like a rootbeer milkshake. Very tasty.
There was also a migardise of hazelut praline with chocolate and fleur de sel.
The owners, Quinn and Karen Hatfiled are friendly and obviously very talented chefs. The combinations tend toward the classic, but there's so much thought, care, and finesse put into the dishes that the results are fantastic. I really love the cozy scale of the restaurant, where it's clear that the chefs are very much involved on a day to day and plate by plate basis. At $72 for seven courses, I think this is a great value.
I look forward to returning soon.