SAM & Julie's Rehearsal Dinner
I'm posting this a bit after the fact, but back in July, Amy and I went up to San Luis Obispo to cater a rehearsal dinner for SAM and Julie. We had a great time cooking and meeting everyone. Here's the menu, and a few pictures of the food, courtesy of Amy.
Prosciutto Cups with Mission Figs and Balsamic Vinegar/Pine Nut Brittle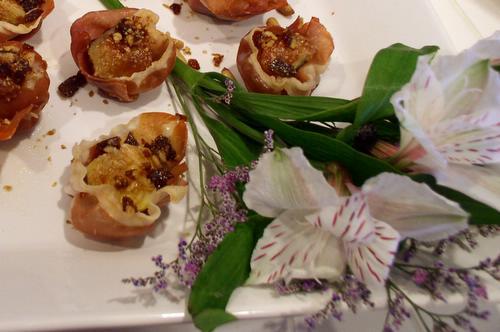 Nori-wrapped Shrimp Tempura with Spicy Sesame Sauce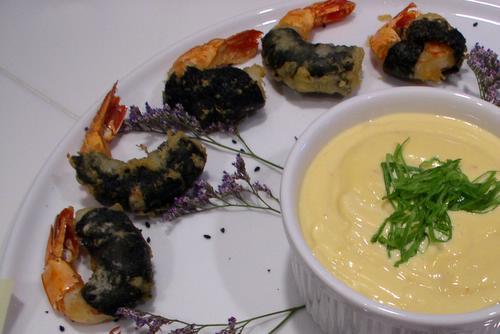 "Filet" of Tri-tip with Homemade Steak Sauce - I call this "filet" of tri-tip because it's cooked sous vide, at 131 degrees F for 26 hours, making for very tender beef.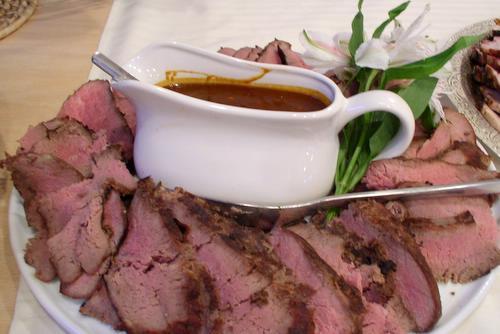 Grilled Chicken with Fresh White Nectarine Glaze
Whole Roasted Pork Loin, Olive Bread and Fuji Apple stuffing
Fresh Lettuces with Sherry/Orange Vinaigrette
Herb Roasted Potato Medley
Toasted Pasta Salad with Feta, Pine Nuts and Olives, and Tomatoes
For dessert, Amy made a delicious
Fresh Cherry and Macadamia Nut Pie