Daytrip: Hondarribia & A Fuego Negro
A little morning sustenance - mini-chorizo sandwich, tortilla Espanola, and a tiny plum cake/muffin.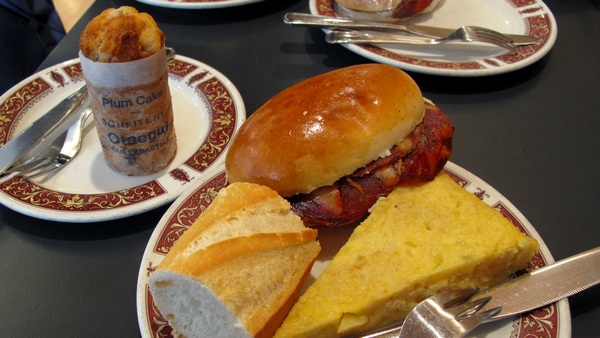 Noel and Charlie got us into a Spanish professional league basketball game. The Donostia/San Sebastian Frogs are doing very well this year, and they won handily against their Basque rivals from Vitoria. Two players are from the US, but even many of the others are very good. A few look like they'd be more comfortable kicking it like a futbol, but it's a really fun environment, the fans are really involved, and the facility is amazing. It was originally built as a plaza de toros - a bullfighting ring. Here's an indoor blimp they have at the game, controlled via remote. The company provides insurance, I think.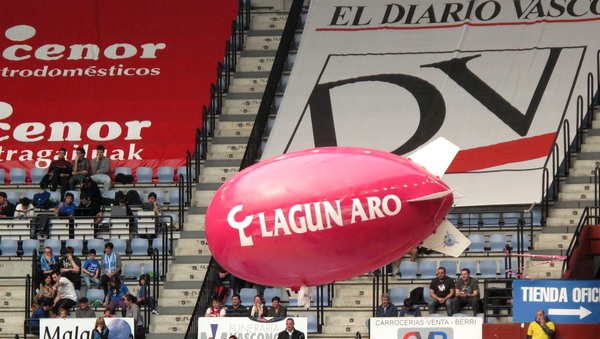 More food pix after the jump....>>>

Ainhoa had graciously volunteered last night to take Noel, Iker, and myself on a short road trip up to Hondarribia, which is northeast of Donostia/San Sebastian, just at the border of France. On the way out of Donostia, it quickly goes back to green hillsides, rich farmland, picturesque little stone farmhouses with puffs of smoke leaving the chimneys, sheep in the pastures... like pages in a storybook. Seriously.
Hondarribia is a quaint and gorgeous seaside town, and is also known as a place for great seafood. We strolled along the main paseo until we found a cafe that looked good. Sitting outside, we got a bottle of sidra, the local hard apple cider, an order of fried sardines with garlic and peppers, txipirones en su tinta (small squid braised in their ink), and gambas rojas a la plancha (red prawns on the griddle). This is the good life!!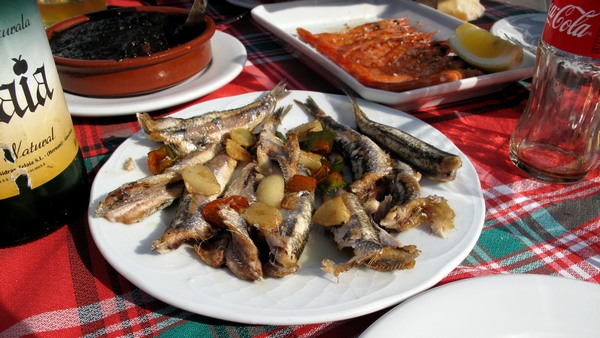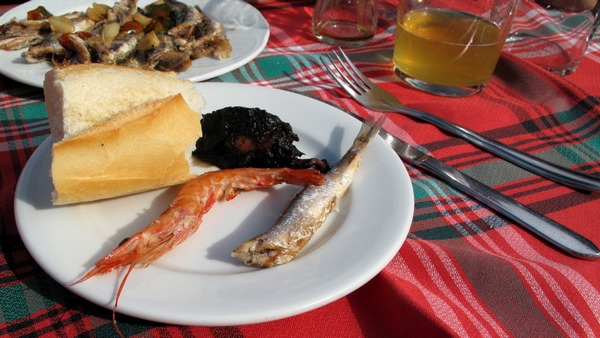 Can't forget the jamon Iberico: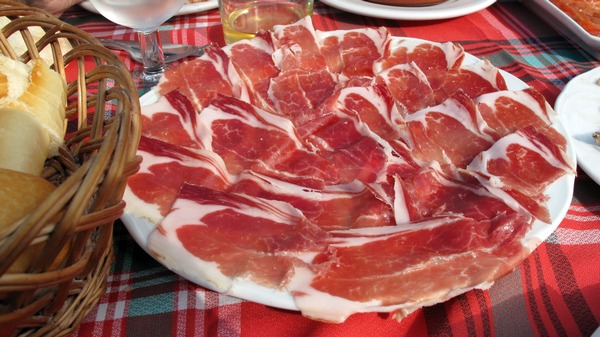 In recent years, throughout Spain, a select number of old structures (like forts and castles and such) have been repurposed and renovated for use as luxury hotels, while retaining much of their appearance as historic buildings. They are refered to as paradors. This is the entry to the Parador de Hondarribia.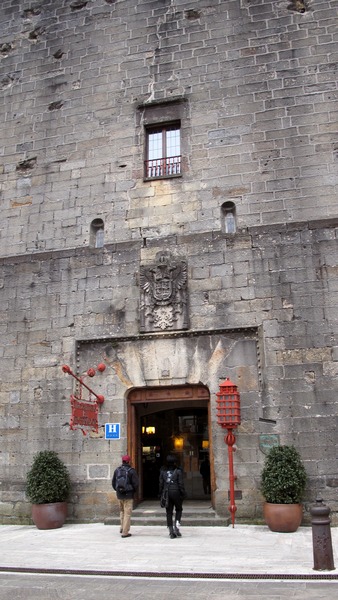 Looking across the river to France. This area of France is historically Basque, and some would claim that it should be part of Euskal Herria (the inclusive idea of Basque Country, transcending current geopolitical borders). In bars for locals, we saw quite a few posters of political prisoners still in captivity, and other posters for the Basque nationalism movement that show a map that includes current Basque territory, as well as Navarre and parts of SW France.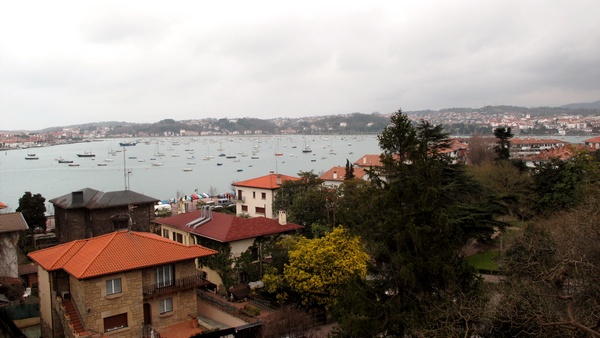 Back in Donostia, I decided to stay one extra night, so we went out in search of more pintxos. Since it was Sunday, it was less crowded, but also a few places were closed. However, A Fuego Negro was open, and with a lot more room to relax than normal. It's helmed by a younger chef, and while they have some classic things, they're also trying to extend and advance the concept of pintxos, both in terms of technique and global influences. This is a ceviche with fish (snapper maybe?), avocado, pomegranate arils and citrus espuma. Not as good as the one Migz makes, but bright and tasty.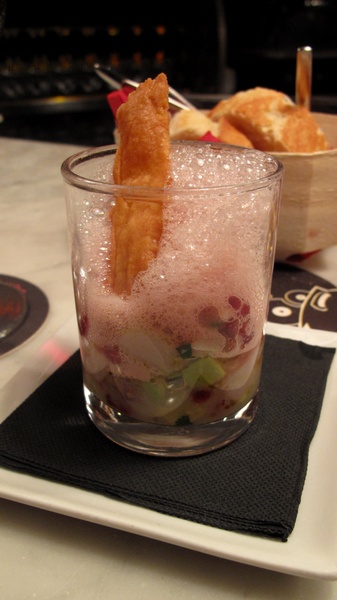 Salad of black and white quinoa, mixed lettuces, cucumber and apple. Nice to have something fresh and crunchy. There usually aren't many vegetables offered at most tapas/pintxo bars.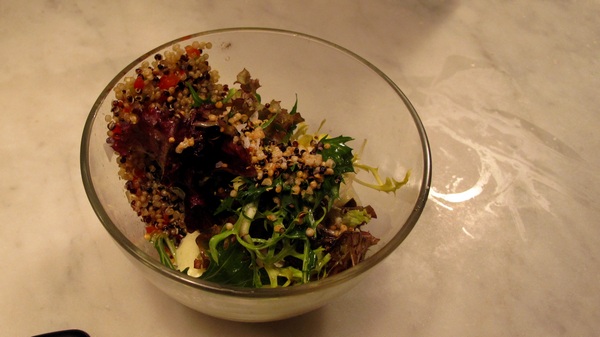 These are interesting - rabas - they make sort of a custard flavored with squid ink, firm enough to hold together, then it's battered and quickly fried. Almost like the dessert leche frita, but savory. In the process, the custard gets warm and melty. Striking black color inside, and the characteristic inky-oceany flavor.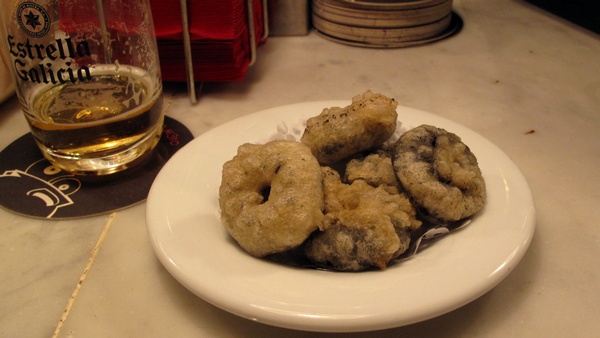 This is a nice chunk of tempura style hake - merluza - the same fish as most of the kokotxas, but featuring the flesh. With parsley sauce. Very nice. Off to the left is Brussels sprouts, chicken hearts, and fingerling potatoes. Tasty!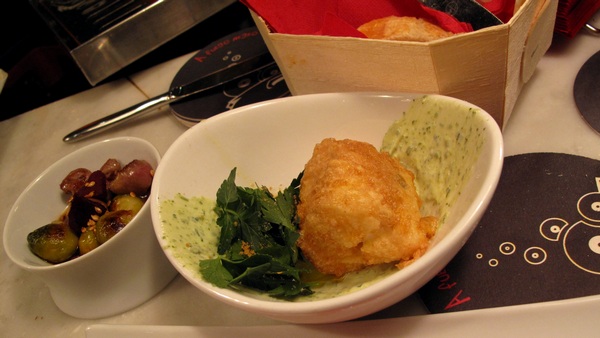 A classic pintxo - guindilla are the small pickled green chilies, not so hot, with olives and anchovy. Salt on salt on briny, in a good way.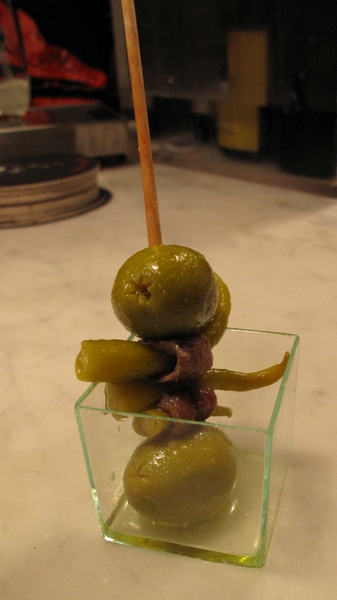 This is how they present their jamon plate, but it isn't the usual jamon Iberico, it's a ham made in the Basque country. The ham is underneath the box in the paper liner. I believe it's called txoritxero for the chili pepper that it's seasoned with. Really excellent. A little more moisture to it than most Iberico, it is silky and melts when eaten. Faint background of spice. Highly recommended!
We also got a similar platter of free range chicken that is made into a sort of terrine. Not as successful, although pork wins over chicken pretty much by default.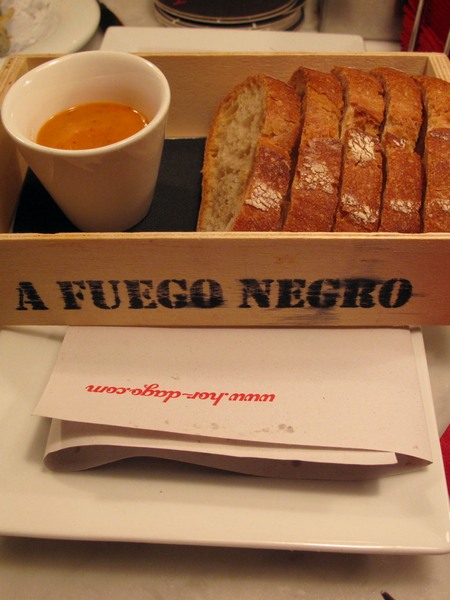 Jamon txoritxero on toast with salmorejo sauce - somewhat like rouille, usually XVOO, garlic, bread, tomato, vinegar, emusified.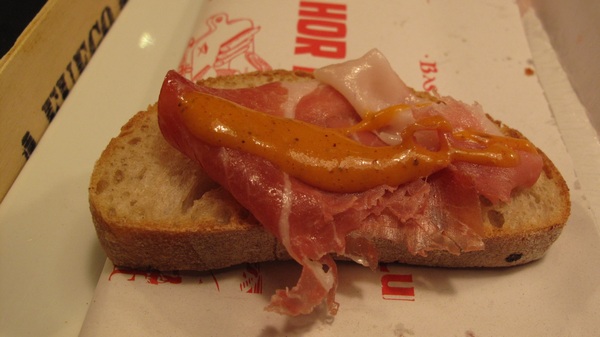 Frozen aerated cheese, sardine powder, herb powder. This has a refreshing quality to it since it is frozen, but has some deeper layers from the cheese and sardine. Much more complex than it appears. A little awkward to eat, though. The wooden serving piece has a pin sticking out on top, they pierce the napkin, then the cheese is spiked on the pin to secure it.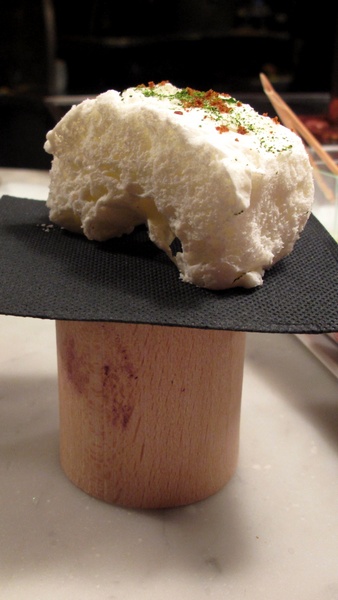 Arroz cremoso, tomato paper ring, egg white and "yolk" of pumpkin soup. The base is a creamy rice, well flavored like a risotto, contained by a band of edible tomato paper/leather, with what appears to be a poached egg on top. But it's actually just egg white encasing a liquid center of pumpkin soup, which replaces the egg yolk. The soup becomes a sauce for the risotto. Clever and delicious.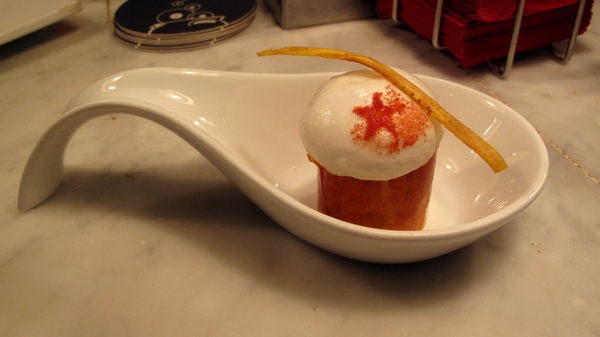 The name of this dessert is Regalize It: Chocolate/licorice sorbet, Chocolate dirt, pot leaf shaped cookie (no pot). Generally, I'm not a fan of "dirt" in desserts, to me it's just not appealing, usually they don't taste good, and sometimes the texture is either too sandy or gritty. This was pretty good. I'm not sure of the pot connection, except that Legalize It is a slogan for marijuana. Overall, I like A Fuego Negro a lot - great interior design, cool aesthetic, comfortable, and tasty food.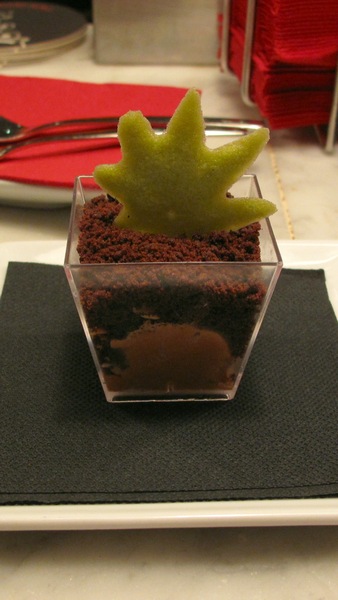 Donostia is an extraordinarily beautiful place, with incredible culture and superb cuisine. I look forward to returning in the not too distant future. Thanks again to Noel, Ainhoa, and Iker for being the tour guides today!