Ready, Set, Pintxo!
These are besugo at the Bretxa market, the sea bream we had in Getaria the other day. If I'm not misaken, 33 euro per kg converts to about US$20 per pound. A pretty penny.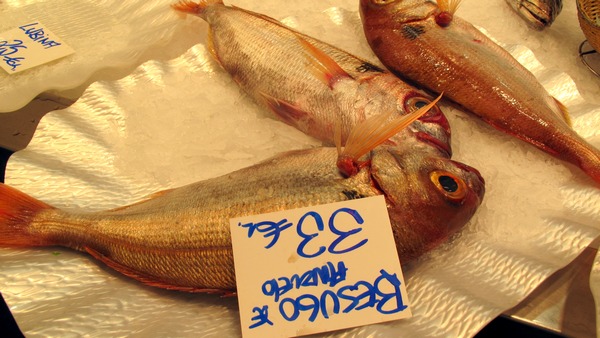 These are some breads I picked up from a more Basque oriented bakery across the street from my pension. The baguette is called txapa (chapa), but it's essentially baguette without the pointy ends. The brown ring I need some help identifying. It's been baked a long time, it's very fragile and light in weight. Honestly, to me it tastes a bit scorched, but I've seen it like this at other bakeries, so I don't think it's a fluke of being overbaked. If you know the name of this bread, please let me know and I'll insert it here. The others are just pastries, the yellowish one has egg in it, very rich, and the other is simpler, just a sweet bread.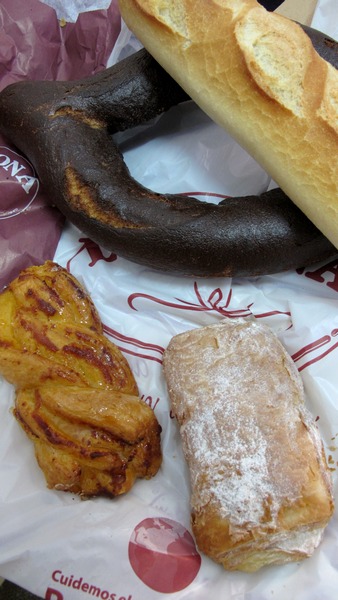 These are from a different day, but I'll drop them in here - on the left is a small nut torte with almond meal, a light syrup and some icing. Very tasty. The other is similar, but more like a muffin, with that almond crust on top. Also very good. The quality of baked goods has been really high throughout my trip, and these were no exception.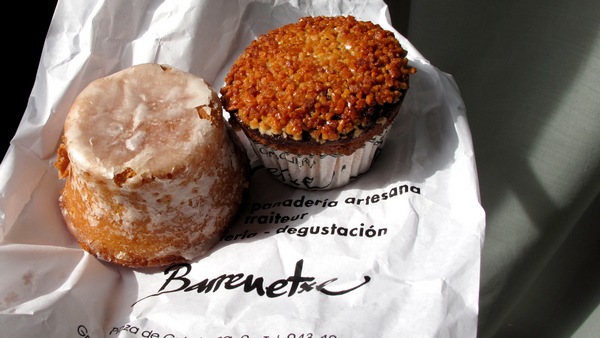 More pictures after the clicktures >>>

It's happened to me before - one of the days I'm most looking forward to, when I expect to eat something outstanding, is the day I'm not feeling 100% in the stomach. And so it is today for our pintxo crawl ... but I'm gonna rally later. Pintxos are the Basque term for tapas in general, but I believe also for a subtype of tapa on a skewer or toothpick (pierced). For instance, an olive, a small green pepper, and an anchovy filet. The other main subtypes are montaditos (a slice of bread with toppings such as artificial krab salad (txaka), codfish salad or jamon Iberico and goat cheese), or bocatas (little sandwiches of jamon Iberico and cheese, or chorizo), or the little plates or cazuelas (the earthenware casseroles) of sauteed mushrooms or what have you.
Our first stop of the night is called Astelehena, just on the outer edge of the plaza in the Parte Vieja. As with most pintxo bars, they display most of their offerings across the bar. The ones in the foreground are to pick up and eat, on the honor system. The ones further away there are little croquettes or fritters or skewers that you choose, but then are taken to the kitchen to be cooked.Then they also have hot tapas that come out from the kitchen. Most places have the majority of the same items, which are the local favorites, and a few house specialties.
My local colleague says that technically, having all this food out, especially the raw seafood, is prohibited, much like it is in Los Angeles. But for tradition and ease of service, they bend the rules as far as possible. It's so prevalent, it seems like they just don't enforce it.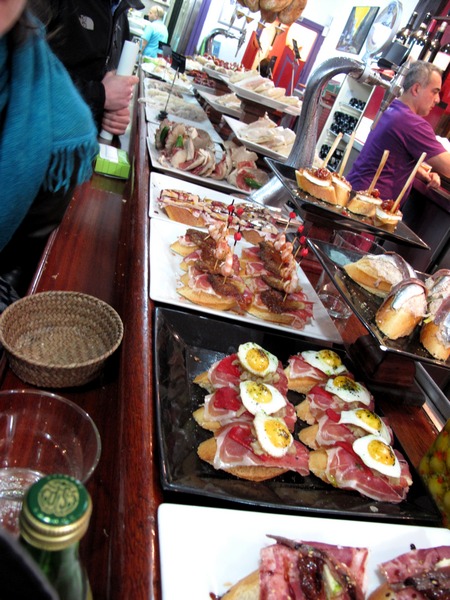 This one is a simple fritter of meat filling, battered and fried. Sorta like a samosa.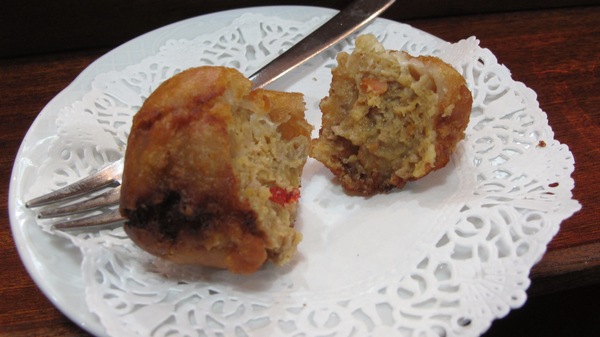 Quail legs, potato puree, veggies, balsamic redux. Pretty tight plating, huh? The slates are so cool, I think. I really enjoyed these, but they would probably be too chewy for some people.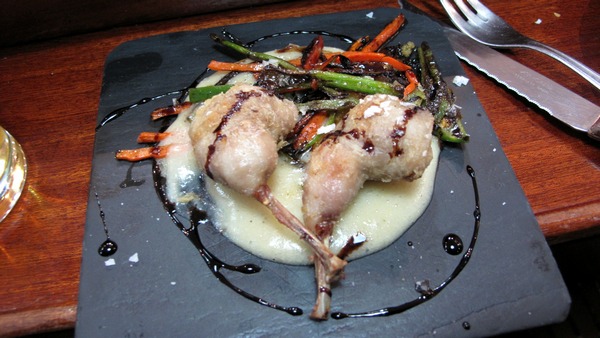 Next at a bar called Gandarias, Noel has his order of braised beef cheeks, and in the background, a few of their other offerings. The cheeks were cooked so that the meat was tender and flavorful, and the sauce seemed like they took all the mirepoix and pureed it, so the sauce had a bit of substance to it, as well as really good flavor. It's hard to make out, but in the middle are montaditos with artificial angulas- similar to the artificial krab, but in the shape of the difficult to obtain and very expensive baby eels.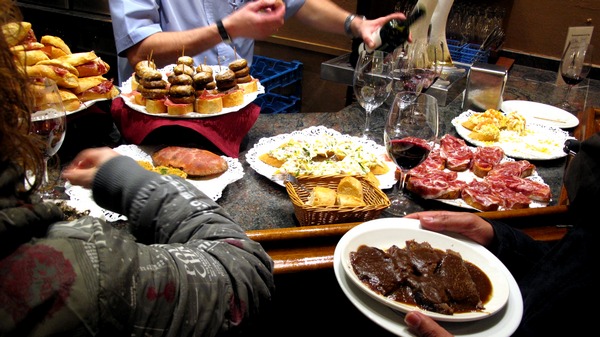 Noel and I got started a bit early, then as his friends got off work and so on, they caught up with us. At one point, we went to a locals only place for them to get some hefty bocados (sandwiches) of tortilla Espanola, just to have something in their bellies. If's a good foundation for a night of drinking, especially with the double starch (tortilla Espanola has potato in it, being inside a sandwich qualifies as double starch). Nothing fancy, but the bocados looked super fresh and satisfying. The place was jammed with people of all ages, some whole families.

For something completely different, we went to the new Bar at the Museo San Telmo right near the Parte Vieja. It's run by a very high end catering company that is the preferred caterer at some of the most beautiful and prestigious sites in the region, and they also act as a concession at some premier spots in town (like this one) and they also have a kitchen and cafe in Madrid. They are also associated with restaurante Arzak. Here is their take on the classic patatas bravas - peewee potatoes, crisped, then the white sauce is allioli (aioli), the reddish sauce is the bravas sauce (usually mayo, tomato, and paprika - similar to rouille) and a wasabi pea on top. Simple and delicious. Up top is a lovely mackerel salad, with fresh corn (unusual to see around here), and some curly endive.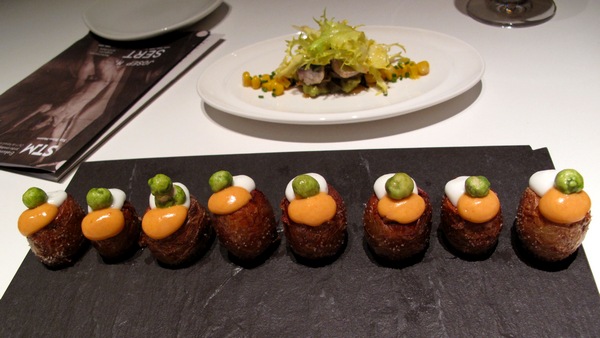 I'm not sure of the proper name for this dish, but it's a very concentrated shrimp stock flavoring and enriching the rice. It's a special shrimp, not a gamba roja, not a cigala. Really tasty. Feeling much stronger now. Bring on more food!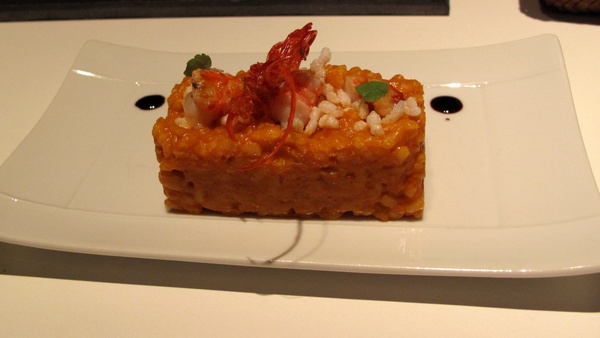 Their refined version of tortilla Espanola. Traditionally, it's a fritatta made in a saute pan, with onions and potatoes (or other fillings like spinach), it hangs out at room temperature, and they serve a wedge at a time. Here it's made to order, more like a French omelet, soft creamy center, small dice of potatoes and onions, with jamon Iberico added. Excellent.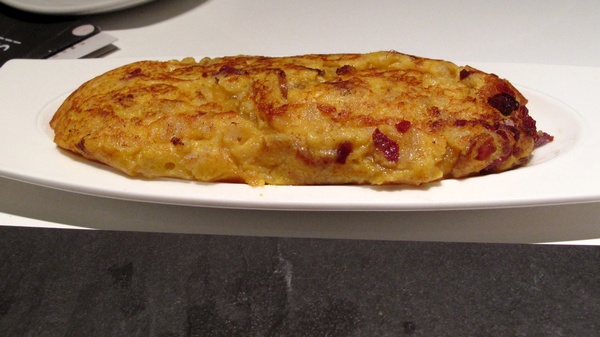 Similar to pan con xocolate, this is a small toast square, chocolate ganache, and a mild cheese crumbled on top, fleur de sel. Excellent.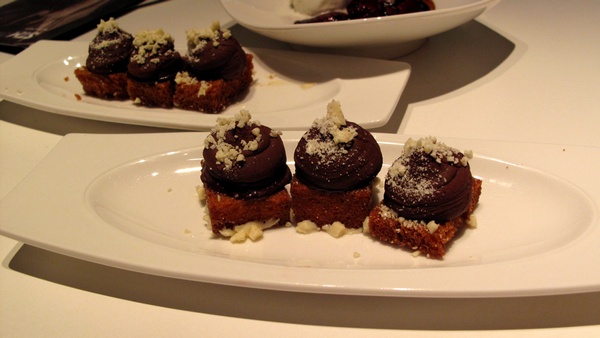 Drawing on Italian influence, strawberries, Balsamico, and ice cream. Fantastic!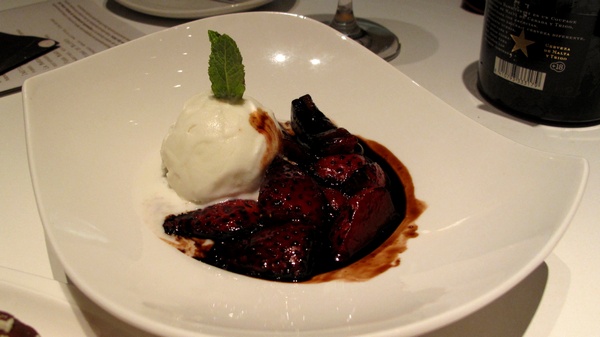 I wish I could have powered thru more pintxos tonight, but there's more to come tomorrow. Special thanks to Noel and his crew - Natale, Ander F., Ainhoa, Charlie (Carlos), and Ander D.C. (mi hermano de una otra madre, Chino!) who showed me the ropes on this pintxo crawl. They're a great bunch of peeps!