Got the Bull by the Tail
Semi-obligatory picture of the entrance to the Boqueria. Note the official name of the market on the sign.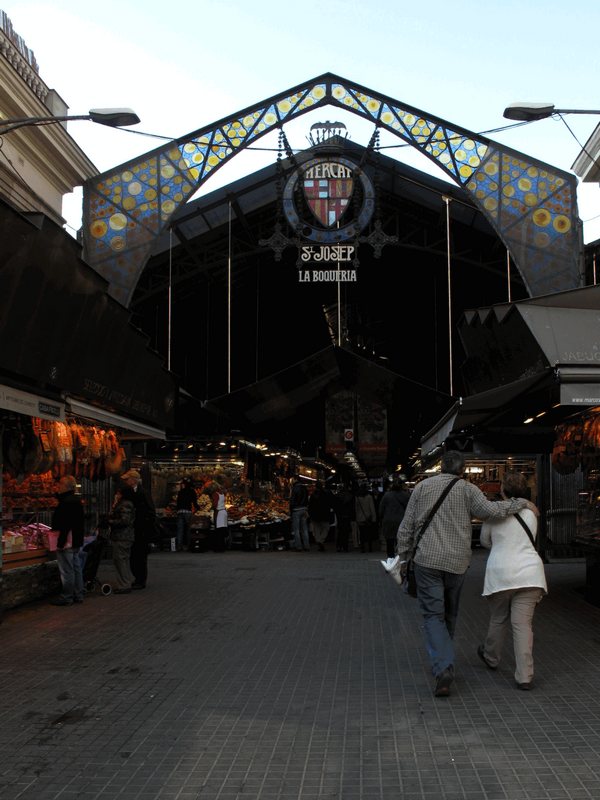 Gambas rojas (red shrimp) from the plancha, olive oil, grey salt. Done. Delicious. Pinotxo Bar. Ordered pan con tomate to wipe up the oil and juice.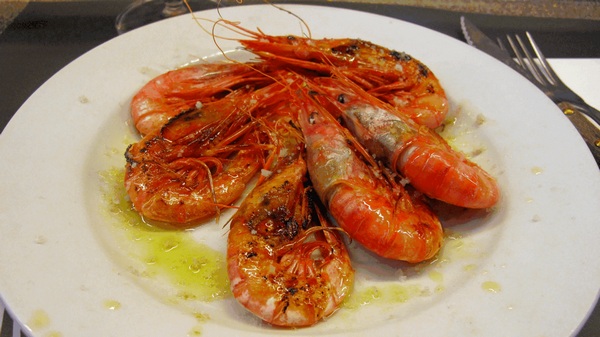 Navajas (razor clams), same treatment, plus a splash of water for steam. Awesome.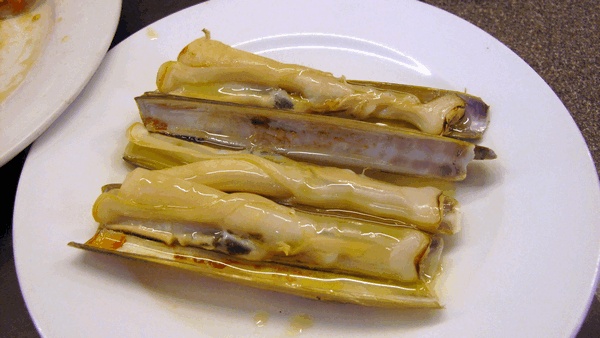 More pix!! Continued after the jump!


Capiputo, a stew of veal and veal breast, maybe a little pork belly, with some zucchini, eggplant and a couple of grapes. Rich, super-reduced gravy with lots of gelatin. Excellent.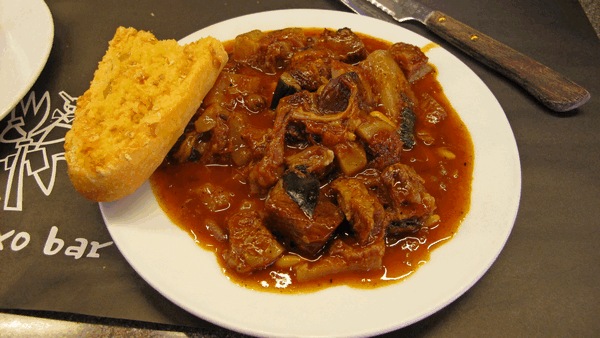 Same kind of ensaimada as yesterday, but bruleed face down on the plancha with sugar for the crunchy brulee effect. Over the top.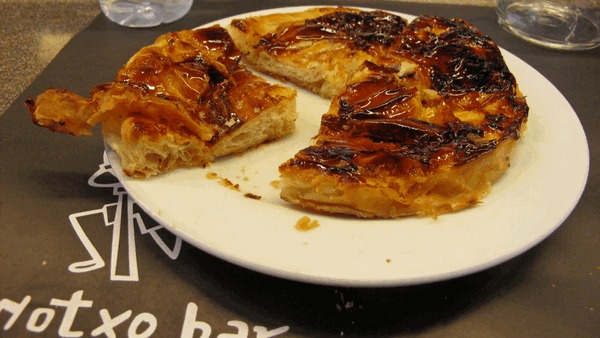 Breezed through the Carrefour supermarket location. Took this photo of part of the ham/sausage section.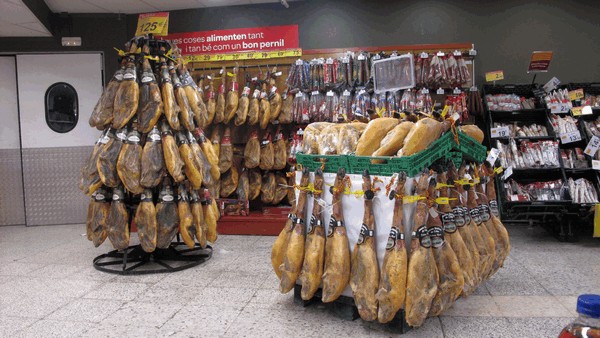 Walked over to the Mercat Santa Caterina. A little calmer and a lot cleaner. Fewer tourists. Similar levels of quality.
Walked thru the Sant Pere neighborhood toward the Arc del Triomf. These are xuxos, or xiuxos (chu-chohs), a little pastry cream inside, these were fried and miniature sized. Sometimes they are baked and look more flaky, like a croissant type of dough, pastry cream inside, sugared outside. I saw one at Bar Pinotxo that looked almost like a kouign amann, but in tube form.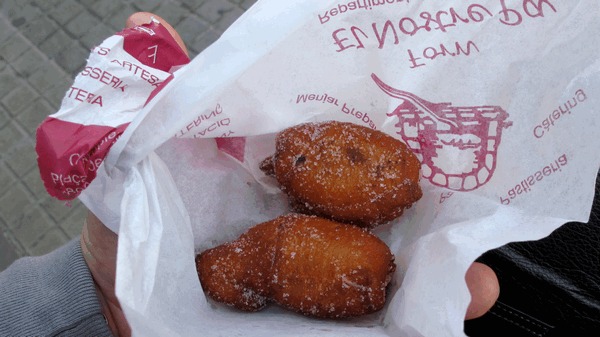 The Arc del Triomf. Sorry, I don't know which triomf it was built for. Very cool and very impressive as a public space.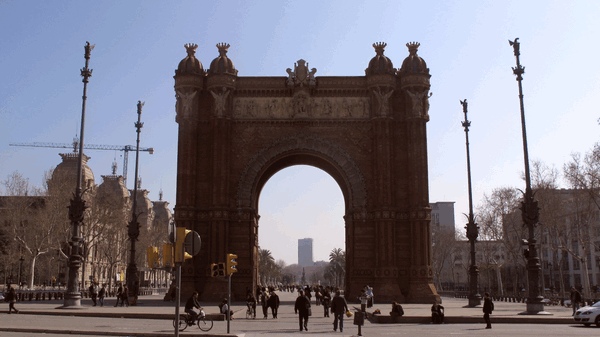 Outside the sciences museum and park, there's a 2 or 3 block long water feature.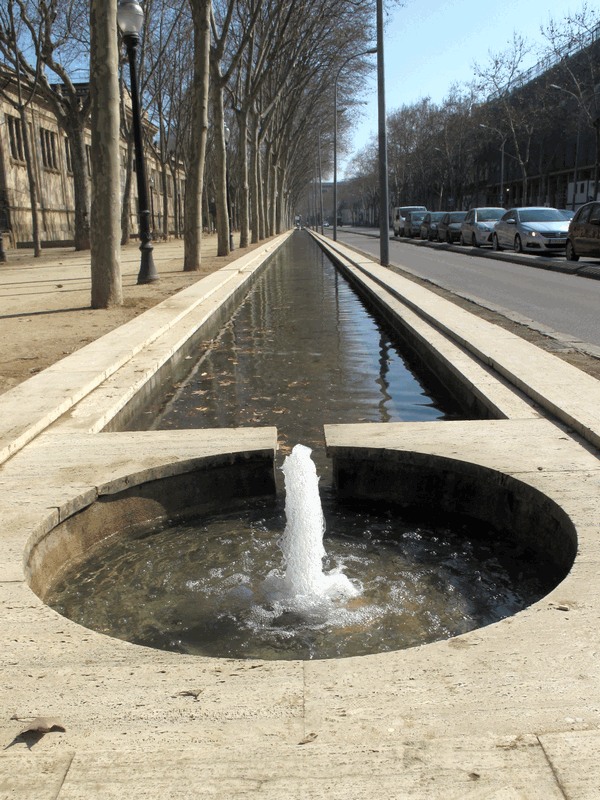 I hadn't really noticed how cramped and claustrophobic I had been feeling until I got to this part of town. The streets opened up a little, and there's more public space. A few trees make a huge difference.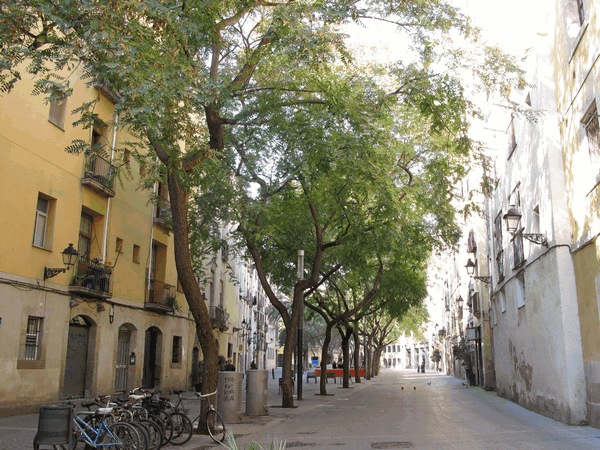 Considered going into the Picasso museum, but didn't think I had enough time. Stopped at Formatgeria La Seu at Anna's suggestion. Great cheeses, great lady. I took a photo, but I neglected to ask for permission first. She seemed a bit peeved, so I won't put it up. Worth a stop if you love cheese. She works directly with farmers and cheesemakers, so her supplies vary based on the seasons and whims of cheesemakers. Closed for all of August and the first part of September every year.

I got my phone unlocked at a little shop, so I now have a cell phone to use! No email on the phone, though. Later, I picked up an afternoon snack. This little shop has been at the corner of this placa since the 1950's or something. These are a little more elaborate than a lot of the sandwich places around BCN. This one is sausage and calcots (spring onions, now in season).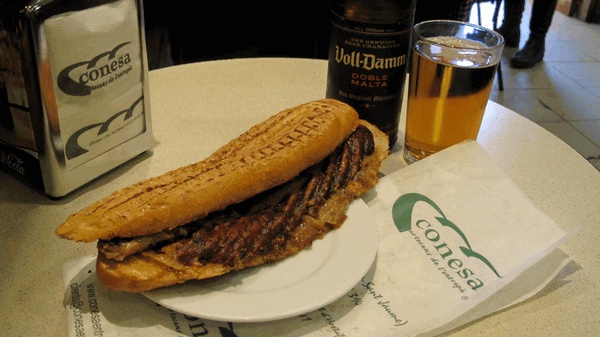 For dinner, I knew I didn't have much of a shot, but I went by 41 degrees, which is owned by Albert Adria. First time on the BCN metro, easy peasy. The reservations are hard to come by and they only have 31 seats or something. Tickets is also their restaurant right next door, which is larger, but again booked up like crazy. Upon opening the door to 41 degrees, the first face I saw was Albert's, so he's definitely there running the show.
Foiled at that plan, I went to plan B. This morning at breakfast I was sat there (ha!) next to a local couple and asked them if there were any restaurants they'd recommend. They suggested Vinya Roel on Carrer de Villarroel in the Esquerra Eixample area. Much swankier than I expected, very modern decor, plus a wine shop. You can buy any bottle and they'll open it up to serve it for dinner for just a few euro. Pretty good deal for wine people. Here's a half order of Salamancan bellota ham, fried artichokes, romesco sauce, and coca del Maresme (basically pan con tomate on a special thin bread - it's the best form of bread for this, I think). Closest to ciabatta with very open, irregular crumb structure, but very crisp on the bottom.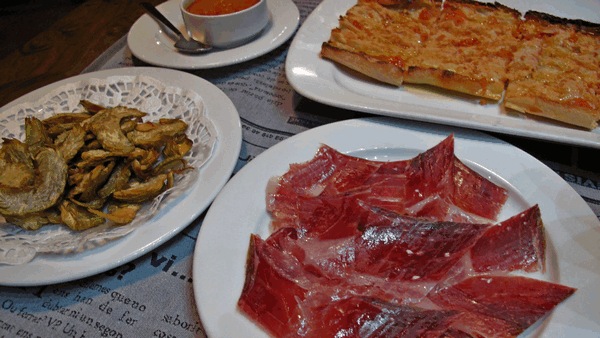 Calcots (cal-sohts) are in season now, they're onions that are mounded up in a special way when they are planted, so the onions grow in a big bunch. They have a much taller white section than say, regular green onions, and not really any bulb. They look almost like leeks or Tokyo negi. There's a outdoor party/cookout called a calcotada where people grill the onions, then wrap them up and put them in a cooler to steam. Then everybody stands around, swishes the onions in romesco sauce or salvixada sauce, and lowers the onions into their mouths in one piece. This is a take on that, except they're battered and deep fried, and I ate it with a knife and fork. Still would like to go to one of those parties, though.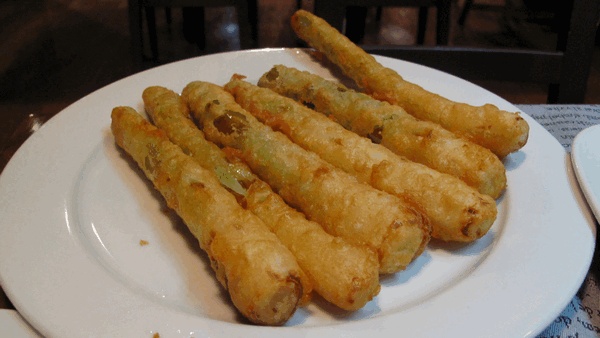 This is a single scallop, cooked on the plancha, with olive oil, sea salt and black pepper. Still has the coral attached, and it was still attached to the shell. I suppose so the diner knows that it's a diver scallop, not just a scallop cooked and put onto a shell.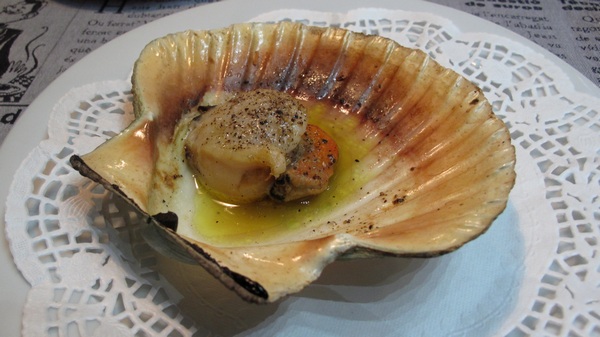 Braised Oxtail with pearl onions and champignon mushrooms (button mushrooms). Pretty much like Beef Bourginogne, but I imagine they used Spanish wine and oxtail instead of stew meat. Excellent.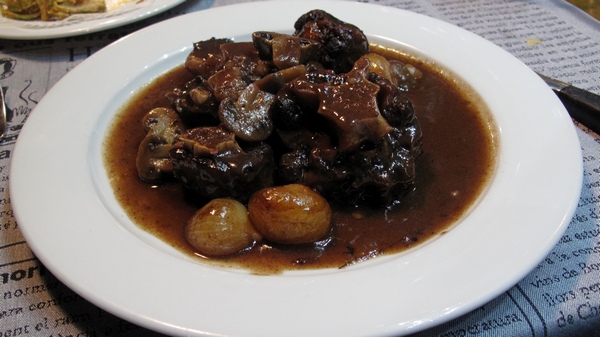 My lame joke of the day is that Barcelona's mascot is the bull, and I had oxtail for dinner, thus the title of the entry. I regret it, but it's a tiny bit more interesting than Barcelona Day 3.
Tomorrow, I have to decide if I'm leaving town and driving around for a bit before San Sebastian/Donostia. Thanks for reading!!