Moving. Grooving. Doin' it, you know?
Xocolate amb xurros from Dulcinea at the end of my street, just around the corner from the Santa Caterina farmer's market. Really dark chocolate, not as rich and sweet as the other one, which is better by me, but still a little too sweet for me, if you can believe it. Pretty much the best version I can imagine, don't get me wrong, it's delicious, but to me it's just too much like dessert first thing in the morning. Amy would probably put sugar in it. And cream. And then grab mine out of my hand. Ha ha. I do like the little loops. On that Mario Batali tour of Spain, they went to a place that just makes a continuous spiral and sends it out to you, like a large pizza size spiral of just fried xurro. Or actually, I think that one has a different name because it's crispier. I'm still down to find that!!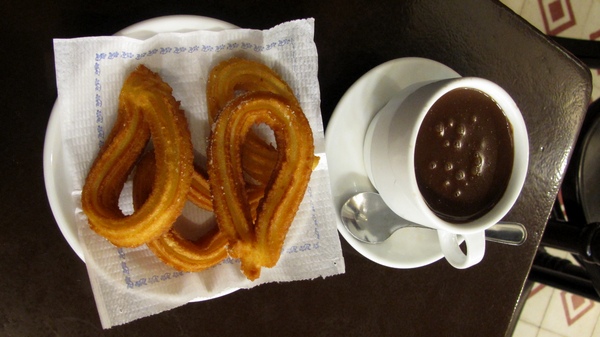 I moved to a new room today, because I had only planned to stay until this morning, but I just wasn't ready, and there's so much I can still do in Barcelona. Anyway, yet another pass thru la Boqueria. El Quim, which is a tapas/kitchen stall in the Boqueria was on my list, but they're on break for a couple of weeks. Hopefully I can catch them on my last days in Spain. These are live sea urchin - erizos - and whelks, or sea snails. Not sure of the local name.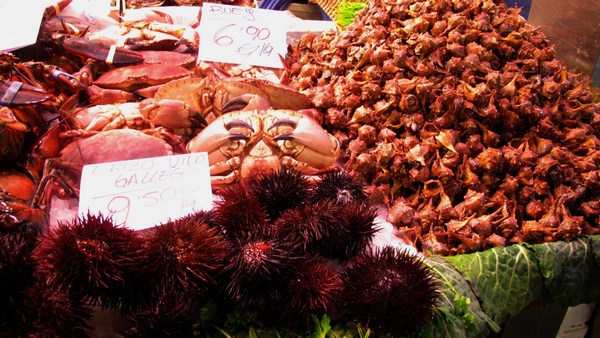 In the middle, those little purplish things are percebes, which are barnacles. I haven't had them yet, but some people think they're one of the best things out of the ocean. You gotta be careful with that - people will tell you anything to make you try it - like it's good for your sex drive or it's unbelievably delicious. In the front are red gambas, behind the percebes are cigala - langoustines. You can tell because of the long claws, sometimes people call them Nordic lobster or Northern lobsters.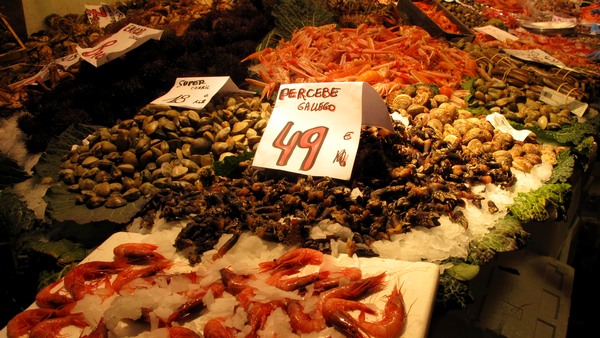 More pix and notes after the jump below...
Casa Mila, aka La Pedrera by Gaudi. Just a few blocks from my new room.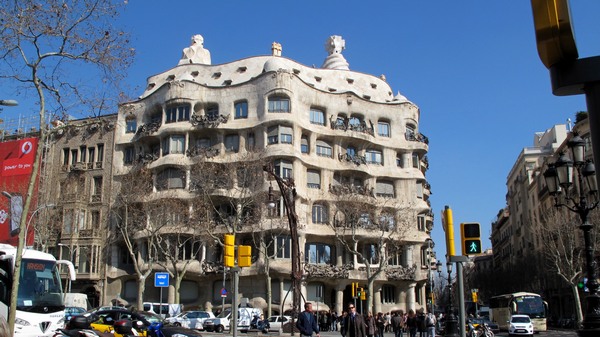 An exhibit of materials from El Bulli recently opened in Barcelona, and Anna was nice enough to remind me about it. I had seen some banners near the airport, but almost forgot about it. It's pretty cool - they got thru the whole history, then the transformation from grilled seafood shack and mini-golf course to best restaurant in the world. They have the original notebooks, handwritten, of all the dishes and techiniques they were inventing. A lot of that stuff seems passe now, but they invented/repurposed all of it. Super meticulous. Very inspiring. It seems like something they could make into a traveling exhibit, so it if comes near you, it's worth seeing. And by the way, Ferran pronouces it "el BOO-yee" which I've been saying wrong all these years, apparently.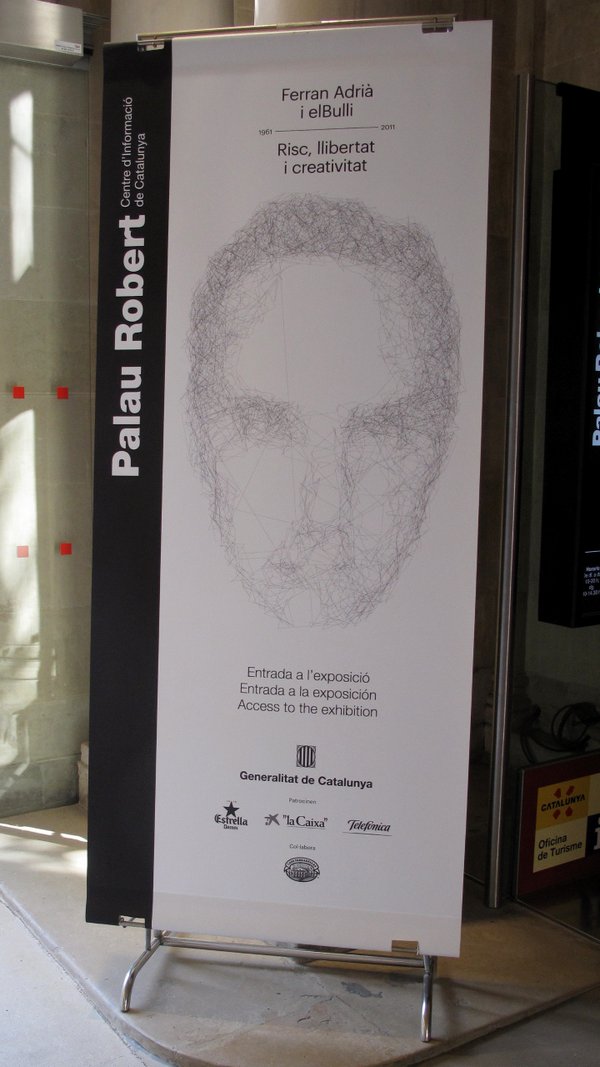 My room for the night: quite an upgrade. Shared bathroom across the hall, but modern renovation & styling, a sink inside the room, TV, full swing windows, great location about 3 blocks from Placa Catalunya. Hostal BCN46. Further away from La Rambla, but I was ready for a change.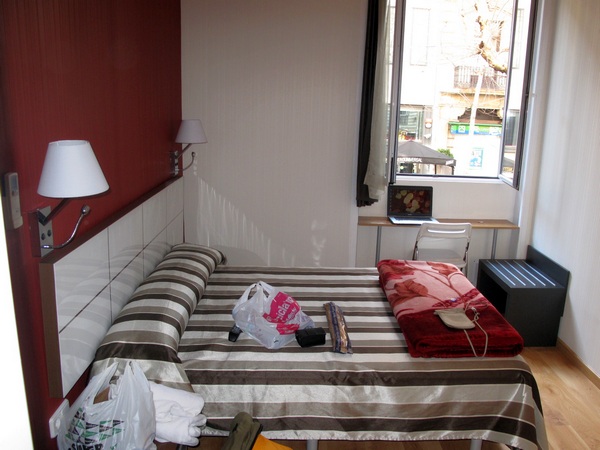 Finally got around to trying some cheeses I picked up at Formatgeria La Seu. All delicious. The Uff surprised me in a good way - a goat cheese in the washed rind style where they use beer to wash it and help give it complexity. Taaassssttttttyyy. I'm not the biggest goat cheese fan, but this was tangy in a way that wasn't so goaty...or less goat-forward... And this was pretty damn good for supermarket bread. There are so many little bakeries in the city, but none near my room. I apologize. I will do better.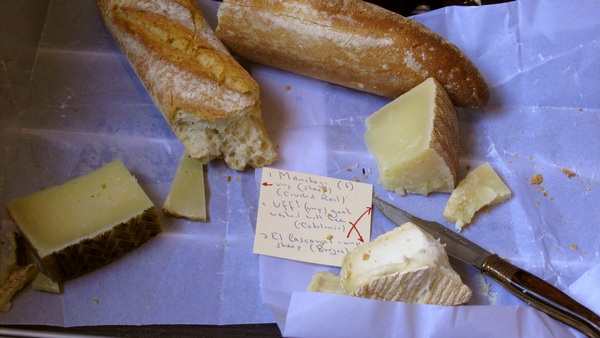 Ok, so I'm a jerk. I made a bunch of reservations in Pais Basco, but not so much in Barcelona. I probably could have spent more lead time doing that, because again, a place I had planned to go to was tiny and I couldn't get in - it's called Gresca. Totally my fault. Anyway, the other spots I've been looking at were in the other direction, and I didn't feel like scrambling around all night, so I just asked the hostess for something she recommended in the area. Which turns out to be really enjoyable. Restaurant Osmosis. It's the kind of place that almost every cook talks about opening - like about 50 seats, I'll change the menu all the time based on what's best at the market, not too expensive so people can come all the time, casual dress, but feels plush inside, just a small list of good wines, etc.
Chips, Kalamata olives, and spiced Sicilian olives. No Spanish olives??!? Whaaa...?!?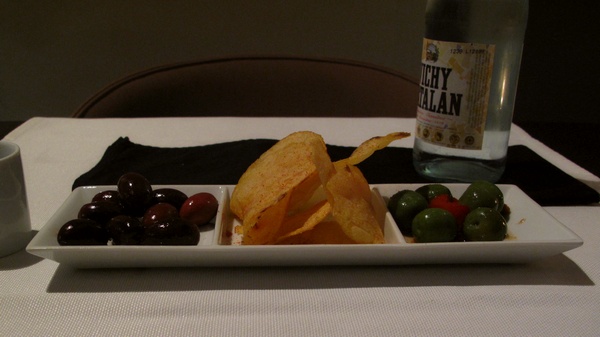 Bread service. Good bread, local olive oil from Tarragona, maldon fleur de sel, Hawaiian black sea salt, and Himalayan rock salt, plus some other oil for comparison. They charge 1 euro for this, (about US$1.35) which is totally fine by me. Nice to have some salting options during the meal, too.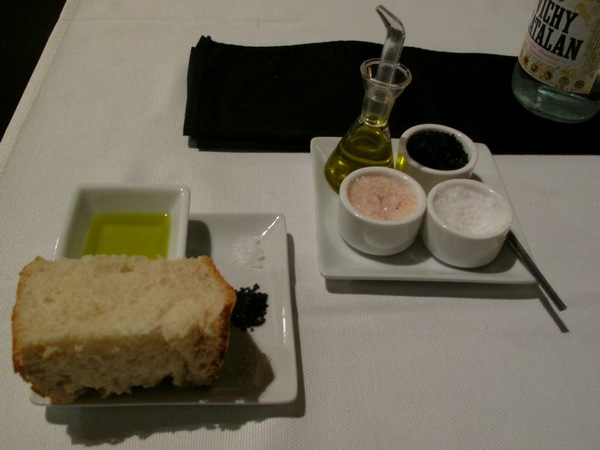 Foie gras mi cuit with apple and vanilla. That's a not unsmall, meaning good sized block of cooked and molded foie gras on top of a wafer. I loves the foie. My only comment is that it was straight out of the fridge cold. And it needed salt, but I had 3 nice salts to choose from.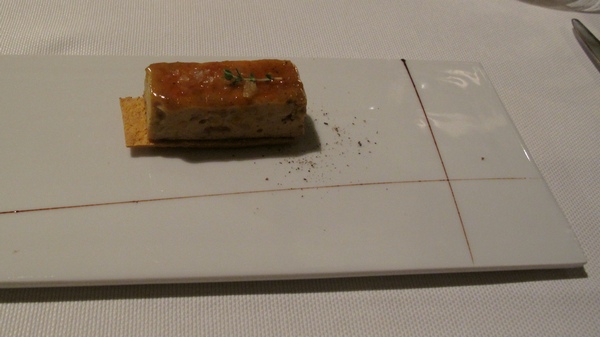 They should have sent me the carrot cream/pumpkin soup dish here, but they juggled it by mistake. This is Risotto Milanese with llengua de bou and camagrocs mushrooms. Llengua de bou means bull's tongue (just the Catalan name of the mushroom) and the camagrocs look like thinner chanterelles. Fresh shelled peas, good Parmigianno-Regiano. Nicely done, if a bit traditional ... to Italy.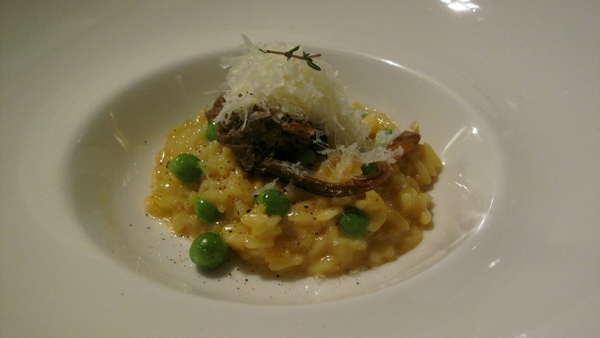 Monkfish with sepieta (baby cuttlefish), artichokes and asparagus. Nicely cooked, great sauce, which was like a sweet garlic cream something. Maybe green garlic.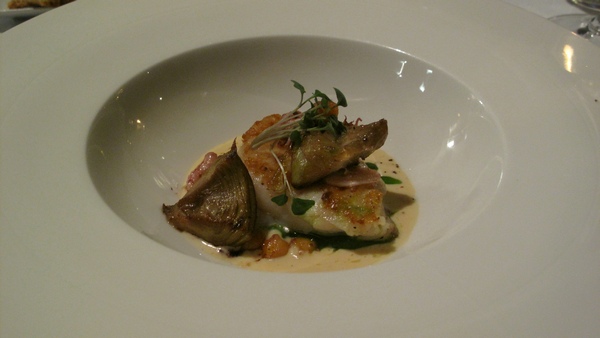 Carrot cream, pumpkin soup, bacon, and sausage chip. Really well made, velvety soup, my guess is they emulsified the bacon fat in it and strained it at least twice. Smoooooth. The carrot cream was down in the bowl with the bacon and the chip in it, then they poured the soup at the table. The chip was good, the bacon didn't do much, but overall a great soup course.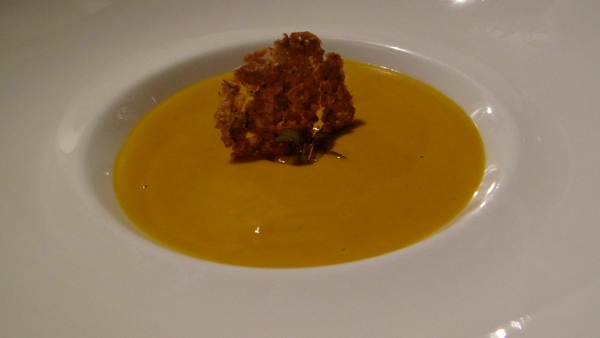 Crispy pig back with licorice. You had me at crispy pig back. It's from a suckling pig, which they refer to as cochinillo. Different than the one that's famous in Madrid, though. There's some truffled potato puree holding that stack of fried potatoes together. The pork could have actually been a little crispier. I also had to figure out for myself that the dust on the plate is the licorice, so my first few bites had no licorice flavor. But it was delicious.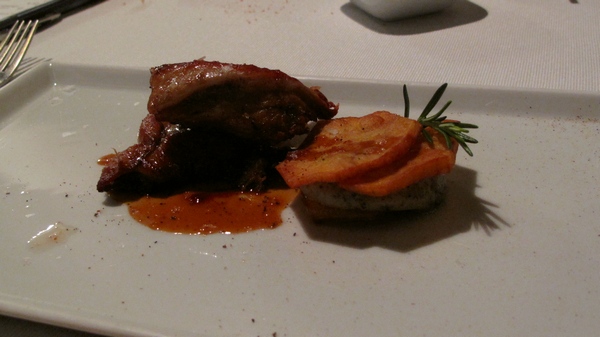 Mango sorbet, pineapple chip, raspberry ice, passionfruit sauce, fresh mango. Mango, pineapple and passionfruit must be in season somewhere...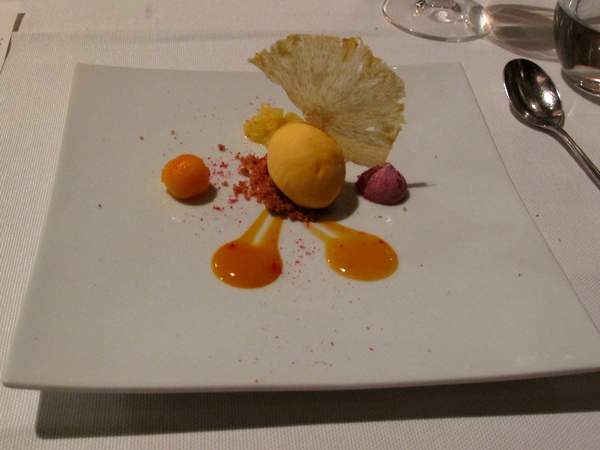 Chocolate trio, closest is Bailey's ice cream with cookie crunch, tequila and sponge cake in a chocolate shot glass, and a ball with chocolate ice milk inside - eaten in one bite. I make fun of the brush, but I guess it looks cool at times. Not my favorite course, but B- for effort.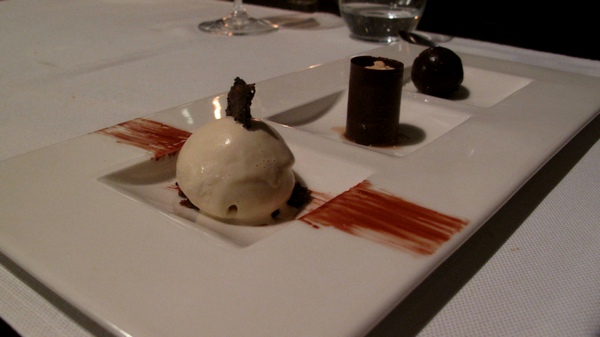 I enjoyed it, it was like a comfy neighborhood restaurant where they do some stuff to keep things interesting, and you'd go back every few months for a good meal. I get it that not everyone in Spain has to make Spanish food. But if you say you're market driven, use the market, chef.
Tomorrow I'm getting out of Dodge!! I'm not sure what my Internet access situation will be like, so there may be some radio silence...