Look, kids! Big Ben! Parliament!
After about seven self-inflicted smacks on the head, 45 minutes of complete panic, then grief, then acceptance, then another heart attack moment and a lot of bad words, I finally got a car and got out of Barcelona! I'll be back for a few days at the end before flying out.
I'll spare you the ugly details, I'll offer them as lessons learned and traveller's tips. Keeping it pos...
- Make your car rental arrangements before you leave the US.
-Advertised rates (Internet websites) are for local residents - Americans pay completely different rates because of Loss/Damage Waivers and "other considerations".
- Make your car rental arrangements convenient to the place where you want to actually pick up the car.
-Use an American car rental company, but go to their foreign website, ie instead of Avis.com, try Avis.es for Espana, Avis.fr for France, etc.
-Some foreign ATM's are allowed informational access to your account some are not. So some may let you check your account balance, SOME MAY SHOW BALANCE 0,00 Euro.
-Saving a few bucks by using public transit is fine, but it's also okay to take a cab sometimes.
-ALWAYS be nice to your car rental agent. She can let you pay five times as much or discount it AND give you unlimited kilometers for the entire rental.
-When driving solo in a foreign country, have a route picked out with autopista names(equivalent to I-5, I-10, etc) and city names. Tough to read a map and drive.
Having said all that, it is funny how lucky I am sometimes. Sometimes.
Se llama, Pussy Wagon. Or Nissan Note.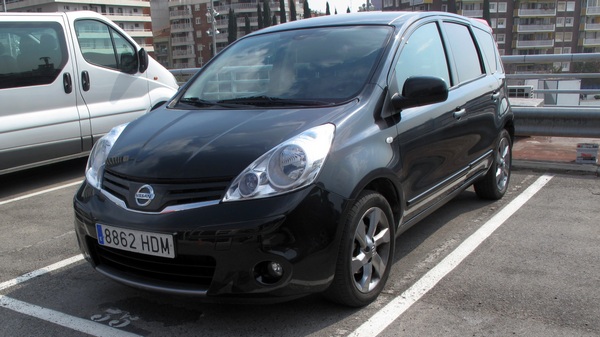 I got out of town, but was still hopped up on adrenaline and nervousness, so I pulled off to a rest stop. I found these items. Yes, that's Ruffles, SPANISH HAM flavor! Pretty good, actually, for being chips. They target local markets with local flavors, so I've had ones from Thailand, Japan, Mexico, Singapore and maybe others. And a self-heating cup of tea. Not that it stays warm, it gets itself warm from being cold. There are three compartments in this cannister - the tea, and two separate chemicals. When you want hot tea, you break a seal so they mix, and there's a mild exothermic reaction that warms the tea. Kinda like that one Die Hard movie. I haven't tried that one yet.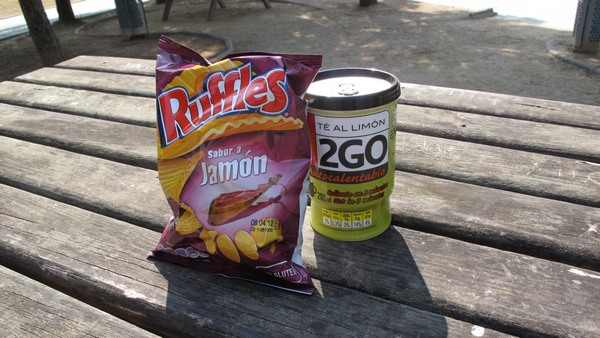 The title of this entry refers to the fact that Spain has a lot of roundabouts, which I haven't experienced very much. I'm figuring it out. Super convenient for making a U turn. The reference itself is from National Lampoon's European Vacation where they get stuck on the roundabout for a couple of hours....
Keep going! More pix after the jump.
Largest/best preserved Roman aqueduct in Catalunya. The Devil's Bridge. Tthe story goes, the maker of the bridge made a deal with the devil to build an aqueduct that would stand for a 1000 years and he could have the first soul to drink the water that flowed over it. They sent a donkey to drink the water, so by letter of the agreement, the Devil took the donkey's soul. Or something... Crafty Spanish lawyer/aqueduct builders or gullible civic engineer Devil?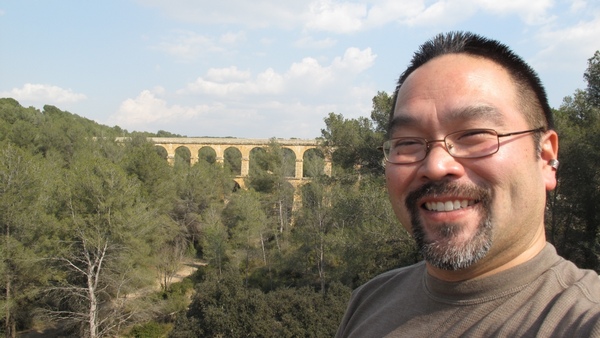 Roger de Lluria is the street that my room was on last night, and it's also the name of the street that tonight's hotel is on, too. Must be important guy. Here's his statue.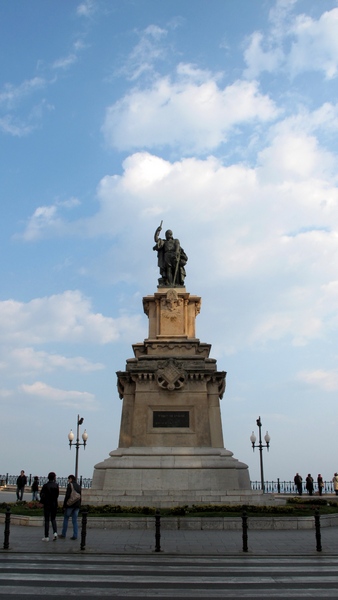 Ibericus specializes in Spanish ham and sausage, many grades and types. There's tons of mom and pop shops doing that on a local basis but these guys have 12 locations all over Northern Spain, Kinda like Coffee Bean and Tea Leaf of ham and sausage.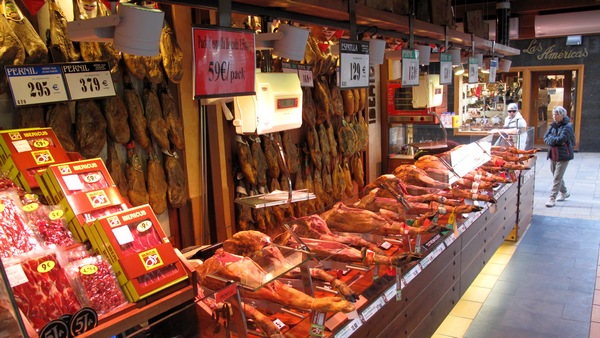 Here's a half racion (portion) of each - Iberico cheese and Cinco Jotas Sanchez Ramirez Carbajal ham, which is the most prestigious one they carry in the shop. They sell it for about $150 per pound, which is approximately 7 times what an average Italian prosciutto would be in a gourmet shop in the US. Like any other premium good, it's based on all kinds of things in addition to the quality of the ham.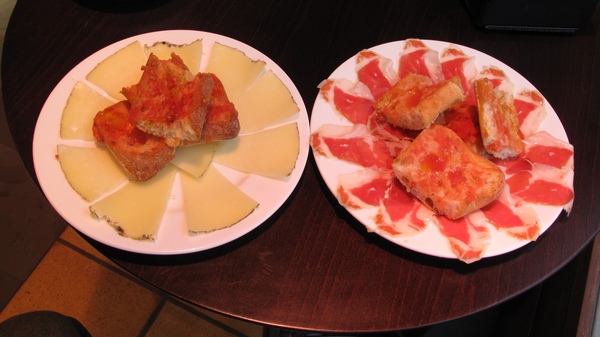 It's like walking around in a postcard here. Really beautiful.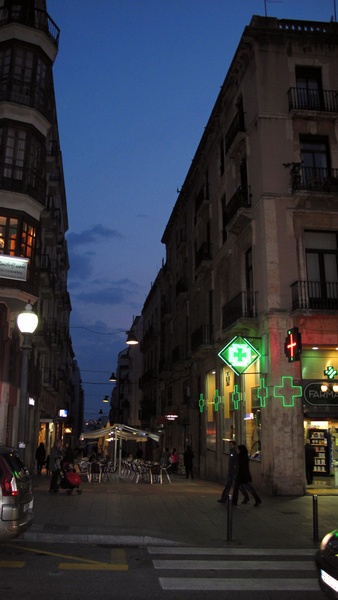 Let me tell you something else about driving in Spain. You're driving, it's a cool looking old farmhouse, you're driving, it's gorgeous scenery, then WHAM, there's a fucking castle. A real fucking castle. With the city walls and everything. Sieges and catapults and jousts happened here. I think.
It's Saturday, and there was a early evening car show/craft fair/clothing sale on the local rambla (promenade). These ladies had amazing looking baked goods. Forn is bakery, Francesa is French lady. Coques is plural for coca, which is sometimes a plain, foccacia/ciabatta type bread, or in her case, she is making sweet ones, vegetable and anchovy ones, ones filled with meat, chocolate, etc. I got some treats to try tmr am.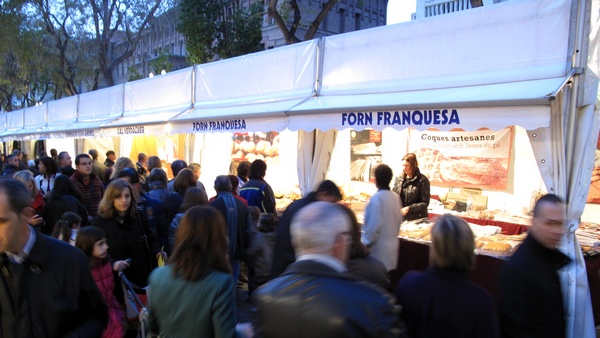 Right across the way from her was a guy with amazing cured sausages. He was handing out samples with the "first hit is for free" strategy. He had a few sausages called Iberico extra or bellota extra, meaning it's meat from the prized pigs that they make the best hams with, which is still extra marbled and the bellota ones have been eating acorns, etc. Awesome. Also he had one called morcon which is like chorizo but with big chunks of meat mixed into the sausage, so it's like meat surrounded by meat flavored by meat. Also sobrasada de Mallorca, which is cured, but soft in texture, like Italian 'nduja - spreadable cured sausage. Rich and tangy and spicy and porky. All good things. Those white slab there are bacon made from Iberico pigs, which I believe is called salmado.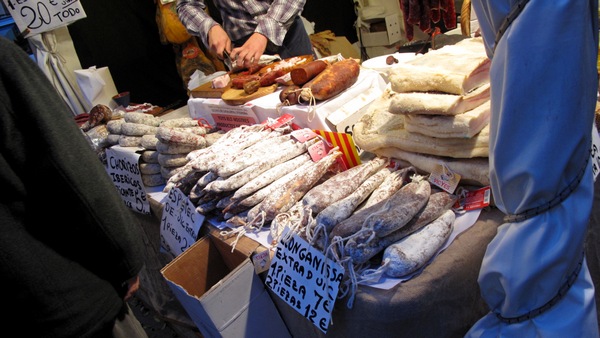 One thing I definitely wanted to do was attend a calcotada, a party where the featured item are special spring onions, grilled over fire (often grapevine clippings), then they're sealed up in coolers to steam themselves. They're eaten with either Romesco or sometimes salbixada, which is related but just adapted for calcots. The outer layers are peeled off (sometimes they leave the dirt on during cooking because it's discarded anyway. If they tried to wash them, it might push the dirt into the layers of the onion making it worse anyway. The proper form is to hold it by the green/charred top, swish it in the sauce and lower it into the mouth like a swordswallower, eating primarily the white portion of the onion.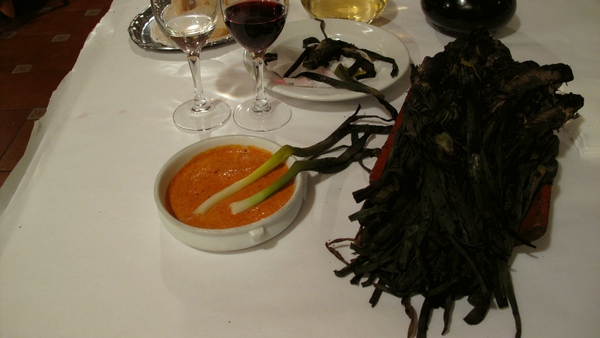 The place I chose is called Restaurant Masia Bou it's price fixe, with the other courses being lamb chops and butifara sausage, potato, artichoke and canellini type beans. The weird part about this one is that a couple of different sources said this was the originator and best one. When I stopped in the town to ask for directions, this old drunk and the bartender got into a discussion about which one is better. So I thought, okay, at least the young guy is one more vote for this one, I'll go with this (most of the time in a situation like that I'd take the old grizzled guy's advice).
So I arrive, and it's empty. Lights are on, but no cars in the parking lot, no one in the restaurant. I walk in and it's just the waitress. I asked if they were open, if something is wrong, she said no, just no reservations tonight besides mine. Hmmmmmm... do I back out and go to the other place? She had a strange confidence even though she was a little embarassed that the place was empty. I mean crickets and tumbleweeds. They probably could seat 200 or 250 people at once if you count the outside areas. Yet I think I ended up being the ONLY person they served tonight. So I started thinking, well, I could stop by the other place and just get a small portion to try it.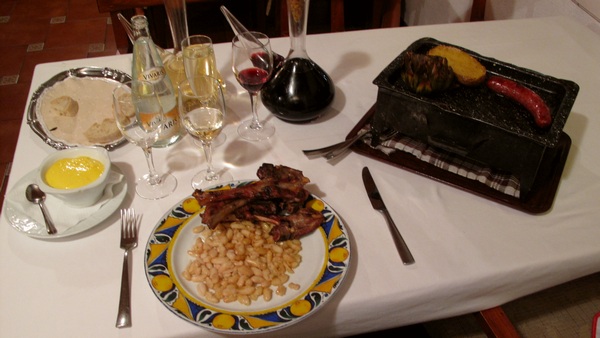 Ultimately, it was more or less well prepared and tasty, so I didn't feel like I was missing out on anything. It's like festival food, not fine dining. The other place had about 10 cars in it, so maybe people are just thinking about Easter and futbol and whatever.
Thinking about staying in Terragona another day, then heading down to Valencia.