It's a Hell of a Town
Striking view of Columbus Circle, the city, and Central Park in the background, from inside the Time/Warner Center.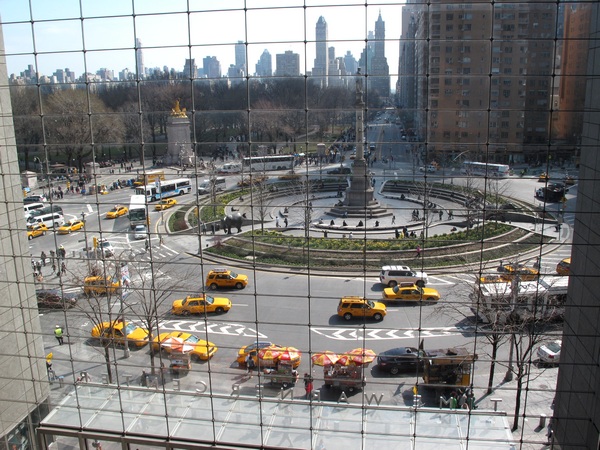 Today we took a quick walk through the Time/Warner Center to see the restaurant area. I didn't realize they have a Bouchon Bakery there, and I cannot resist. We got the macaron assortment, nutter butter, chocolate bouchons (like brownies) and I think one other thing. I can't seem to find the photo of it.

Colleen always hosted a great Oscars party each year, and we would see lots of movies throughout the year, then try to see as many of the nominees as we could in the weeks leading up the Oscars. So it felt like old times when we went to see Jiro Dreams of Sushi. I think we both really enjoyed it.
For lunch, we reheated the duck ssam from Momofuku. It's just as delicious the second day. One of those meals where leftovers are welcome.

New York City is an absolutely unique place.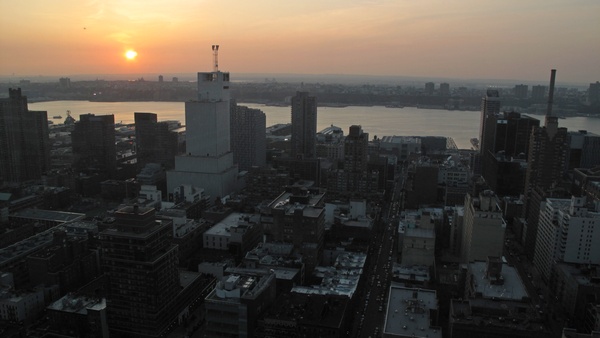 More pictures after the jump...>>>

The main event tonight is Restaurant Daniel, by chef Daniel Boulud. Colleen is a person that just gets things done - for herself, for her family, for her job, and luckily for me, for her friends. She chose and secured a reservation for us at Daniel for my last night in NY. We ate in the bar area, which is a bit less formal, but the service was still impeccable.

The amuses bouches were themed around celery. Incredible amount of detail in the presentation. Gorgeous. However, for me, celery is not an ingredient that gets a guest excited to eat. I know, Ferran says that all ingredients are equal. But no one, and I mean, no one, would ever say that celery is their favorite food. Sure, it can be crunchy and refreshing and tasty in it's own way, but no one loves celery. For instance, if they revealed celery on Iron Chef as the secret ingredient, both chefs would say, "Awww, crap." It might be an interesting intellectual exercise, and definitely a challenge to create dishes featuring celery. But ultimately, while everything was prepared well, in my humble opinion, I don't think it performed the usual role of the amuse, which is to set the tone of the meal, excite the appetite, etc.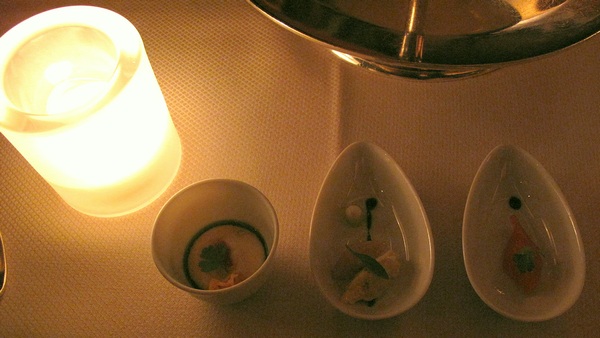 They have a three course price fixe that seemed easy and appropriate. The photos aren't great because of the candlelight and lack of flash, but here is my sturgeon appetizer.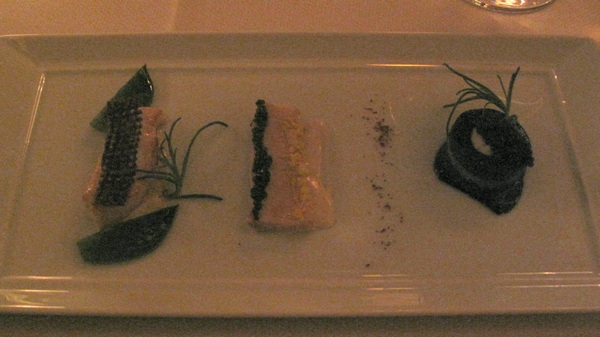 Colleen wisely chose seared foie gras, with caramelized pineapple.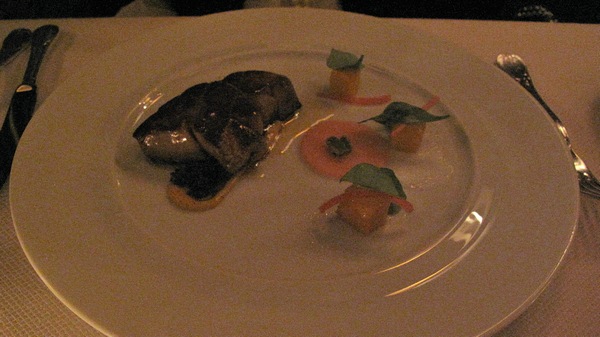 For my entree, I got the tasting of rabbit dish which was a tiny rack of rabbit with hedgehog mushrooms, stuffed saddle of with asparagus, and braised shoulder torteloni with rabbit jus. Really tasty. Photo not so good.
Colleen again wisely chose seared tuna, with fennel and tomato chutney?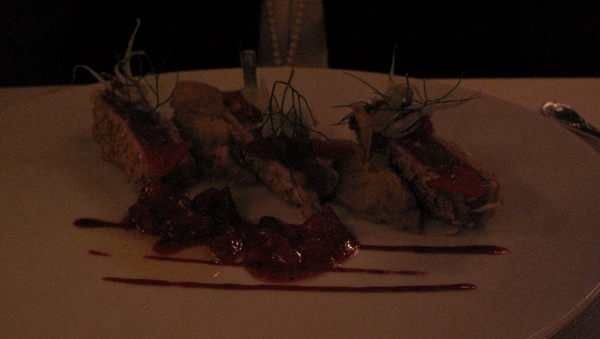 Tonight's dinner took on the air of a contest, with Colleen in the lead so far (Foie gras! No fair! Ha ha). She zeroed in on the mango dessert to cement her victory. I asked the captain, "Is there a dessert that is better than the one she is getting?" We all had a chuckle, and he brought me two desserts to try and close the gap. Very nice of him to do that.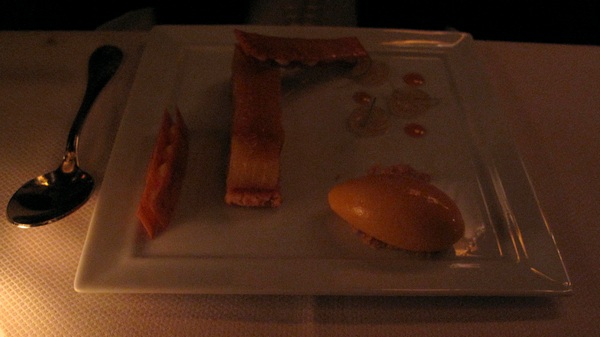 The one in the foreground is a chocolate cake with a molten center, and the other is chocolate and hazelnut, but my recollection is foggy. Both delicious, but Colleen still pulls away and takes the prize for the better meal. Damn!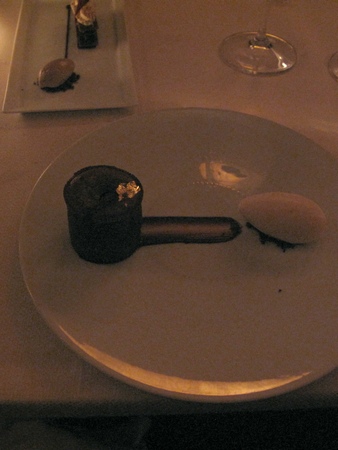 For brunch on the last day of my trip before heading back to LA, we met Colleen's mom at Whym, just a block away from where we were staying. There was some half marathon or something that was messing up the traffic in the area. It's a nice local restaurant. Grandma Valerie got Huevos Rancheros with Chicken Tinga. Colleen took the recommendation of breakfast strata special, and I could not resist the biscuits and gravy.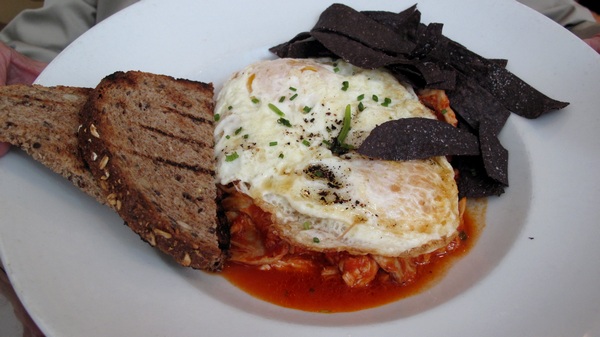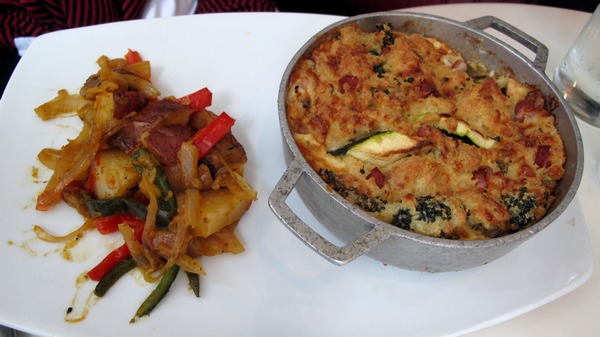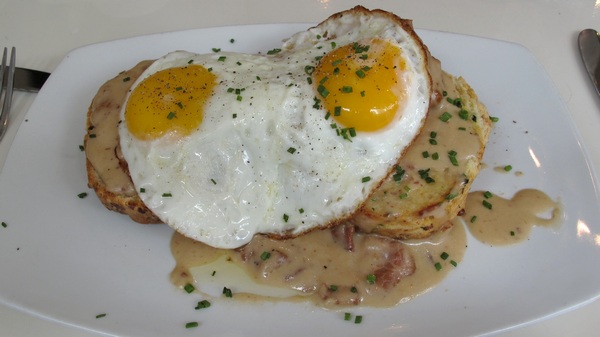 To cap off my overindulgence, Apple Pie Egg Roll for dessert. GV got the more reasonable Berries and Cream.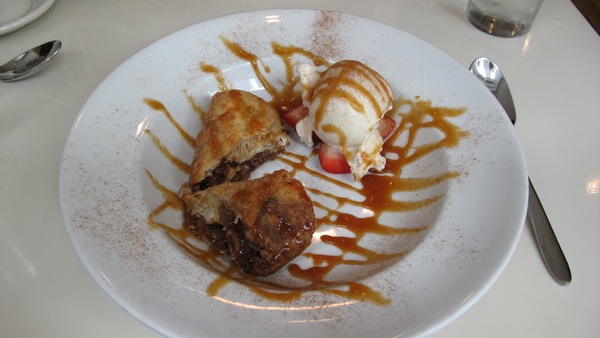 The Campbells have always been so gracious to me, and as further proof, Amy had already made arrangements with the restaurant to take care of the bill - but she was out of town!! Not even in attendance, and picking up the check. I'm a lucky guy.
It was great to catch up with Grandma Valerie and Colleen, They are generous hosts and great people. Thank you so much!!
Now, back to LA!