Peach, Seed, Prune
I talk to everyone about food and restaurants, I try to keep somewhat familiar with restaurants in other cities, and what comes up time and again are the Momofuku restaurants. Colleen made arrangements for us to get the whole duck ssam at the Ssam Bar. It's an order ahead meal intended for three to six people. We were trying to find a third, but it didn't work out, but we decided to go for it anyway.

Since we were getting the whole meal, it comes with two sides - for the first we chose the housemade pickle plate. Included clockwise from the right are beets, kim chee style radish, sunchokes, cucumbers, fennel, baby carrots, kim chee nappa cabbage, and shiitake mushrooms. Hidden in the back are small white radishes, fuji apples, green peppers, and cauliflower. A window makes for much easier picture taking! It was a bit overcast today, so it was diffused white light from the right making everything look pretty.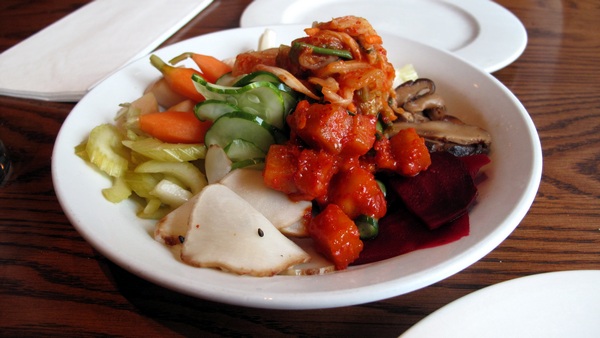 Our second side was stir fried greens in XO sauce. XO sauce usually has dried shrimp and/or dried scallops, chilli paste, soy, garlic, sesame, and shallots. Salty and delicious.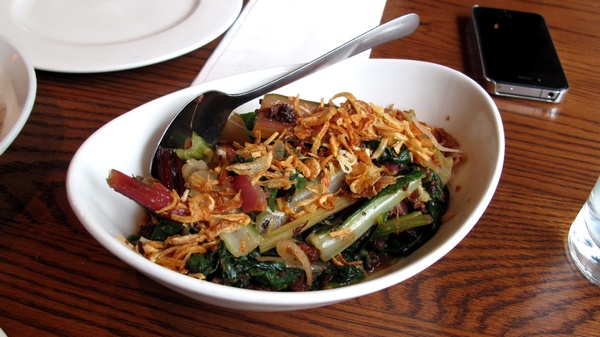 The garnishes for the duck arrived next - butter lettuce, then from the top right, crispy shallots, duck fat with ginger and scallions, sea salt, hoisin sauce, and Korean style chili paste/sauce. Also, to the left a damn good ginger beer, non-alcoholic.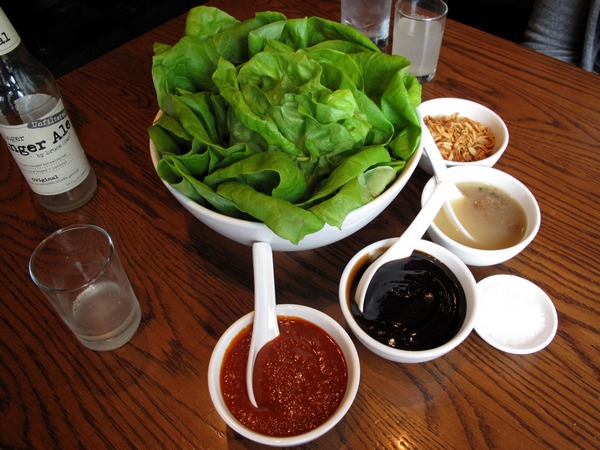 The main event after the jump...>>>
This whole time, I'm thinking, no big deal, I can eat half a duck by myself. Well, it's actually quite a lot of food, and could easily feed five - six is a bit of a stretch, I think. It's advertised as rotisserie duck, but I doubt it's actually cooked on a rotisserie. The duck in the middle there are the breasts, which have been augmented with a pork and duck sausage underneath the skin. The legs are confit'ed separately, they're hidden behind the herbs and watercress. But what really makes me think it's not cooked on a rotisserie is that they were sellilng a single portion of slices of the duck breasts with fewer garnishes, no sides and either pancakes or a few lettuce leaves. A lot of people were ordering it, so it's more likely to me that they were ordering duck breasts separately, filling them up with the pork and duck sausage, and making a bunch more of those. Otherwise, it would mean that they're bringing in cases and cases of whole duck and only selling the breasts, ending up with a lot of duck legs for confit (possible) as well as an extraordinary amount of duck carcasses (unlikely, in my opinion).
Regardless of whether it is from whole ducks or cooked on a rotisserie, this was fun and delicious. Sort of multi-Asian crossover in the sense that they serve Mandarin pancakes with duck (Chinese), as well as lettuce and herbs (Vietnamese and Korean) for wraps, plus a more French technique of adding a sausage under the skin of the duck breast. The duck itself and the sauces are all well seasoned, featuring big flavors. My only quibbles are that the pancakes were a bit greasy, the duck skin could be a little crispier, and the rice came pre-sauced with a significant amount of the duck fat/ginger/scallions mixture, which was tasty, but just very heavy. Usually rice is lean and can moderate big flavors and fatty mains, but being so heavy, it wasn't a good foil to the other components. Just my humble opinion. We loved it, and we took every bit of it home for our lunch the next day.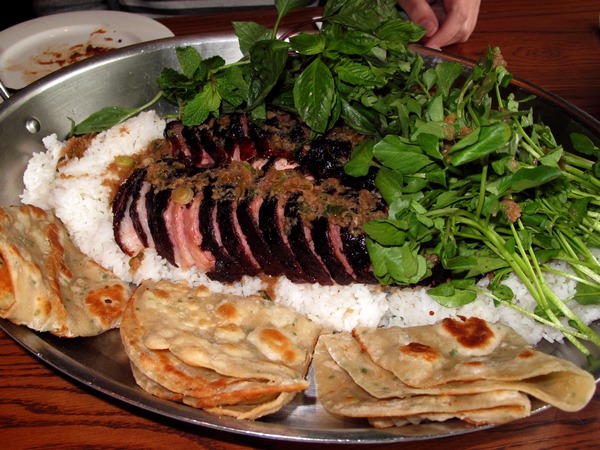 Stupid I had neglected to charge up the camera battery, so I don't have photos for the afternoon. We stopped in to Milk Bar across the street, and to walk off our lunch we hoofed it over to Eataly. It's fantastic! A showcase of any and all aspects of Italian cuisine. There's a bakery. There's a fresh mozzarella bar. There's a produce stand where they will chop your vegetables up as you choose, almost like a fish counter where they clean the fish for you, or a butcher shop where they will prepare the meat as you wish. Genius!! There's a counter featuring cooked veggies, an espresso stand, a gelateria, a pizzeria, a fish monger, a place to eat cooked fish and seafood, a butcher counter, an aisle of dry pasta, an aisle of tomato and other pasta sauces, an aisle of olive oil, and it goes on and on. Salumi, cheese, pannetone, candy, beer garden, sandwich bar. So brilliant. And so purely Italian and Italian-American. Has a glammed up food court feeling, but with only Italian specialties. Wish I could have spent more time and money there.
Across the street is the second location of Doughnut Plant. Again, a place I hear a lot about and hey...I love doughnuts. From the top, carrot cake doughnut, creme brulee doughnut "seed" (a little bigger than a doughnut hole, and certainly more love put in it), peanut butter and blackberry jam seed, tres leches doughnut, and finally on the left is a cinnamon roll. Maybe I chose poorly or I was there on an off day or something, but I was left a bit wanting. Maybe it's a style thing that I wasn't expecting. I think I'm used to doughnuts having egg in them, and neither of their cake doughnut batter nor their raised doughnut dough contain eggs, meaning they're a leaner, a little firmer in texture, more bread-like rather than a soft, tender glazed doughnut. The seasonal flavors didn't seem particularly seasonal, even though there's citrus and pomegranate and some berries at the market. Of the ones we had here, the creme brulee was the clear favorite. I would definitely go back to try it again.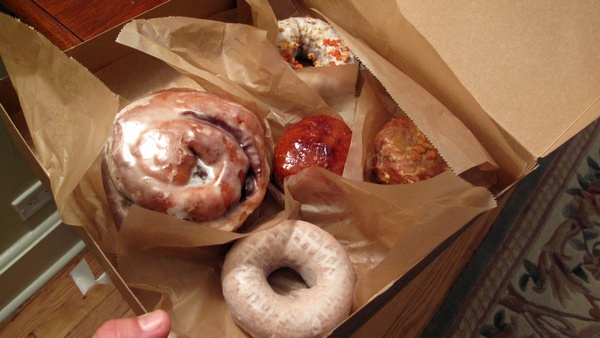 We took a break, went for a nice walk in Central Park, then met Rich and Amy at Prune for a somewhat later dinner. Prune has a reputation as a chef's hangout and for amazing brunch. It's a cozy, tiny spot that reminded me of a little Parisian cafe (not that I've been to Paris yet). Dark and Stormy cocktail is the way to go here.
Colleen and Rich both got the radicchio and endive salad with Valdeon blue cheese and hard cooked egg. Amy ordered some roasted cauliflower that looked good, but my photo was blurry.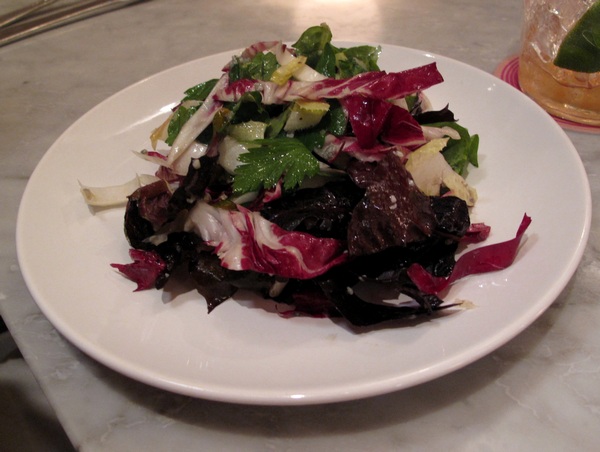 One of the things Prune is known for is their marrow bones appetizer. People say it's something a chef might order because it's delicious, but it's also almost 100% fat. Some people refer to marrow as "God's Butter" because it's just beefy flavored fat, scooped out of the bone, eaten on toast with sea salt and some parsley salad with capers. Salt, fat, salt, bread, something green, and fat. I love the presentation, but this particular one would have been better with two or three minutes longer in the oven. Ideally it's well warmed through, but served before it is actually liquid and melts away.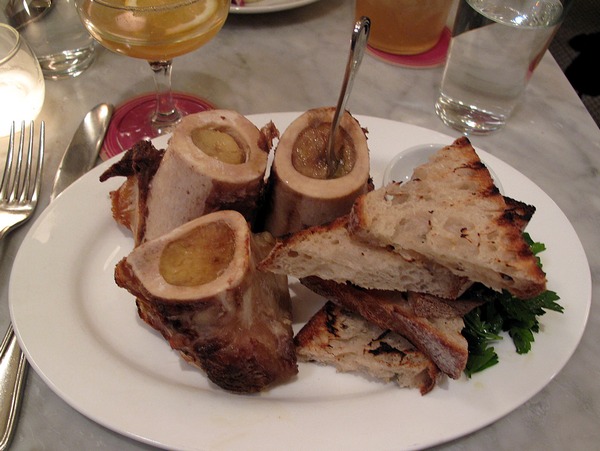 Rich and I both got the braised short ribs on Yorkshire pudding. Excellent.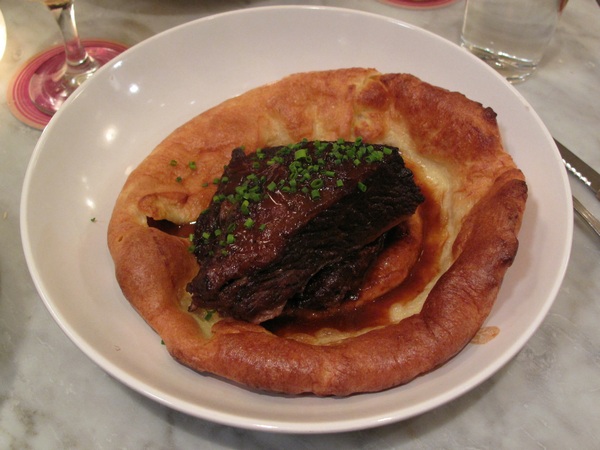 Colleen got a simple but perfect Parmesan omelet, and Amy got a grilled loup de mer (branzino) with fennel oil.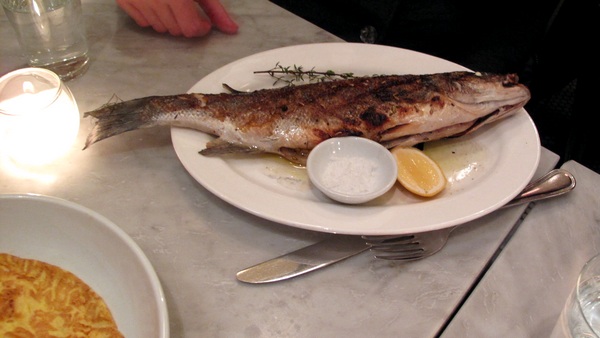 For dessert, in the foreground mascarpone ice cream with sea salt caramel croutons, and in the background, Rich's chocolate-espresso mousse with walnut cookie crumbles, I believe. I hear that brunch is hands down their best meal. Based on what we had, I don't know that I would make it a destination restaurant, but our meal and our cocktails were well made, the dishes simple and tasty, served in a setting that evokes Frawnce. I think they deliver on that quite successfully.