Back to the New World
One last shot from Barcelona airport for Bethro -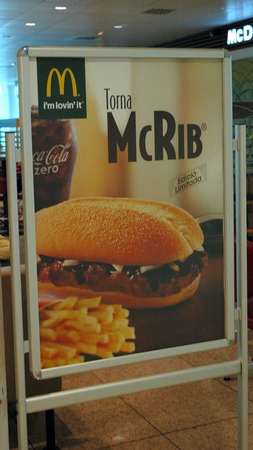 Somewhere over Greenland: drift ice patterns on the ocean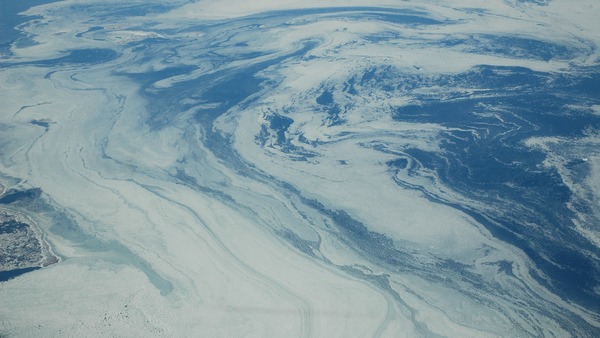 Having left Barcelona early in the morning, I landed at JFK in the early afternoon, took the AirTrain to Jamaica Station, got onto the subway and had a pleasant walk to meet Colleen. This traveling stuff is a lot easier in your own language and when things have signs. And of course, Manhattan is quite conveniently laid out and numbered in a grid for the most part. Although I will say, at least in Spain, on public transportation, many things are at least announced in multiple languages, but here...only English. It must be much harder for a non-English speaking visitor in the US.

Replica of the Arc de Triomphe in Washington Square Park.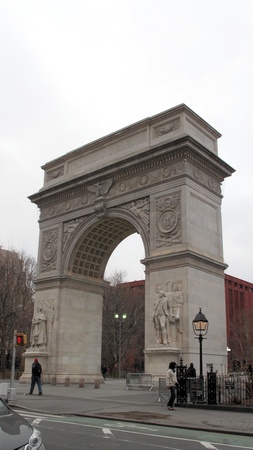 It's been far too long since I visited New York. More pictures after the jump...>>>
For dinner, Colleen scored us a table at Babbo, a Mario Batali restaurant. Lovely Miss Alex was our surprise dinner companion. How lucky am I?!? I knew her as a youngster, and now she's all grows up.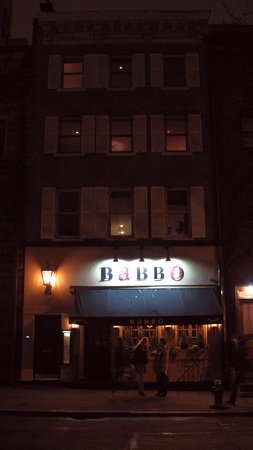 These grissini are on the bar as a snack. Generous in both cheese and paprika, they sparked our appetites, and went well with prosecco.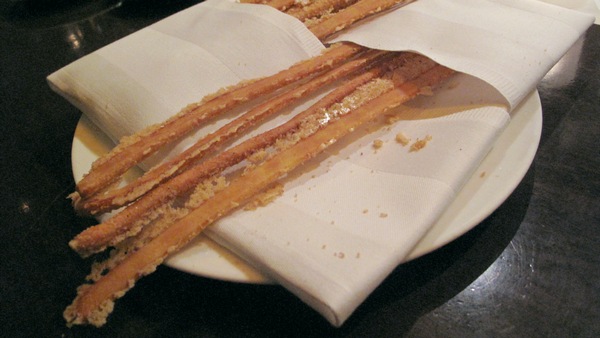 The table in the middle of the room which is also used as a server station.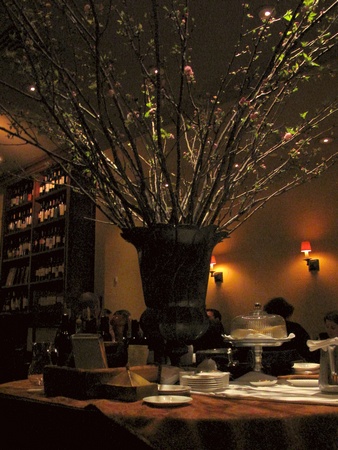 Unfortunately, since I don't use flash, and even though I'm using Matt and Tara's camera, the candlelight wasn't quite enough for great pictures. But I'll post some of the heavily tweaked ones just to give an impression. This is a taste from the kitchen, a crostini with ceci (chickpeas) in olive oil, tomato and paprika.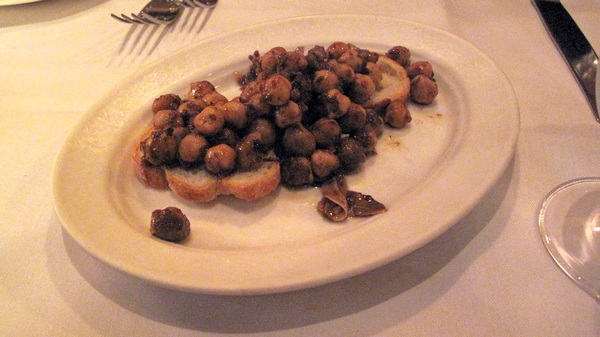 After conferring a bit, the ladies were kind enough to allow me to order dinner within certain parameters. For starters, we got grilled octopus with borlotti beans and limoncello vinaigrette, testa (head cheese in the form of sausage) with pickles and mustard, and roasted beet (not beef) tartare with chianti vinaigrette, ricotta salata and garnishes.
Of the starters, I think we all thought the grilled octopus was the winner. Pleasantly chewy, tons of flavor, and well matched with the beans and brightness of the vinaigrette. The "hat" on top is shaved watermelon radish.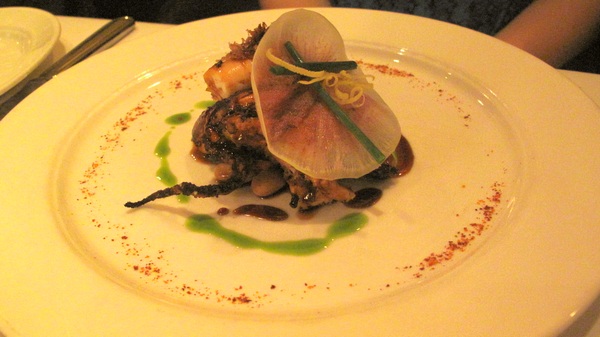 Roasted Beet Tartare - presented as if it might be beef tartare, with the garnishes that might be served with beef - a bit of mustard, chopped pickles, sea salt, anchovy, and capers. Ricotta salata is ricotta that is salted, pressed and aged. I't's mostly just a milk component, with salt - not funky or cheesy - a mild cotija cheese would be most similar, I think.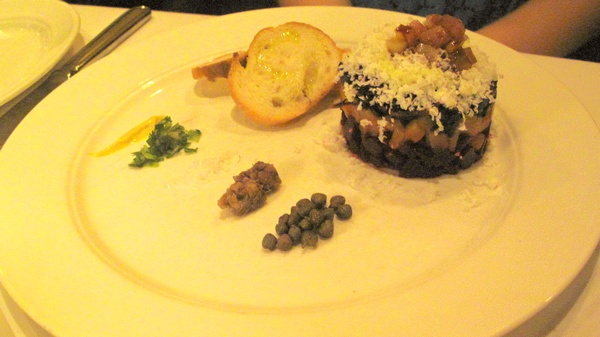 For the pasta course, we ordered Pumpkin Lune (round ravioli shape) with Sage and Amaretti, Gnocchi with Braised Oxtail, and Ravioli stuffed with Beef Cheeks, which they sent later with the entrees. Since we were sharing everything anyway, they proactively split the lune onto three individual plates and the gnocchi on one. Very nice service touch. In the photo, they are grating amaretti cookie onto Alex's portion of the lune. Amaretti is a cookie made from egg whites and almond flour (or occasionally flavored with apricot kernels, like amaretto liqueur), similar to a French macaron. It adds just a touch of texture and a sweet nuttiness to go with the pumpkin. Often the butter in this sauce is browned, but here it was still blond, and the sage just warmed, not crisp. Regardless, they are truly delicious.
In the foreground, the braised oxtail and gnocchi. The oxtail and ragu were spot on, I personally felt the texture of the gnocchi was not quite right. It was enjoyable and delicious, but the gnocchi just suffered by comparison to the lune.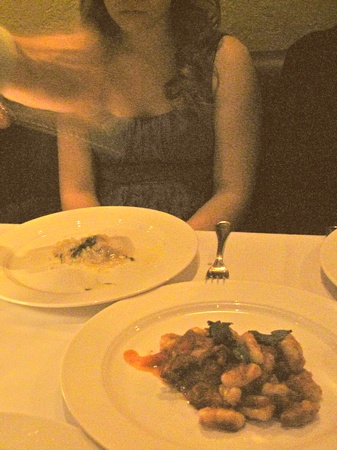 I apologize for the picture, but this is the best of the lot - from the foreground moving back, triangular ravioli stuffed with braised beef cheeks, a side of Brussels sprouts with pancetta, Guinea Hen with pumpkin fregola & black truffle vinaigrette, and Grilled Rack of Lamb Scottadita with broccoli rabe pesto, lemon yogurt and grilled onions.
Some may know that I love lamb, and I order it often, and I'm lucky to taste it often at work. We get great lamb, and we prepare it carefully and people love it. Well, this was fantastic lamb. Memorable. A touch of something sweet in the marinade, maybe balsamic. Nice grill crust, but still rare inside. The fat was well warmed through and it was glorious. A standout dish. And a generous portion of three nice double chops, at a very reasonable menu price. I would go back and get this again and again. Capische?
As I'm writing this I just looked it up, and according to the Food Network recipe from Mario, it's just lemon zest, mint, sugar, salt, lemon balm and olive oil. Oh, yeah, the other stuff we ate was good, too.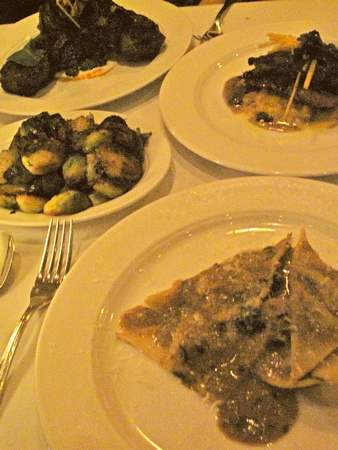 To cap it all off, a Chocolate-Hazelnut torte with hazelnut gelato and orange sauce. Candied orange zest. I love gianduja and Nutella, so for me this was perfect.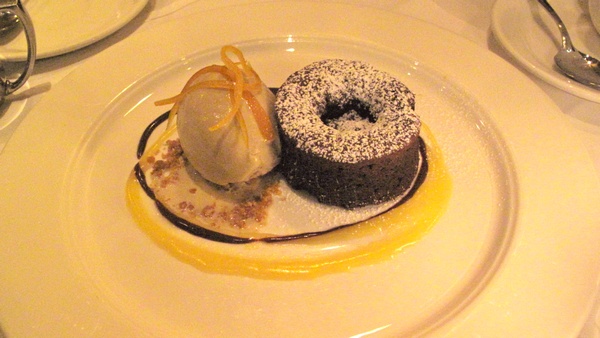 I've seen and heard some of the naysayers out there talk smack about Babbo, like it's overrated and such, but I really don't see it. It's one of the best overall meals I've had recently. Maybe not 3 star Michelin since it feels so homey and casual, but damn good. And the service was very professional and comfortable. For what it's worth, I highly recommend it. I'd love to go back for one of the tasting menus ...and the lamb.