Adios, Espana!
Near my pension, there was a Galician restaurant that seemed to be doing good business and seemed to be reasonably priced. Galicia is the northwest corner of Spain, and is known for seafood. Since I didn't get to go to Galicia on this trip, I figured I could try a few of the specialties of that region. When I sat down, they gave me a different menu than was on the board, where all the seafood was really expensive, so I switched gears. Not sure if was after lunch or if they just pegged me as a tourist.
One popular item in Spain is ensaladilla rusa, or Russian potato salad. Normally, it would contain potato, mayonnaise, English peas, tuna or anchovy, and hard cooked eggs. I didn't get any tuna out of this version, but it was pretty good. They brought it as an appetizer, a hefty scoop, almost a pint, but they were waiting for me to finish the entire thing before bringing the steak. No, I'm ready, bring on the steak!!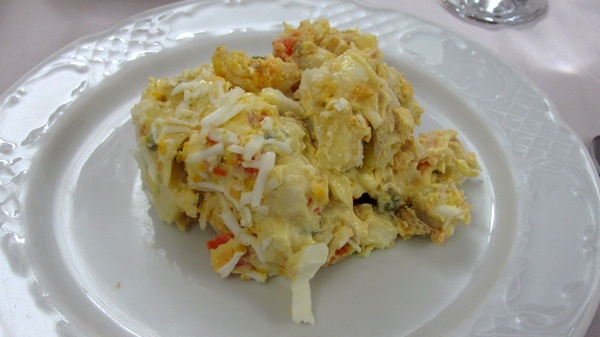 The matchsticks and fried artichokes were a nice surprise. Scallopini type cut of veal, medium.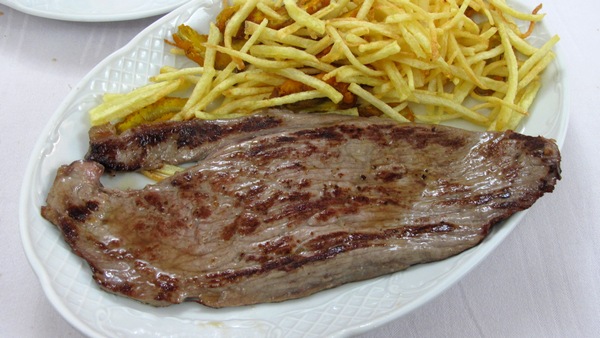 I did some final souvenir shopping at El Corte Ingles, which is the largest department store chain in Europe. It's named for it's origin as a tailor shop, referring to an English Cut suit. But it now it's everywhere in Spain, they carry everything including groceries, housewares, dry goods, clothing - I guess like Harrod's, but many locations. I stopped for a gelato - mandarin orange and dulce de leche. Deeelicious! Clean, specific mandarin flavor.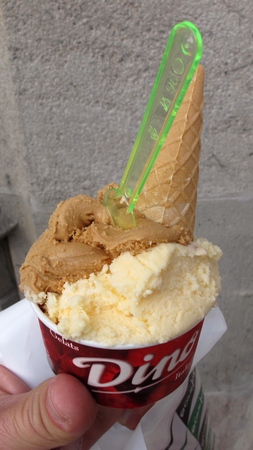 More pictures after the jump...>>>
The keys sometimes look like the ones from an old movie or classic cartoon about jails and vilains and whatnot.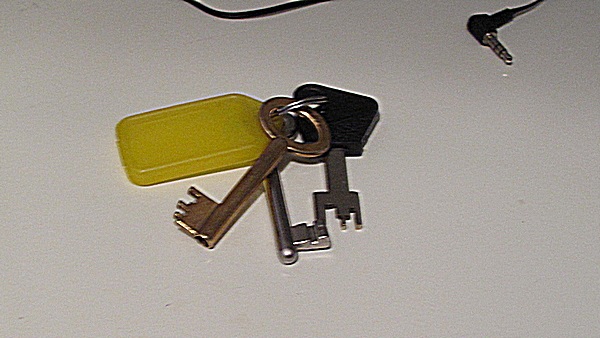 I walked by a bar on a side street that seemed promising, so I went back for my last meal in Spain. Pulpo a la Gallega, or Octopus Galician-style. This is available everywhere, it's transcended it's regionality. Under the octopus is sliced potato, cooked in the same water as the octopus.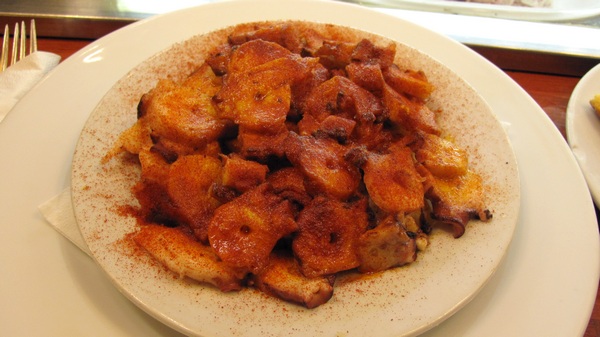 Pan con tomate on crunchy flutes, and morcilla de Burgos - blood sausage with rice, in the style of Burgos, with piquillo pepper. I love crunchy things, so the flutes are my second favorite to coca for pan con tomate. This particular sausage was a bit too ricey for my taste, but I love morcilla anyway, and seemed a fitting finale to an amazing trip.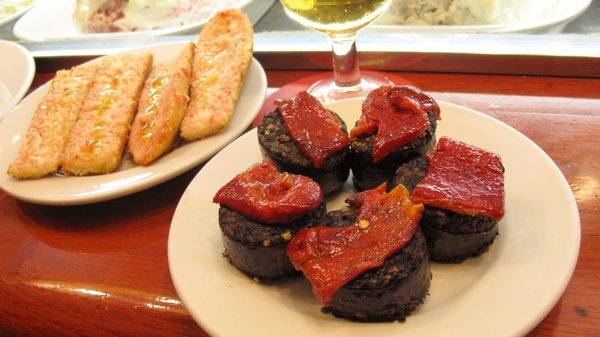 Travelers pay a fee each time money is changed from one currency to another, so it's best not to change too much money so as not to end up with a lot extra at the end. And if I have just a few bills when leaving a country, I just spend it, because paying to change it back once again is just a loss. So here are some snacks I got at the airport. One last ensaimada and some sweet snacks, some salty. My airline doesn't accept cash during the flight anymore, so anything I would have purchased on the plane would have been paid by credit card anyway.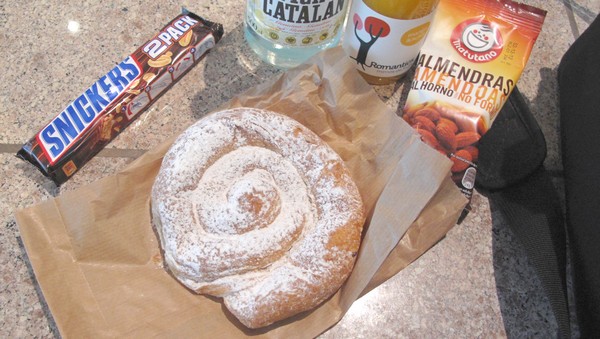 I really didn't see enough of Spain, and even the places where I spent a few days, I only got a taste. I hope to go back to see other parts of Spain and get deeper into Catalunya and Pais Vasco on my return. It's a profoundly fascinating place, for all reasons - people, history, culture, art, scenic beauty, and of course, food. Until I return...Adios!!
Thanks for reading!
Next, New York City!!