Mi Error, y Mi Bien Suerte
Got up early to head to la Boqueria. El Quim is one of the famous stalls in the market, and has been around since the market was just a collection of carts in a field. Or so they say. Bread and a cana of beer to start the day.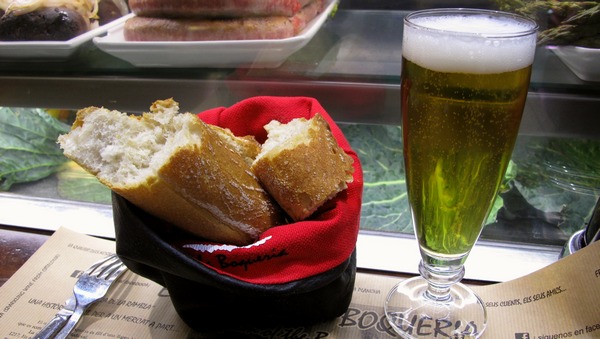 They were still getting ready for the day, so I was the first customer to sit down. Some things were still being prepared, so I asked for callos. It's stewed tripe, very simple, just a bit of tomato and pimenton. I could easily have sampled more things, but I wanted to save my appetite for lunch.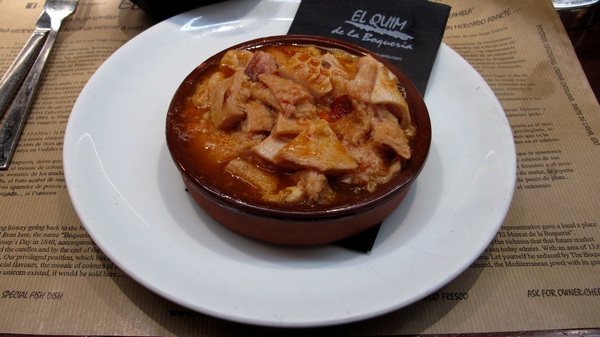 My new room is the tiniest, interior room in a large, luxurious flat. It's been remodelled fairly recently, so the bathrooms and other large rooms are quite stylish. My room is cheap, and bare bones. But I have access to the whole flat, including a large patio facing the interior courtyard of this city block.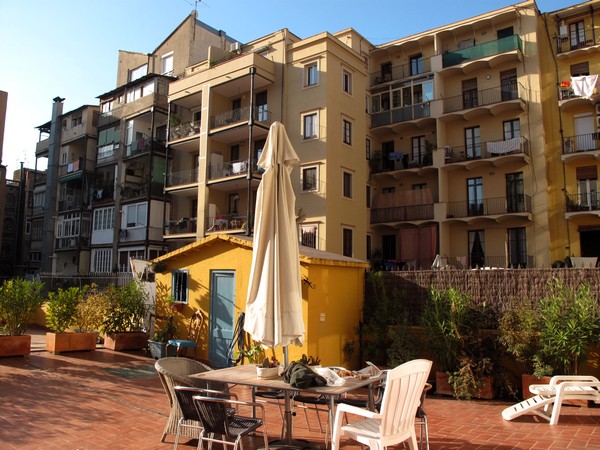 One of Anna's recommendations is Forn Mistral, specializing in breads and pastries from Mallorca, including my new obsession, the ensaimada. They also make a savory ensaimada with sobrasada inside, but they only make it on request, with one day's notice. So I got a croissant with sobrasada inside. They also have an ensaimada with pastry cream. These were all fantastic. Delicate and the sweet ones were not too sweet.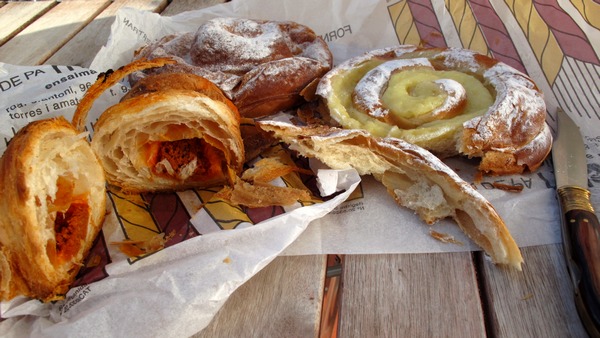 A good story, a lot of pictures and great meal after the jump...>>>
For lunch, I am traveling to Girona, about 1 hour and 20 minutes by train from Barcelona. It seems that these are farmed trees, but for what I'm not sure...paper?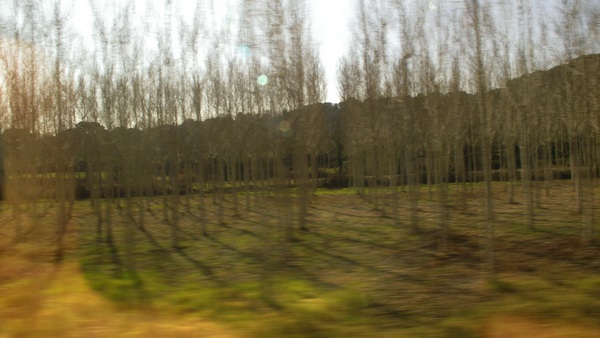 From the train station, I took a cab to the restaurant, and ended up being there a bit early, so I took a break in a local park next to the restaurant.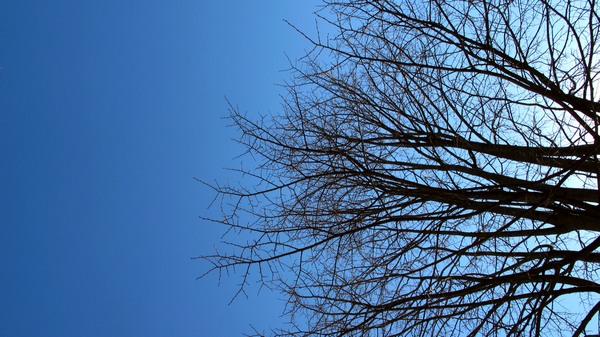 The entryway and facade of the restaurant.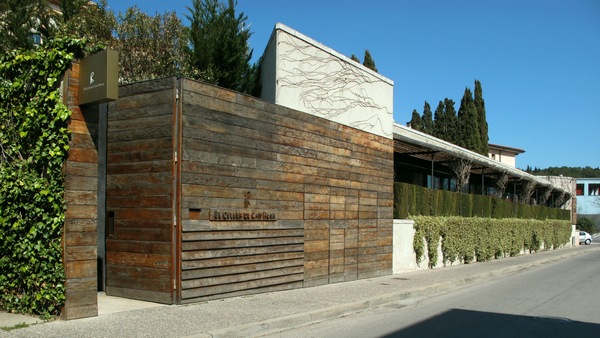 I had made reservations before I arrived in Spain, but I had requested dinner on the 14th after I arrived. When they emailed to confirm a few days before, I decided it would not be enough time to dine there on the 14th for dinner, as my flight was the very next morning at 8am. Would it be possible to change it to lunch on the 14th, or even the 13th? The 13th was completely full, but they agreed to lunch on the 14th.
I walk in and give my name, and they ask me to take a seat in the salon area. Then they come back and ask for the spelling of my name. I'm a bit concerned at this, since it's as if they are not expecting me. Did my reservation get lost somewhere? Then I check my phone, and to my horror, I am here on the wrong day, the 13th, not the 14th! What a dumbass! I immediately walk up to the host and apologize, I'm here on the wrong day, I'm so sorry, etc. They are so gracious, they say, Don't worry, we are trying to make an accomodation, please wait a moment.
I'm thoroughly embarrassed, especially after the mistake of the time of my flight on the first day. I sit outside on a couch in the courtyard area, just shaking my head. Okay, whatever, I made an ass of myself, I'll just go back to Barcelona and return tomorrow. No big deal.
The maitre 'd comes up with a big smile on his face and says, "We are calling to check with the chef, but I think we will have a table for you. Please hold on just another minute." Meanwhile, I just want to crawl under the couch.
He comes to collect me and says, "We have a table ready for you, please come with me."
So he takes my jacket and we walk directly into the kitchen, through the Star Trek door. They have cleared a space on the chef's actual desk, and have set out a place setting! This is not the "chef's table" - it is his actual desk, with his effin' computer and his notebooks and cookbook library and everything. I am in total shock. The whole kitchen looks up to see who the hell is sitting at chef's desk. Then they just go back to work. I find out later that when they have journalists or visiting chefs and so on, this is where they are served. But it is a rarity.
I can see about 15 cooks and chefs from where I am sitting but altogether there are 27. It's one of the calmest, most quiet kitchens I've ever seen. When he fires an order he says in Catalan, "Fire 2 Classic tasting menus.", about 5 people call back in a normal speaking voices. And that's it. Chef Joan prefers it this way. Even when one guy got busted for overcooking the lamb, it was just, "Hey." and a gesture to listen for the sizzling noise. That's it.
I ask for a glass of cava, and I'm just laughing at myself, and their generosity, and my good luck. The title of this entry means, "My mistake, and my good luck." They have two tasting menus at lunch, one that is updated Catalan classics, and the other is the full tasting menu, which is the obvious choice in this situation. I mean, they're being so generous, it would be a bit of an insult to go with the more conservative menu, no?
Just to set the context, El Celler de Can Roca currently holds 3 Michelin stars, and is often in the top 10 or sometimes top 5 restaurants in the world on many lists. Not that ratings and lists are the most important, but to be consistently highly regarded does mean something. Also, it's worth noting that for several years, their cookbook Sous Vide (or Vacio in Spanish) was the only book available on the subject of using that technique in a fine dining restaurant. They literally wrote the textbook.
Incredible bread - red wine and Kalamata olive bread, and olive oil bread. Actual flavor of red wine. Actual flavor of olive oil.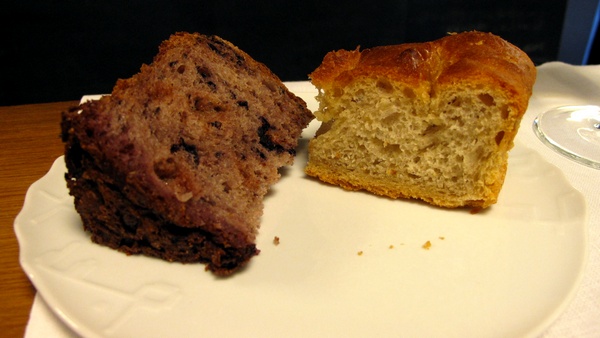 This is the first amuse that they call The World. It comes to the table with a paper lantern globe enclosing the food items, then it is opened to reveal these five bites, representing flavors of Korea, Peru, Lebanon, Mexico and Morocco.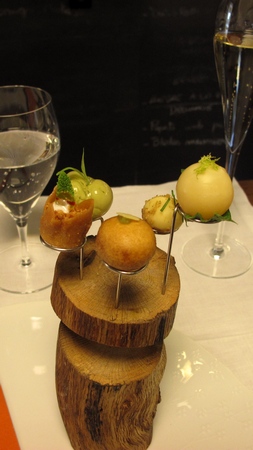 Next is a caramelized olive, presented on an olive bonsai tree. I unhooked these, but on reflection, I think I was supposed to "pick" the olive from the tree. It has anchovy and a little isomalt candy coating. It's a callback to that classic olive, anchovy, green chile pintxo like the other day. They have several trees, and they hang an appropriate number of olives for each table. The hooks themselves are custom made for the restaurant, complete with their logo stamped on each hook.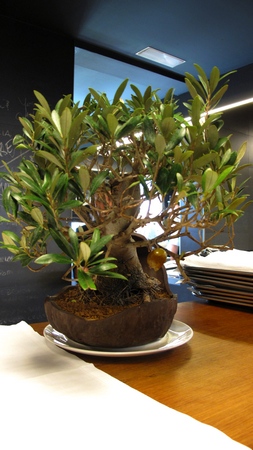 Of course, I have photos of every item, but I'll be a bit selective here to show the exceptional courses. Of which there are still many. Other amuse were "Ring Calamari Adapted" and Zucchini Omelet. This one is a bonbon with Campari cocktail inside.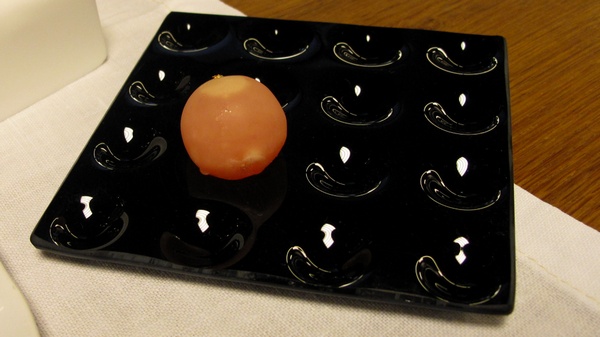 This is listed as Truffled Brioche - it appears to be a custom made service piece with a bowl for soup, a bite-sized brioche roll, and nice slice of truffle. The brioche and truffle are covered by a lid and the whole thing is placed on the bowl of hot broth so that it is warmed by the steam of the soup as it is walked to the table, and the brioche becomes warm and extra tender, and the perfum of the truffle is released. Genius!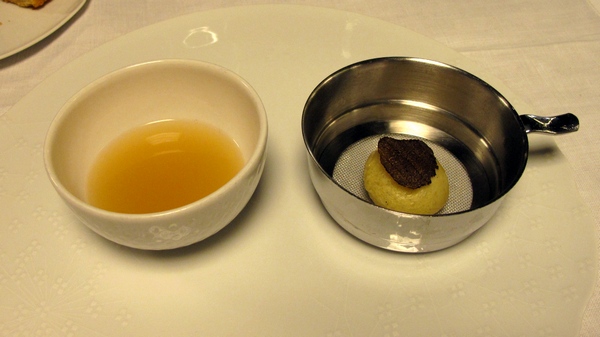 Green salad - Avocado, lime, melon, cucumber, Chartreuse, sorrel, greeen shiso, tarragon, rocket, oxalis. There is some salad burnet in this, too. Salad burnet tastes remarkably like cucumber.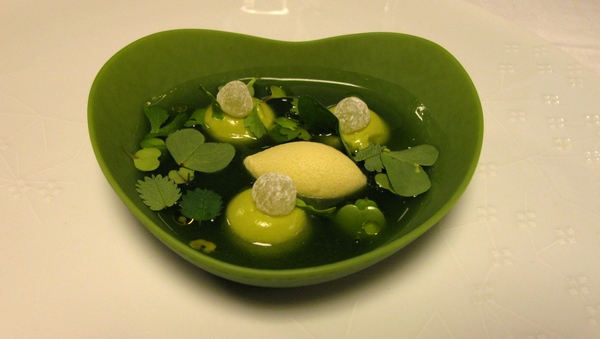 Autumn-Winter Salad - Sea urchin, pumpkin, sweet potato, quince, persimmon, tangerine, porcini, pumpkin seeds, walnuts. Right in the middle is crispy Jerusalem artichoke. It was amazing to watch the plating, since they know exactly how many covers they're doing (plus one, ha ha), the majority of this dish is pre-plated and it just gets final touches and is sent when the table is ready for this course.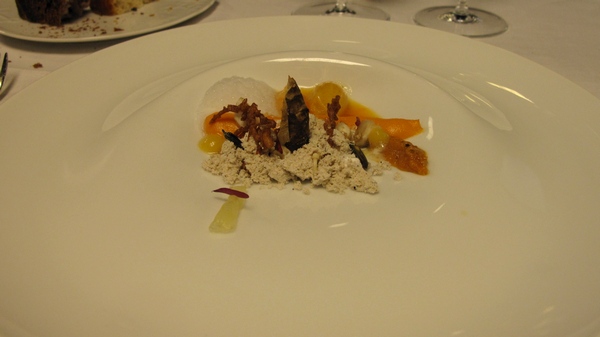 There was an oyster dish here with black garlic sauce and white garlic sauce in a yin yang pattern, then a gamba roja dish which had been just warmed on the grill. Really delicious. Like raw ama ebi at a sushi bar, but fresher.
This dish really impressed me - it's their homage to Sole Meuniere, a classic French dish. But here they've just rearranged it and cooked it perfectly in a wood fired oven. The piece of sole is blanketed in a semi-translucent milk skin, then it's sauced with a modern style of lemon, caper and brown butter sauce. Crispy sole skin chip. Amazing! The chef de cuisine presented some of the dishes to me, and he and I struck up a bit of a rapport, especially after this dish. I asked a few technical questions and although my Spanish is far from fluent, I was able to convey my admiration for their cuisine.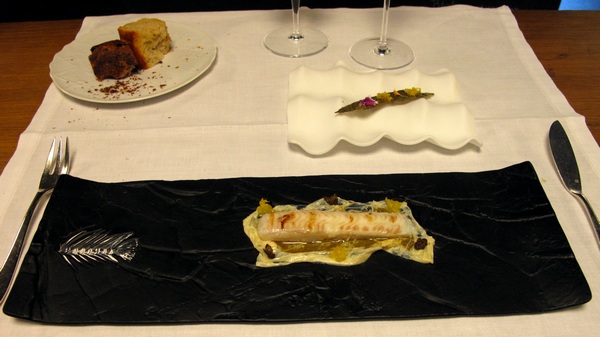 There was a salt -cod dish in this spot that was really well made. This was perhaps the third time that I've been served cod tripe - it must be a mini fad item.
Iberian suckling pig blanquette with Riesling
The Can Roca version of cochinillo has been cooked sous vide (of course) for 30 hours, then the skin is crisped directly on the plancha. Then warmed under the salamander for pickup. The sauce is poured carefully at the table so that the skin does not get soggy. The other components here are gels and flowers representing the flavor notes of a Riesling, and chef had the staff pour me a tiny glass of Riesling to experience the pairing. Superb.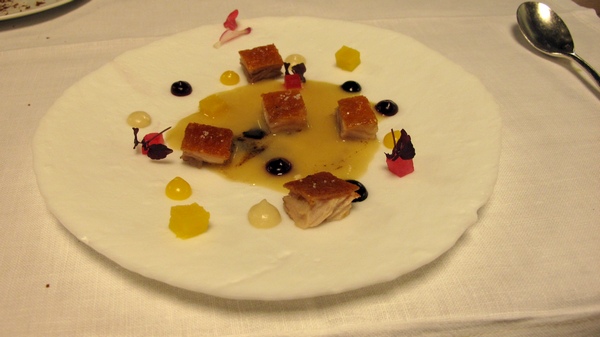 This one is a rouget, or red mullet, cooked at very low temperature, to retain an almost raw look to the flesh, with individual gnocchi of anise & chervil, orange, and saffron, and a broth. I think this is meant to be reminiscent of bouillabaise. Very nice.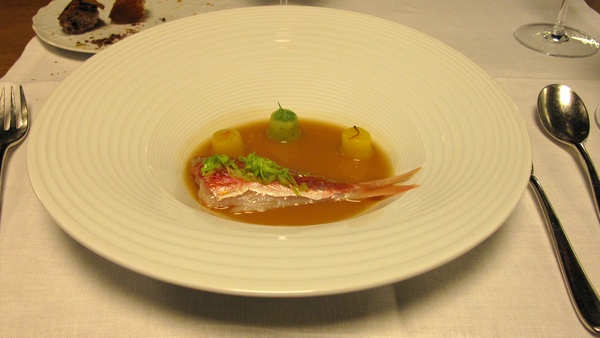 Around this point, I got a glass of Terra Remota Camino Emporda 2009. Awesome.
There was a tasty beef tartare dish here with mustard ice cream and all sorts of garnish to be eaten in stages. Then some beautifully cooked lamb with spheres of tomato, red bell pepper and lamb jus. Then the final savory course - Wood pigeon tenderloin with onion, carmelized hazelnuts with curry, juniper berries, orange zest and herbs. A marvel. So many layers.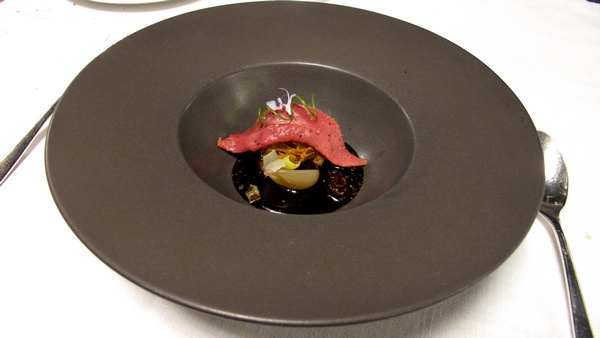 The pre-dessert is called Orange Colorology (shades of orange?) - gels of orange, tangerine, egg yolk (custard), passion fruit and carrot.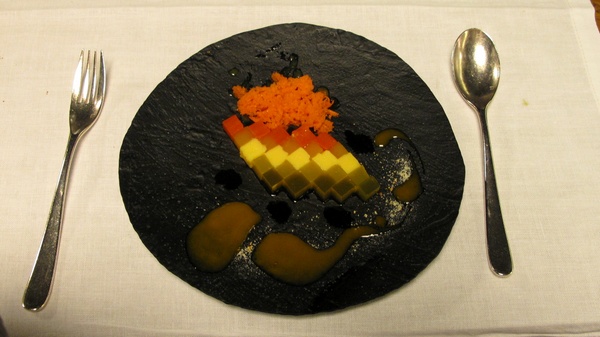 During the whole meal, they kept trading off who presented the food to me - all the runners, the maitre 'd, the chef de cuisine, chef Joan himself. Team service to the nth degree. For this course, it was one of the youngest runners, and he was so excited to explain it, in English. "Cuajada, the curd from milk of sheep, pastel de guyaba (like a membrillo or jam of guava), dulce de leche, and candy floss. Best of the house!!" If anyone has had the Cuban pastry from Porto's with cheese and guava, it's inspired by those same combinations. Deeeeelicious!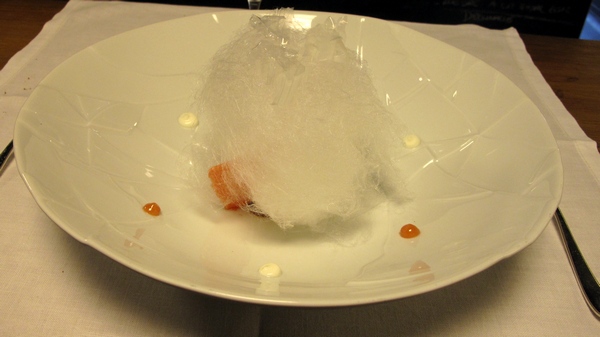 They also gave me an extra dessert of various kinds of milk products - dulce de leche, sheep's milk ice cream, cuajada foam, and milk meringue. There was also a chocolate dessert called the Forest, with a variety of chocolate items in a chocolate landscape sort of thing, with a splash of Taylor's 20 Year Tawny Port on the side. Then migardise.
Truly, I cannot convey how thoroughly enjoyable this meal was. Not only was I observing the kitchen, but they were so gracious and hospitable. As chef Joan said at one point - "Estupendo!!"