Surgical Strike: Madrid
Okay, no time to waste: today I'm hustling up to Madrid to break up the driving to Pais Vasco from Valencia. Valencia to Madrid is about 360km or 224 miles. Then tomorrow Madrid to Axpe for lunch (up in the mountains) and then on to Donostia/San Sebastian is about 600 km, or 373 miles total. Good thing I got unlimited mileage! Otherwise, I would have been looking at a surcharge of 0,49 euro per km, separate from and on top of gasoline, which would have been prohibitive.

The same day as the shots at the Mercado Central, I packed up at the pension and went to the car to leave. I had gotten a good parking spot, because even though it was 15 blocks from the pension, it was a white zone, meaning unrestricted parking - I could have left it there for a week. They're desireable, so as I was packing up, a couple asked if they could have it. So I said sure, but can I ask you for directions to L'Albufera? The directions went something like this, but in Spanish.
"L'Albufera? Hmmm. Okay. Okay, go out here, straight thru the roundabout, then turn right at the Grand Boulevard. Okay? So you're gonna turn right, okay? Okay. Then you go, you go, you go, es-straight, for a long time. Okay. Then you are looking for a sign for Salou. Turn a right. Okay? Okay, then follow that, you're gonna pass the Museum of the Sciences on your left, okay. Follow the signs for Salou, and that takes you to the highway. Okay? Okay. It's a easy. Okay. Good. Have a nice trip. Okay." Replace okay with "vale" for the more authentic flavor.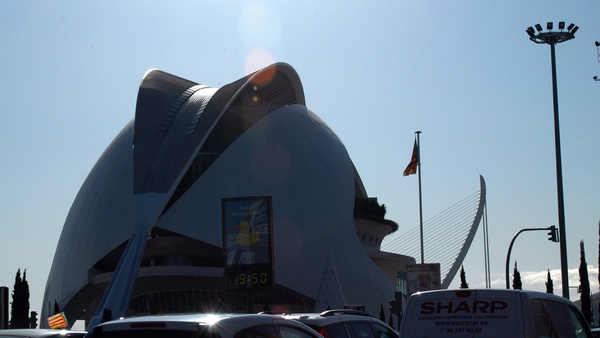 L'Albufera means lagoon, which is a body of water separated from the ocean by a strip of land. The albufera south of Valencia is saltwater, and is a bird sanctuary, wetlands, natural preserve. It's a birdwatching destination, and people go camping and recreating, lots of bicyclists, etc. The flats around the Albufera are the rice growing areas for Valencia, which takes great pride in it's rice and rice cuisine. I missed taking a picture of the actual Albufera. These is pretty much what the fields look like at this time of year. I saw some that were closer to being planted, they had been irrigated and lines plowed in. Although Valencia is on the Med and further south, it's still a bit chilly at night.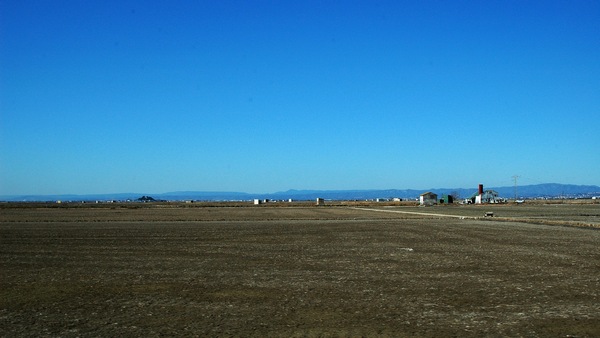 There are a few towns along this strip, and I guess this is where Valencianos would have a little beach condo or something to come down to during the summer. Now, it's deserted. Like post-apocalypse deserted. Little bit creepy.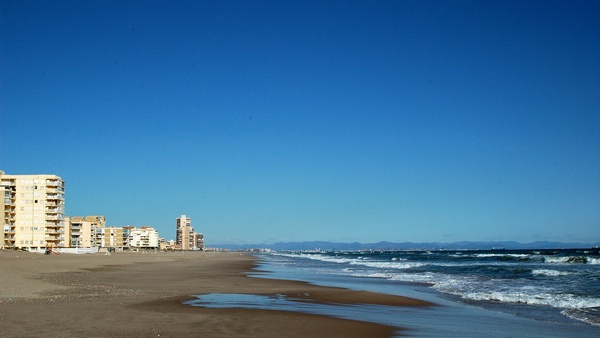 Flying the Heirloom LA colors!! Standing in the Med! Forgot how to use my self-timer!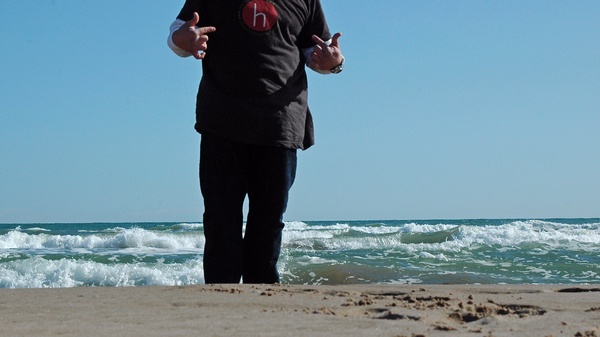 More pix and notes after the jump! Clicky-
For the wine geeks, everything is still dormant, but what appear to be the cherry blossoms have bloomed (the tree covered in white - complete guess on my part), so the first buds are probably pretty close. Note also the traditional low style of training the vines, meaning to maintain and harvest is backbreaking work. But old vines usually mean big flavor. And by the way, it's gorgeous here. The picture looks a little warped, but it's because the slope goes up and back to the right.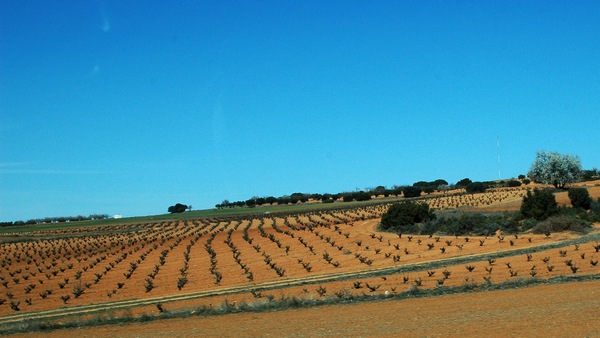 Once I arrived in Madrid, there's about 2 1/2 hours that I lost by being lost. I took the right exit, but then Madrid has these tunnel on-ramps directly to freeways. Great if you wanna get out of the city. But in my case, before I knew what was happening, I was on a freeway west, and the first exit was about 3 km away from where I wanted to be. So, I try to find a main street or something to get back to the city center, but I'm far enough out that there aren't even signs for city center, it's more like suburbia. Finally, I stop to buy a better map, but they only have a regional map, without much detail. I find a policeman who gives me the whole speech about, it's very difficult to drive in the city, you're better off leaving your car here and taking the bus or a taxi. I'm sorry, I have to have the car, I know it's not smart, but how do I get there?
It went something like this, in Spanish, "Okay, go down this alley, and take the third exit from the roundabout, go left. Okay? To the left! Okay, follow that, it's gonna turn left and go down the hill. Okay. There's a freeway on-ramp there, but you can't turn onto it from there, okay? You go past it, turn around, but there's no roundabouts. You have to turn into a neighborhood, turn around and come back? Okay? Okay. Then turn right onto the autovia. Okay. Then take the same exit, follow the signs and good luck. Okay? When you get near Plaza Mayor, just park it the first place you can, and walk the rest. Next time, don't drive. Okay? Good luck. You're welcome. Okay." Thanks, officer.
From this point, I got into the city, but still had another hour or so trying to get close enough to the old city center to drop the car. It was quite an afternoon, and again I felt foolish as my already short time in Madrid was being wasted. I did see just about everything you can see from a car, though. Trade-offs, I guess.
I got cleaned up and I had some time to kill before my reservation for dinner, at 10:30pm! Conveniently, there was a location of Museo del Jamon right on my street. This is a little bocadillo of jamon iberico bellota (the acorn fed ham) with tomato. It's an amazing sandwich, but it's hard to taste the subtleties of the ham, so I ended up taking it apart. Still tasty. This location of MDJ is small, and they didn't have much of a selection from the deli area. Prices were way jacked up. Touristy. And they just didn't seem that helpful, even eavesdropping on other Spanish customers.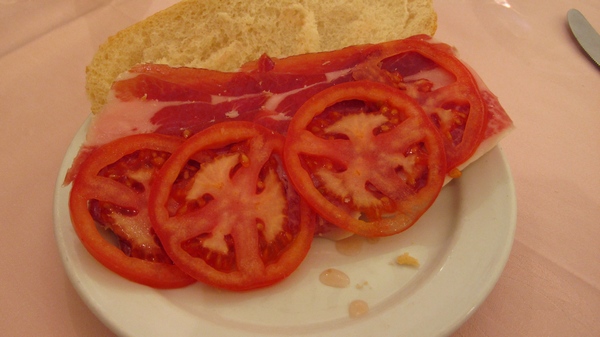 My pension was right behind this stylish market called Mercado de San Miguel. It's been updated and has a few token food stalls, but the emphasis is more on wine, tapas, and the social aspect. Beautiful local people and tourists alike, a tapas crawl in a food court. But nice. Really good energy in here. Probably there's better tapas in the surrounding neighborhood, but this one is just sexier.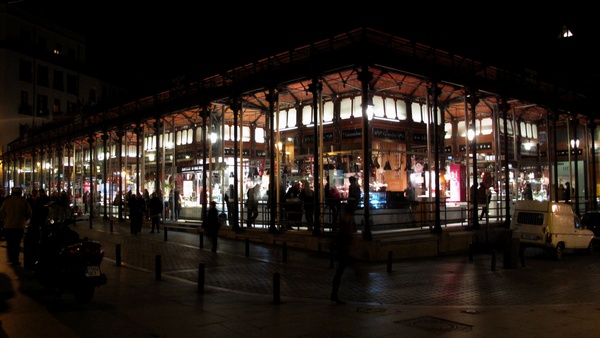 One thing I've been thinking about is, what happens to all the trimmings from the ham? What happens to the rest of the pig? It's so expensive that I've always saved the scraps, boiled it for stocks, made soups out of it, etc. But even it a little store, the volume of scraps must be a lot, because they have many hams that they're slicing from at any one time. Well, somebody must have thought the same thing but back at the slaughterhouse, because these claim to be bellota fed, pata negra chicharron and meaty chicharron (has a thin strip of meat and fat attached to the chicharron, made from the belly area - it looks like the C shape on the upper right). It's definitely an industrial product, like this all occurs in a factory, it looks too perfect, definitely machine cut, machine fried. But it's good and cheap - 2 euro for a big cone. Kind of a rip off that they charge extra for sauces, though.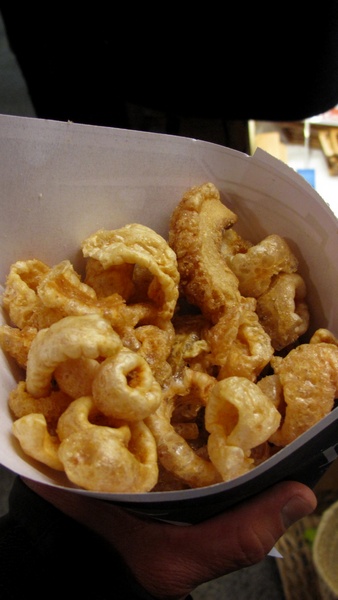 Montaditos are usually on baguette, but one of the shops just has these pullman toasts with little toppings for 1 euro each, about US$1.35. Left to right these are mojama (semi-dried tuna loin) with olive oil and marcona almond, vetresca de atun (conserved tuna loin), and their version of pulpo a la Gallega (octopus with paprika, Galicia-style). They're all pretty, but not to my taste. Mojama is kind of semi-dry, so it's not quite jerky - it's like gummy jerky. Other tuna they didn't really do anything to it. And the octopus itself was okay, but to try and eat it with this sandy bread was not appealing. The toast is just a little to dry, and the toppings I chose are too dry. I guess the ones like bacalao in mayo might have been better.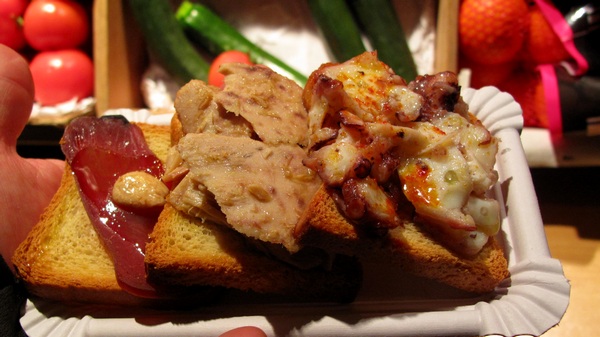 The main event tonight is Restaurante Botin (bo-TEEN). Botin holds the Guiness world record as the oldest continuously operating restaurant in the world, founded in 1725. The house specialty is cochinillo asado, or roast suckling pig. I again had to get out of town early the next day to drive up north, so I stopped in to see if I could slip into an early table, and they were able to accomodate me. Nice for me. Having already had a few snacks, I just went straight for the real deal. It's quite an operation there, three floors, everything old but in good condition. History. Actual history. Tradition. Pride. Not fake nostalgia, faux distressed finish, manufactured oldness BS.
The roast pig did not disappoint. And I had high expectations! They had me at roast suckling pig. As with all pig, it's all about the skin. The skin of suckling pig is much thinner than an older one, so the crunch is much more delicate, and they have it down pat. It's a marvel. And the particular piece I got is right in front of the shoulder joint on the left, and the first few ribs on the right. Perfect for me. I got a little bit of the start of the belly, some of the shoulder. Incredibly juicy. Like a chicken that's been brined and fried exactly right, but it's pork - milder than most pork, since it's so young. But juicy. Hard to imagine it being any better than this. The seasoning is minimal, just salt, garlic, and a little paprika on the inside. Probably nothing but salt on the outside skin. Seriously. Winner. There's also a couple of fried potatoes on the plate, and some pan juices. The pan juices I think they doctor up a bit more. They also have other sides a la carte like a steakhouse.
I guess if you're a PMI (Persona Muy Importante) or a large table, you can get the whole cochinillo brought to the table, and they show you how tender it is and how crisp the skin is by "carving" it up with the side of an ordinary dinner plate. The skin shatters and the bones just release. It's sort of a one dish restaurant, although they have filet mignon and some appetizers. Pretty much every person at every table gets this. And it comes out fast, the waiters are just serving plates of cochinillo all over the restaurant. The kitchen must just have them rolling all night. And it all looks just as good as mine, golden, crispy, juicy. Very impressive and memorable. Highly recommended!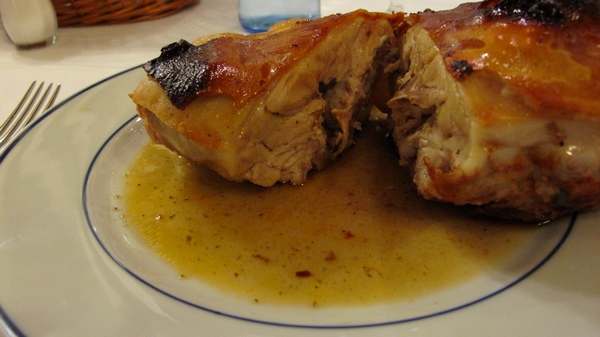 Early out tomorrow. Good night.