A Valencia!
Note: I'm falling behind on the blogging, so just FYI, I"m putting these back in chronological order, on the day which they occurred, rather than the date that I'm writing them. Thanks! ~Tad

As I mentioned in the last post, I'm tasting a beer developed by Ferran Adria called Inedit, which I believe means Uncut. It has a similar profile to a Belgian white such as Hoegaarden, but a little more subtle, a touch of citrus, a bit of creamyness, and lighter carbonation. The website refers to barley, wheat, orange, cilantro, and licorice. I enjoyed it, but there are lots of good beers out there.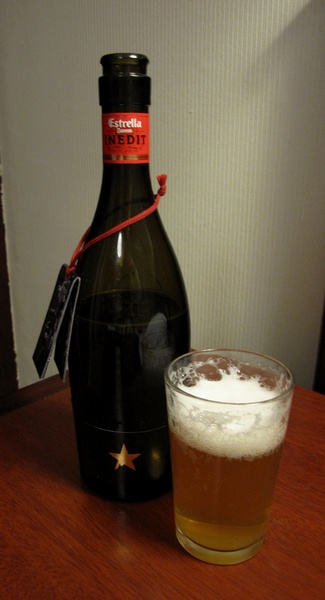 Here's the sunrise on the day of driving to Valencia. I really enjoyed being in Tarragona, maybe next time I'll actually see all those Roman ruins and whatnot...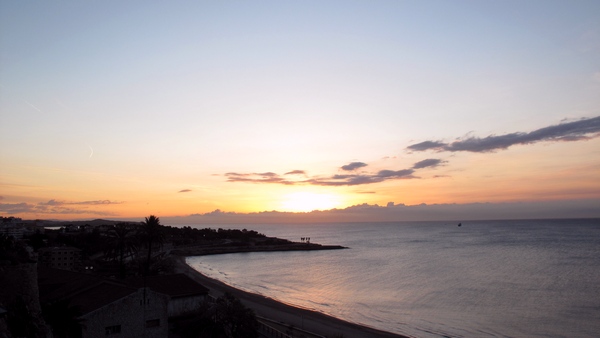 The autovia (highway) is over a mountain pass, so it's quite windy, and there are modern windmill farms. It's hard to tell from this photo, but this windsock was s t r a i n i n g at it's tether.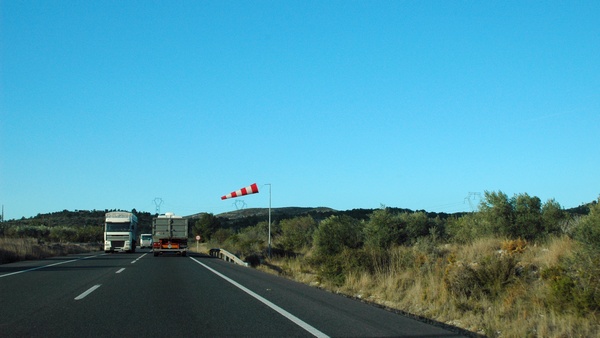 More pix and notes below ...
Some of the mountains to the West. BTW, taking these pictures from a moving car with one hand while also driving is really dumb, I do not recommend it.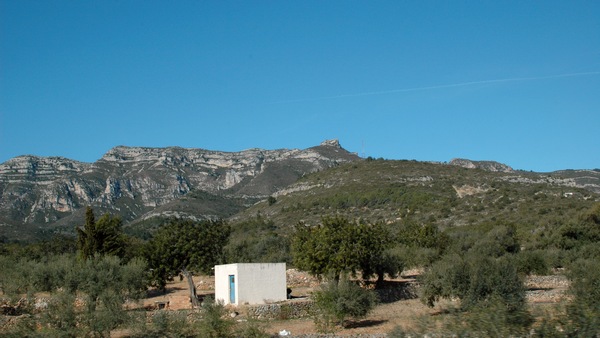 The Banco de Valencia building downtown.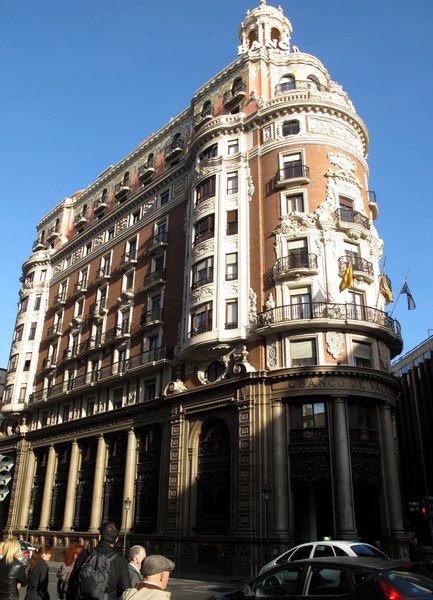 There was some sort of fireworks festival going on, and the police were not letting cars into the inner part of the city, which is where my pension was located. So after about 90 minutes of trying to get close and failing, I just parked about 15 blocks away and walked. Then I had to wait for the host to come to drop off the keys, he said 20 minutes, but it was actually an hour and twenty. So I was quite frustrated, my already short time in Valencia was just being wasted. Then when I asked for the wi-fi password, he said, "Oh, eesa no working. A guy eesa coming tomorrow at 9am, okay?" Well, I almost lost it. We had a few words about it, and he said, "Eesa on me. You no pay. I don want you have a bad feeling in Valencia. Okay?" Ordinarily I would have paid anyway, but this time, I just said thank you and bought him a bottle of wine.
My pension for the night was near the Mercado Central, but I arrived later than expected, so I saved it for the next day. Here I found some empanadillas and a pastel de calabasa. Valencianos have an affinity for pumpkin for some reason - there are pumpkin doughnut stands everywhere, and the little one is a little turnover with a sweetened pumpkin filling. The empanadillas are like empanadas, except they are made with puff pastry rather than regular pastry dough. The one on the left is sobrasada, the spreadable, cured sausage, or the other is pisto, which is tuna, tomato, bell pepper and onions. Great idea, but not my favorite.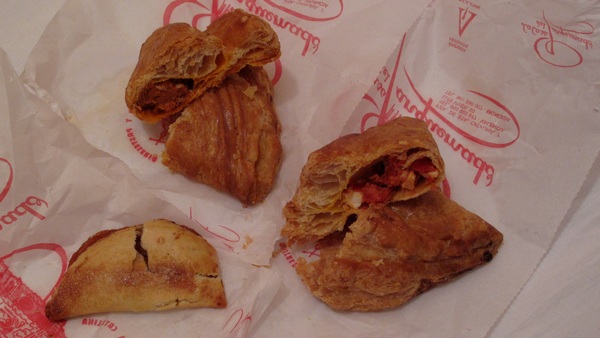 Sometimes I just choose poorly, and this was one of those. It was recommended in a guidebook, the place looked kinda cool, and it's themed for the Fellini movie 8 1/2. This is a stale montadito of anchovy, caviar, tomato and quail egg. A montadito is a type of tapa served on a piece of bread, usually it's some sort of mayonaisse-ey salad mounded up on the piece of bread. This just had been sitting around too long and too salty overall. Color looks weird because of a yellowish lightbulb overhead.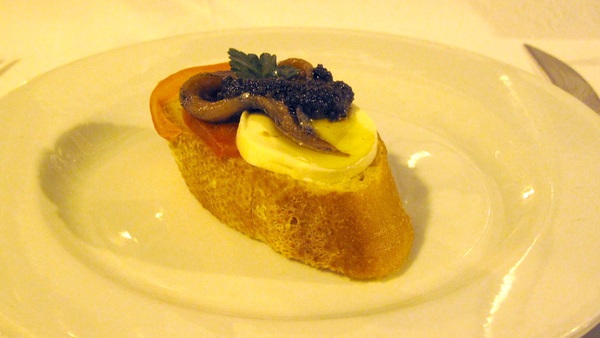 Here is their octopus done carpaccio style, with thinly sliced cooked octopus, tomato, arugula, balsamic reduction, and hazelnuts. This actually was pretty good hazelnuts and octopus were suprisingly good together, but not my style, and the proportions were off. Plus, it's like wannabe Italian food. I paid and left.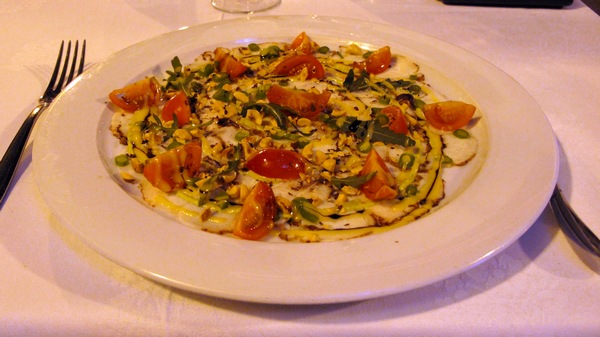 I wandered around a bit and came across this little place called El Cato, which I believe is "the Tasting". Of course, being in Valencia for only a day, I was looking for a good version of Paella Valenciana. First off, I got house cured anchovies, which were marinated with salt and vinegar and olive oil. Much fresher than anything from a can, but strong and fishy in a good way.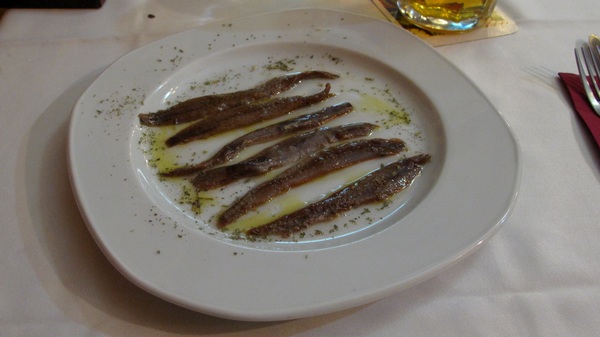 Then they suggested the puntillos, which are the smallest size of calamari, an inch or less long, simply dusted and fried. The chipirrones are kind of a medium size, their bodies about 3" long, then after that they're just calamari. They're so small that they haven't really developed a quill yet, so they're eaten whole.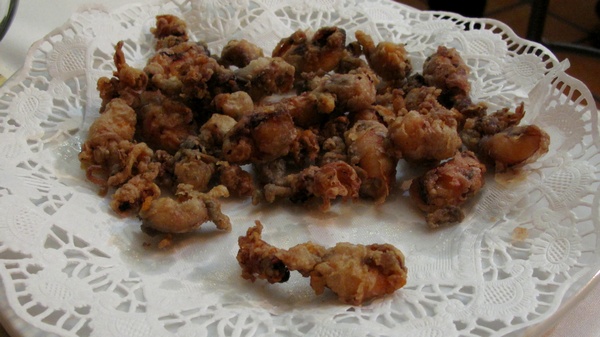 Next up is a Basque sausage called txistorra, here cooked with hard apple cider. For me, the apple flavor is a little confusing, but it is nice that it's a little acidic, and it helps cut the richness of the sausage.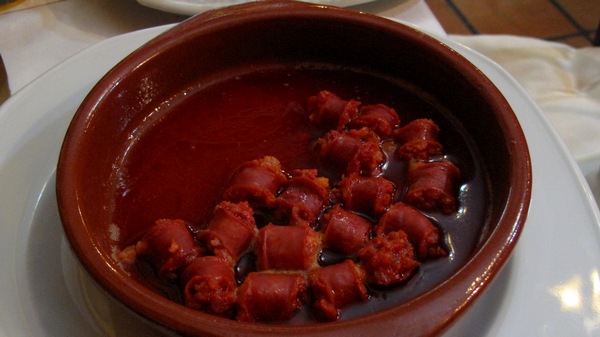 Here is their Paella Valenciana. According to their chef Jose, a traditional version just has chicken, possibly a few chunks of pork, garrofon (large, creamy whitebeans), sofrito (aromatics + tomato) and chicken stock. Jose was also tending bar that night, so I got to ask him all my "what is a proper paella" questions. He knows his stuff and shared some of his knowledge with me. It was great to see the native Valencia pride as he talked at length about different varieties of rices, cooking times, risotto v. paella, his whole mise en place for five kinds of paella, cooking over fire v. cooking on a stove, etc. Thanks, Chef Jose!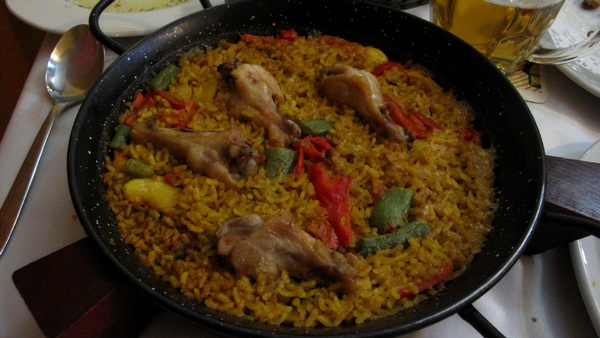 Stands like this are all around town, selling fresh churros, doughnuts, and most also have pumpkin doughnuts (bunuelos de calabaza), though this one didn't. The bunuelos have a very wet, sticky dough, almost like a batter.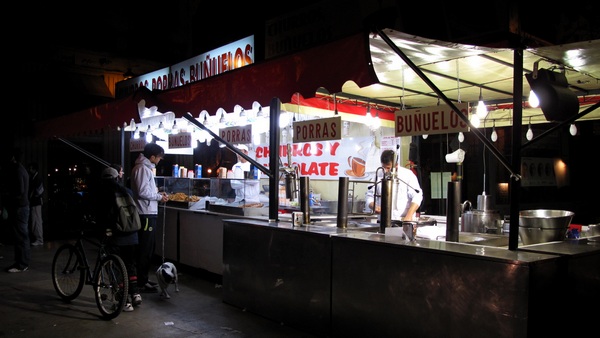 After a few hours of shut eye, got motivated to get over to the market as the sun rises... I had already decided to buzz over to Madrid for a day (I know, not long enough) so I needed to get an early start to drive to Madrid.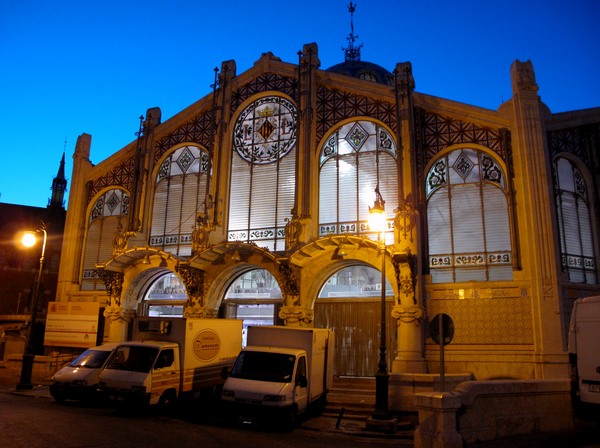 The stick shaped pastry is called a farton. Yes, farton. Emphasis on the o. Valencianos like to drink orxata (a cold drink made from chufa, or tiger nuts) and dip this in the orxata. This orxata is similar to Mexican horchata made from rice milk. The other round pastry is a less than satisfying mini-ensaimada. Note the appearance of the mini-ensaimada.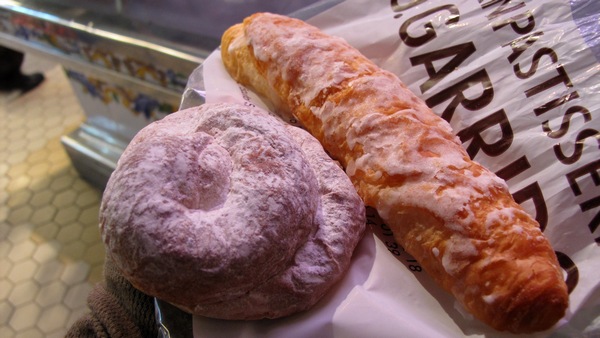 The next time you go to your friendly neighborhood cephalopod stand, compare these offerings. Full size cuttlefish, or sepia. Reproductive organs A in the middle and B in the pan on the upper right, normal sized calamari, and baby octopus. When I asked the shopkeep what the middle ones were, she said, "huevos de sepia". And the other ones on the upper right? "The same." she said. I have labelled for you what I think they are using some advanced biological terminology.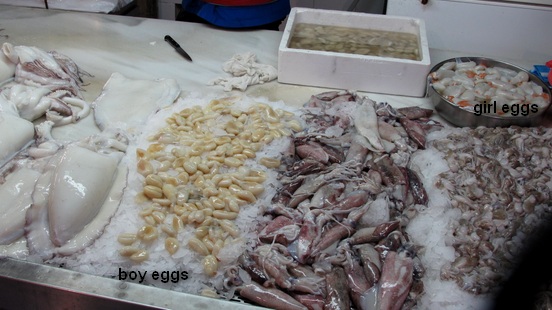 Sobrasada is usually associated with Mallorca, an island on the Med side of Spain. It's a soft textured sausage, cured, but remains spreadable. On the left, is the more common size, about that of a small loaf of bread. On the right is a large format version, prob 13" across at the widest part.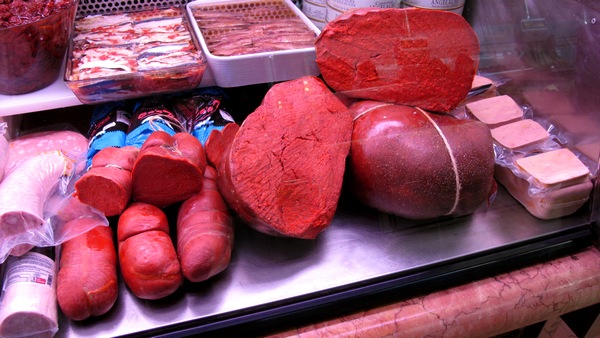 Here is what I feel to be a proper ensaimada. It is a pastry, where the dough is stretched thinly, covered with some sort of oil (traditionally it's lard, but today it's probably vegetable shortening), sometimes with a line of some cooked apple filling, then rolled up into a rope, and then COILED up like a spiral. It's similar to a laminating process, and also similar to making roti paratha. But anyway, the little flakes and voids here are clues to it's correct texture. If it looks like bread inside, with a network of holes, to me it's not a good ensaimada.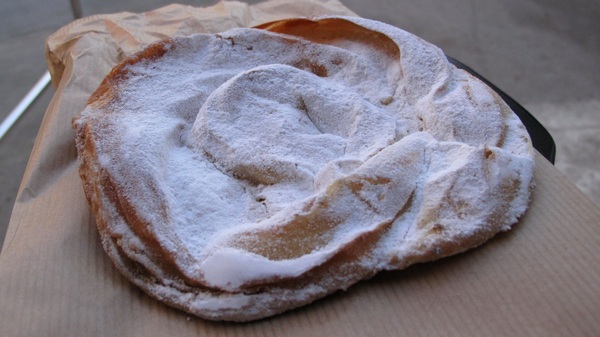 Valencia oranges?!? Hey, this is Valencia! They got 'em everywhere, even as street trees, and this is when they bear the most fruit.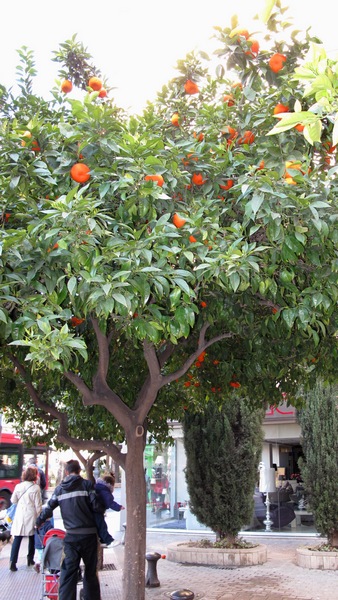 Next, on to Madrid.